GROUPON GUIDE TO SAN FRANCISCO
Nighttime Photography Spots in the City
BY: Andi Fisher |
Mar 18, 2014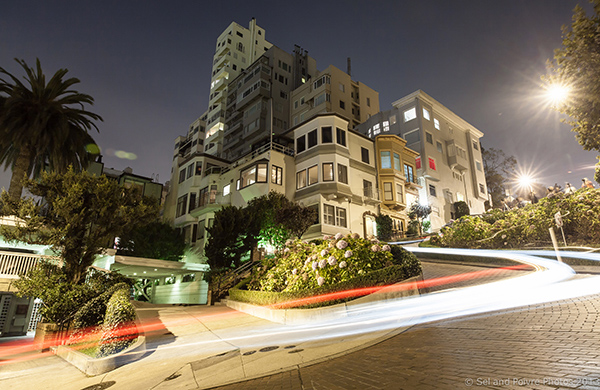 San Francisco is a photographer's dream for both amateurs and pros alike.  It is a lively city that always has something going on day or night.  And she is a pretty lady too, the perfect subject for any photograph. There are endless quantities of photos taken by locals and tourists all year round detailing the multiple personalities within. Colors, peoples, foods – you name it.  But how many people have taken the time to capture a photo at night?
It is a little more difficult to do but well worth the extra effort, as not everyone will take the time.  Touristy spots are less crowded at night and the lights on the water and in the city offer a little personality to any photo that you capture.
There are a ton of locations within the city (and just outside) to take really great nighttime photos.  Some of them include:  the Golden Gate Bridge, Lombard Street (pictured above, by Sel & Poivre Photography), the Transamerica Pyramid, the Palace of Fine Arts, the Bay Bridge, the Painted Ladies, Treasure Island, and Coit Tower to name a few.  These are all very well known shots that produce incredible images, but they can often be crowded (although less so at night).
If you are looking to take photos from lesser known spots, check these out:
The Vallejo Street Garage located at 766 Vallejo St (in North Beach/Telegraph Hill) – go to the 5th floor and check out the eastern-facing slit in the wall to see a gorgeous view of the Bay Bridge. While you are waiting for your long-exposure photo you can amuse yourself with smart phone photos of the the fortunes (think fortune-cookie style) on each of the parking spots.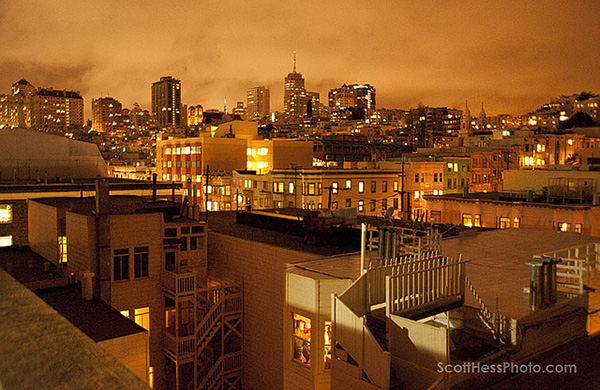 Photo by Scott Hess Photo
After enjoying a calorie-ridden Bi-Rite Creamery ice cream scoop, burn off a few calroies by walking up the hill to the bench at the topmost corner of 20th and Church in Delores Park - there is a spectacular view of  the city.  You can take a photo that encompasses the entire park mixed in with city skyline that includes a panoramic view of the city, the Bay Bridge, the Bay itself, it's pretty cool.
If you can handle a little hike, then not only is the star-gazing incredible at night from Bernal Hill, but it has a great view of the city as well, one that looks great in photos. You can see the entire Mission district which sprawls in front of you, as well as the bay and the Financial District off in the distance. Go during a full moon for a really dramatic photo.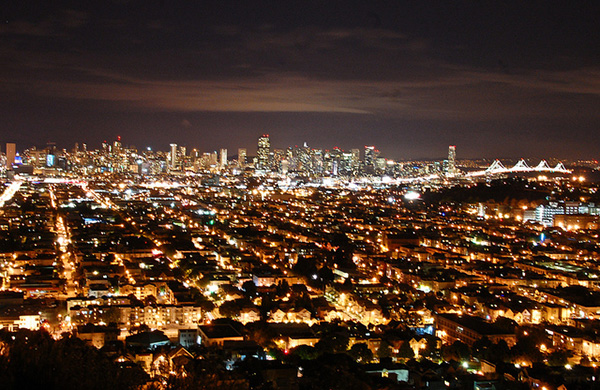 Photo by Todd Lappin
For a great shot of the TransAmerica Building from a relatively unknown spot check out the catwalk atop the Mandarin Hotel. The hotel is the tallest hotel in San Francisco and with the catwalk that connects its two towers on the top floor, you can catch a shot of North Beach and the Transamerica (just hope the windows are clean!).
These photos require long exposures so besides your camera you'll need a tripod, and if you have a camera remote it certainly makes things easier.  Have a good bag to carry your equipment as some of these places require a bit of a hike.
Another piece of equipment I would suggest is a flashlight. Besides cool lighting features like trailing car lights, you can create your own cool effects or even spell out words with a flashlight, also known as light painting.
A final word, San Francisco gets cold at night!  Bring a warm jacket, gloves and something hot to drink, it will make those long exposure waits more bearable!