Nine Places to Debauch Yourself with Friends this Season
BY: Courtney Ryan |
Nov 27, 2013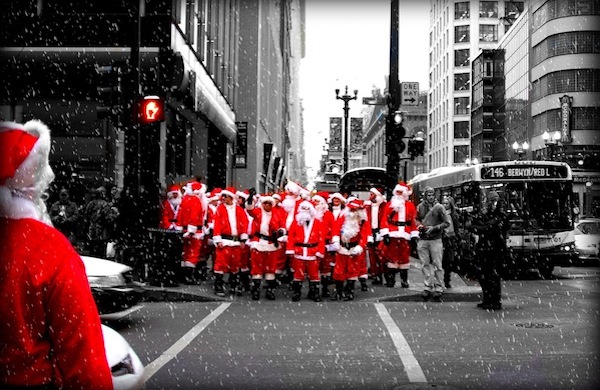 Although the holidays are touted as the season of selfless giving, the ready availability of eggnog and mulled wine encourage the indulgence of more earthly pleasures. We found nine Chicago events that embrace the more depraved spirit of the season.
For the Boozehounds
SantaCon at
Congress Plaza Hotel
If a run-of-the-mill pub crawl doesn't put you in a jolly enough spirit, then strap on a red velvet suit for a journey that Kris Kringle wishes he could take each Christmas Eve. From noon onward, hundreds of Santa clones will stumble merrily to six bars—including
Bar Below
and
Celtic Crossing
—with photo stops in front of the
Art Institute
and
Millennium Park's
Cloud Gate. (
520 S. Michigan Avenue. Saturday, December 7, at noon. Admission: $10 in advance/$15 at door.
)
15th Annual Christmas & Winter Beer Tasting at Delilah's
With probably the largest
whiskey
selection in Chicago (more than 600 varieties at last count), it's no wonder people flock to this Lincoln Park punk bar to warm up. Delilah's holiday party, however, spotlights speciality beer—including winter vintages from
Anchor
and King & Barnes as well as holiday brews from
Three Floyds
and
Lakefront
breweries. (
2771 N. Lincoln Avenue. Saturday, December 7, from noon to 5 p.m. Admission: $20 for 20 tasting tickets.
)
"Happy Holly-daze: A Drinking Game Performance" at Cornservatory 
Improv theater
Corn Productions
is known for hosting rowdy late-night BYOB drinking games, so it's no surprise to see them mixing alcohol, wit, and seasonal debauchery. You bring your poison of choice, and their team of comedy gladiators takes care of the rest. (
4210 N. Lincoln Avenue. 8 p.m. Thursday–Saturday from December 12 to December 28. Tickets: $7 on Thursday; $15 on Friday and Saturday.
)
For the Theater-goers Who Don't Blush
"Old Jews Telling Jokes" at Royal George Theatre
It's not
quite
a holiday show, but if you're missing your zaide's wicked sense of humor this Hanukkah, then this five-actor revue just might fill the void. But be warned: creators Peter Gethers and Daniel Okrent promise to reinvent the classic jokes, so don't roll your eyes until you hear the punchline. (
641 N. Halsted Street. Through February 16; view the full schedule. Tickets: starting at $45.
)
"A Sack Full of Coal" at Gorilla Tango Theatre
Though this Bucktown theater is mostly known for mixing burlesque with geek-culture satire,
A Sack Full of Coal
leans more heavily on the satire, mocking the holiday season's mix of good will and consumerism. The show also shines a spotlight on the often-overlooked Christmas demon Krampus, who is said to punish naughty children by spiriting them away in a burlap sack. (
1919 N. Milwaukee Avenue. Every Saturday at 7:30 p.m. through December 14. Tickets: $15.
)
For the Audience Members Who'd Rather Participate
Live Band Karaoke at Schubas
Buying multiple craft brews won't just soften your inhibitions for holiday-themed
live band karaoke
—it will also keep kids warm this winter. Proceeds from the bar go directly to
Coat Angels
, a nonprofit that donates warm outerwear to children from low-income homes. (
3159 N. Southport Avenue. Wednesday, December 18, at 8 p.m. Admission: free.
)
"Christmas Bingo: It's a Ho-Ho-Holy Night" at Royal George Theatre
The "sisters" behind 
Late Night Catechism
 put their own spin on the history of Christmas with an interactive lesson. The audience plays along with bingo cards for the chance to win prizes and (hopefully) not be shamed in front of the entire class. (
1641 N. Halsted St. Friday and Saturday at 8 p.m. and Sunday at 3 p.m. through January 5. Tickets: $38.95.
)
For the Truly Debauched
"A John Waters Christmas" at City Winery
If the holiday season ramps up your desire for debaucherous camp, then you owe it to yourself to see the King of Filth hold court during a smutty, Christmas-themed one-man monologue. With the noble goal of putting "X back into X-mas," the legendary filmmaker and author tackles subversive topics ranging from perverted gifts to holiday horror stories. (
1200 W. Randolph Street. Saturday, December 1, at 8 p.m. Tickets: starting at $65.
)
Vaudezilla Craft Fair at Vaudezilla Studio
Burlesque troupe
Vaudezilla
puts a brassy spin on traditional craft fairs with a showgirl-themed array of vintage and handmade pin-up crafts and clothing. Decadent sweets from
Three Moms Bakery
will be on display among the assortment of lingerie and bombshell jewelry from glamorous vendors such as
Annie's Red Hots
and
Acidic Housewife
. (
3614 W. Belmont Avenue. December 21. Admission: Free.
)
Image courtesy of SantaCon