Nine Things You Never Knew About Terry Hope Romero
BY: Katie Cortese |
Jun 12, 2014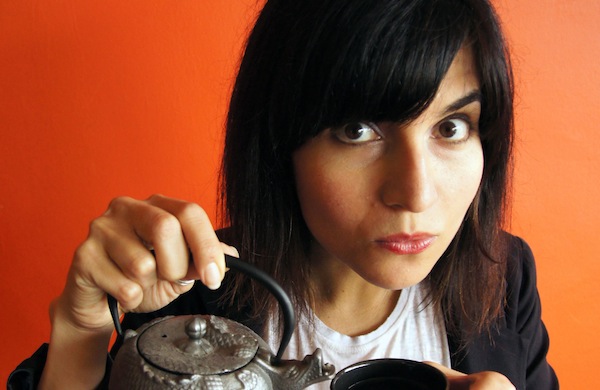 This June, vegan chef Terry Hope Romero releases her seventh cookbook,
Salad Samurai
. It is a compilation of 100 whole-meal salads for every season that are hearty enough to sate even the barbecue-loving crowd. I recently spoke with Romero about
her ideal salad recipe to serve dads on Father's Day
. Below, Romero shares some little-known salad-based facts about herself, including her favorite breakfast salad, and what she feeds people who hate salad (
hint: it's salad
).
GROUPON: How did you come up with the name Salad Samurai?
TERRY HOPE ROMERO: I really wanted to call it
Salad Ninja
, but my publisher wouldn't let me [laughs]. I am kind of a whimsical person and nerdy, and I just wanted my book to sound fun and have an edge to it. For people to become a master of salad by embracing it this way.
G: What is your system in the kitchen for creating new recipes?
THR: Every author is different. Usually I have an idea in mind and write the recipe first. I write out the ingredients and how much I think is needed and I write out the full instructions. As I start cutting and measuring things, I make adjustments. Then I work it a few times.
G: Are there any ingredients you don't consider a salad item?
THR: Honestly, after this book, no. I put everything you can think of [into the recipes.]
G: What are some of the most surprising/unique ingredients you have used in a salad?
THR: Every kind of nut imaginable, fruits, a lot of stir-fried items, coconut bacon (turning dried coconut into bacon), sauerkraut for the vegan version of a reuben salad, black rice, kimchi, and sweet-potato chips as a garnish.
G: Anything we won't find in your cookbook?
THR: There is no fake cheese in this book. And really no fake meats. I use tofu, tempeh, and homemade seitan, but no vegan hot dogs.
G: What type of salad would you eat for breakfast?
THR: A smoothie bowl. It's a very thick smoothie that is spoon-able. I take frozen bananas and berries and protein powder and blend it until it's creamy and add some almond milk and granola or berries on it. I eat that two to three times a week.
G: What is the weirdest place you have eaten a salad?
THR: I have had a lot of weird outdoor New York picnics. Maybe sitting outside on 42nd Street waiting for someone. And airports are always weird.
G: Which of your salads would you recommend to someone who hates salad?
THR: The Man Salads, if you want to call them that. [The one] with barbecue tofu, or the tempeh Reubenesque sauerkraut salad. I have five or six different caesar salads. Everyone loves caesar salads with a creamy cashew-based dressing. And a big salad of hot and cold combinations, because it takes someone away from the fact that it's a salad.
G: What would you say to people who think salads aren't filling enough to make a whole meal?
THR: Get with the program! It's 2014. People love eating salads for lunch, and getting big salads. That is the inspiration for me. I really had a lot of fun making salads for every season.
Shop for deals on vegetarian restaurants.
Chef photo by John Stavropoulos.
BY: Katie Cortese
Guide Staff Writer
Friend to animals and craft brews.