Nostalgia for Sale: Vintage Shopping on West Chicago Avenue
BY: Kelly MacDowell |
May 2, 2013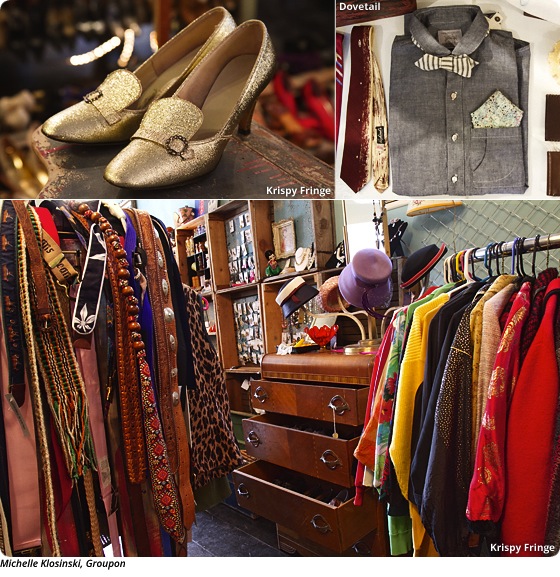 One morning, vintage-shop owner Kristy Kladzyk was having breakfast with a friend at
Wishbone
. The friend was aghast when Kristy started cutting the crumbly edge off her fried egg and passionately insisted that it was the best part. So Kristy tried it and, to her great surprise, loved it. The friends dubbed the egg's edges "the crispy fringe," a phrase that stuck in Kristy's head and eventually became the name of her store,
krispyfringe vintage
. The egg story is an apt metaphor for vintage shopping: sometimes you go into it thinking you need or like a certain style, only to be completely seduced by something unexpected. One minute you're looking for silver-rimmed barware, and the next you're losing your mind over an antique rotary phone, even though you don't have a landline. "It's just those little random things," Kristy says, "that make you think, 'I need to have this somewhere in my life.'" Thankfully, Kristy's shop is just one in an enclave of vintage stores along West Chicago Avenue between Noble Street and Western Avenue, where shoppers can unearth anything from classic wedding gowns to antique typewriters.
krispyfringe vintage | Out-of-State Treasures
"I love dressing people," Kristy says. She began hunting down vintage threads in middle school, when she would style outfits for all her friends. So it's not surprising that she grew up to become a hairstylist (she also owns
Studio Within
in Lakeview) and personal shopper. "I'm a big fan of the '80s and '90s," Kristy says but concedes she'll pick up older pieces where she can. At krispyfringe, her collection ranges from classic to whimsical—just steps from a table of timeless leather boots is a rack of jackets where a sparkly gold-and-black windbreaker catches the eye. A separate men's area has a lush display of sweater vests, flannels, and soft cotton tees. Housewares are also a large part of the inventory, with entire walls devoted to artfully arranged displays of stemware and salt and pepper shakers. Regardless of whether you're hunting for apparel or housewares, you'll likely want to add your most coveted item to Kristy's Wish List. Clients can describe something they're looking for, and if Kristy ever comes across it, she'll let them know. It can be a particularly fruitful service considering she rarely shops in Chicago—a factor that ensures her inventory extends far beyond what is available locally.
Seek Vintage | Sustainable Style 
Chris Hunt and Audra Yeomans spent years preparing for the opening of Seek, collecting vintage tables, pedestals, mannequins, displays, and hardware to furnish their future store. They wanted to be sure they were creating their space sustainably since—as Chris and Audra put it—vintage represents recycling at its most refined. The pair built their collection (which generally spans the 1930s to the '80s) through multiple cross-country road trips, picking up everything from midcentury Pyrex dishes to Halston gowns. They've been able to build a diverse inventory by following a very simple rule: "If it didn't stop one of us in our tracks," Chris says, "you won't find it on the shelves."
Dovetail | Gallery for Local Artisans
"I never thought people would pay for used clothing," admits Dovetail owner Julie Ghatan. Her grandfather was an antiques dealer in Iran, and Julie's parents inherited his interest in vintage items, always bringing Julie and her sister along on shopping excursions. But it wasn't until she was older, when a friend at Lenny & Me sold off a bunch of Julie's old clothes, that she realized her grandfather's trade translated to the fashion industry. For Dovetail's racks, Julie says she is "interested in things that are translatable to modern styles. You can like something and just wear it and not necessarily look like you just came from another era." A former poetry major at the University of Illinois at Chicago, Julie also dedicates a large part of her store to honoring local artists and artisans. There are framed sketches from Columbia College grad and fashion designer
Shelby Steiner
, handmade men's handkerchiefs from
Narrow Path Co.
, and
Tru Blooms
fragrances, which are made with flowers harvested from Chicago community gardens.
Very Best Vintage | The Eclectic Closet
Very Best's style inspirations are endless—Janet Leigh, Eartha Kitt, Electric Circus, Disneyland—yielding an inventory that is both fun and eclectic. The focus here is on playful apparel and accessories such as ruffled tuxedo shirts and leopard-print denim vests. But there are some truly exquisite, heirloom-quality items as well. Shoppers might find a 1920s silk-satin shift dress with hand-painted and beaded roses or a 1930s green silk-velvet top with tapered dolman sleeves.