Not Your Average Movie Date: Chicago's Out-of-the-Box Film Spots
BY: Emily Wachowiak |
May 22, 2013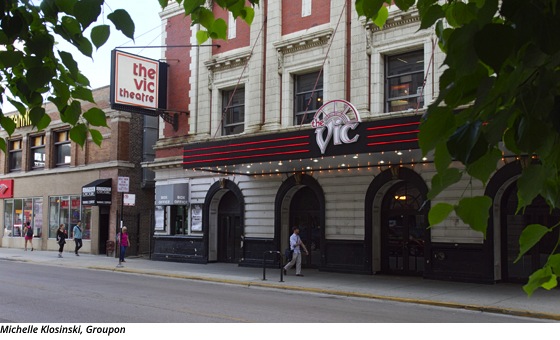 Dinner and a movie has become a go-to first, second, or even seventy-third date. Here's how to spice up the latter half of this standard-issue night out at a few of Chicago's more unique cinemas.
Brew & View at the Vic Theatre | Lakeview
On nights when
the Vic
isn't packed with concert-goers, its 1,000 seats are available to those in the mood for a cheap single, double, or even triple feature. Five bucks gets you in the door for one or all of the films screening that night—usually second-run Hollywood hits with the occasional classic thrown in (think
Evil Dead
or
Grease
). Recitations of favorite lines and running commentaries are encouraged from the raucous 18-or-older audience members, who are usually fueled by Miller Lites and other drinks available to the 21+ crowd from the three bars that line the five-story space. Though you can't bring in your own food, you can still satisfy your munchies so long as your treats are delivered to the theater or purchased from the onsite pizza-and-popcorn snack stand.
Music Box Theatre | Lakeview
An independent- and foreign-film house by day, the 800-seat theater transforms into a participatory playhouse at night, with
midnight screenings
of cult classics such as
The Room
and
The Rocky Horror Picture Show.
Performed with the requisite shadow cast and tossing of toilet paper and confetti,
Rocky Horror
screenings are held monthly to the delight of comedy-horror fans everywhere. For PG-rated fun, the theater hosts occasional sing-along screenings of
The Sound of Music
and
Mary Poppins.
Check the
special-event schedule
to stay up to date.
Movies in the Parks | Chicago
When summer finally arrives for its brief stay in the city, it's hard to justify staying indoors for a full-length flick—no matter how tempting the refrigerated air might be. Luckily, the Chicago Park District brings the theater outdoors with its Movies in the Parks series. Running from Thursday, June 13, to Friday, September 13, at parks big and small throughout the city, these screenings invite locals to bring their own blankets and snacks and to stake out the best spots before dusk when the film starts rolling on a massive screen. Upcoming 2013 season highlights include
Skyfall
on Saturday, June 15, at
Jonquil Playlot Park
(Lincoln Park);
Ferris Bueller's Day Off
on Tuesday, July 23, at
Harold Washington Playlot Park
(Hyde Park); and
Young Frankenstein
on Monday, August 19, at
Grant Park
(the Loop).
BY: Emily Wachowiak
Guide Staff Writer
Emily Wachowiak is a Chicago-based writer and editor.