Notes from My Lunch with a Chicago Fire Department Firehouse Cook
BY: John Flaherty |
Sep 4, 2013
If you're a firefighter in the city of Chicago, you regularly eat meals with your coworkers and your bosses. This type of fraternity is not common. Cops eat take-out. Construction workers lug little coolers to their job sites. For my lunch, I'll hit up the office cafeteria or a food truck when I'm not stuffing a sad sandwich into my face, camped at my call center–like desk, staring at Twitter. Chicago firefighters, however, spend every third day (all 24 hours of it) with their coworkers. As a company, they fight fires together, respond to emergency calls together, train together, rest in downtime together, and eat together. This past June, I spent a sunny summer morning in the far South Side neighborhood of Roseland-Pullman at Engine Co. 62 (34 E. 114th St.). There, I shadowed a firehouse cook, Tim Carroll. Tim has two jobs in the fire department: he fights fires and he cooks meals. Here are some notes from my morning with him in and out of the kitchen at the firehouse.
* Twenty bucks is the price a firefighter in Co. 62 pays to buy into the brotherhood supper club.
* For a twenty, you get lunch and dinner, plus coffee, snacks, and leftovers for breakfast and other times throughout the day. It's more food, typically, than they know what to do with.
* You don't have to buy into the brotherhood supper club, but just about all do. The Bad Boys of Roseland—Engine Co. 62's nickname—remember a lieutenant a few years back who didn't buy in. That lieutenant is no longer with the company.
* Each morning of their shift, the firefighters congregate in the kitchen, where they each plop their $20 in front of Tim Carroll, a firefighter and the No. 1 cook for one of three shifts that work the house at 114th Street and Michigan Avenue.
* Tim plans the meals, shops for the meals, and cooks the meals.
* By the 8 a.m. roll call—when the company's 24-hour shift officially begins to count down and when everyone has kicked in—Tim has $220 dollars in cash to buy food.

* Tim is a 43-year-old married father of four.
* Tim coaches his son's youth baseball team. "I'm not a hitting coach," he says, "but I know a little about hitting. 'I can help your kid hit better,' I tell the parents. It's the same thing with cooking. I'm not a cook, but I know a little bit about cooking."
* Tim's been a member of the Chicago Fire Department for 12 years.
* For seven years, he's been the cook.
* As the cook, Tim has plenty of responsibilities and a few freedoms. He doesn't have to do floor watches, which means answering the phone, etc; nor does he have to take details, which could send him for shifts at undermanned houses.
* Although Tim is the No. 1 cook, his two backups wait patiently in the wings.
* Politics, like many things in Chicago, hold some sway over the cook assignment.
* Skill and peer approval, however, ultimately decide who does the cooking.
* Tim became the number-one cook—and maintains his title—because he knows his way around a kitchen and because he knows all about firefighters.
* He learned how to cook from his mother, who had a catering company.
* He learned how to live and work with firefighters from his dad, who spent 25 years in the department as a firefighter and company cook.
* "There are preparers of food," says Vince the paramedic before morning roll call, "and there are cooks." As a firefighter paramedic, Vince rotates between many houses, so he sees the various ways the many house cooks tackle the food issue.
* The firefighters of Engine Co. 62 regard Tim as a cook. If they didn't, if they thought Tim merely a "preparer of food" or, worse, a "belly robber," Danny McKee (the No. 2 cook) or JoEllyn McMeel (the No. 3 cook) would be cooking.
* Belly robber is a pretty big insult. Tim defines a belly robber by providing sample belly-robbing meals: spaghetti and meatballs, prepared sub sandwiches bought at a store and then cut up at the firehouse, catfish.
* In the city of Chicago, the life of a firefighter is a life of interruption.
* A firefighter works a 24-hour shift, followed by 48 hours off. During that shift, they constantly drop whatever they're doing to respond to calls.
* Their response goal is to arrive on the scene within two minutes.
* Their first call comes just before 9 a.m.
* The eerie, monotone, automated dispatcher gives the details over the house speakers ("Unconscious, not breathing."), and the firefighters fly from the kitchen table toward the garage bays where Engine 62 and Truck 27 sit.
* A fire engine carries the hoses.
* A fire truck carries the ladders.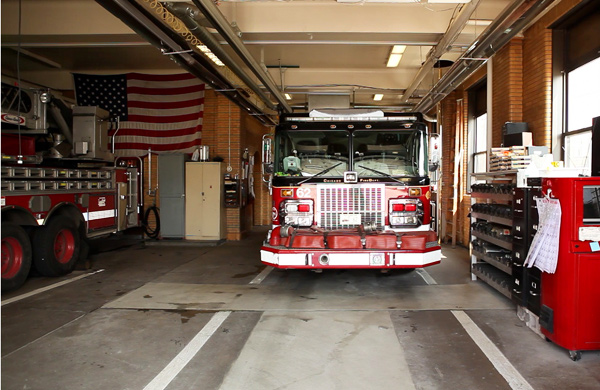 * Tim is the pipeman, and he rides with the driver, the captain, and two other firefighters in the back of the engine.
* The difference between an engine and a truck, Tim clarifies, is that the guys on the truck "are really just firefighters' helpers."
* Tim is mostly kidding.
* For shopping, Tim is allocated 60 minutes.
* Tim buys groceries at three different stores without a list or a menu or any other written notes.
* The final tally for groceries is something like $218 and change—within two bucks of his budget.
* At the Restaurant Depot, a rib-eye loin is $100.
* Tim can cut the loin into 11 rib-eye steaks, which will be for dinner.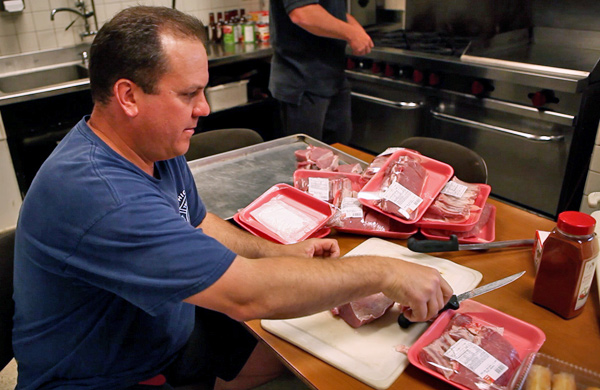 * For lunch, there are turkey BLTs with cowboy beans, fruit salad, frito corn salad, and the frozen tater tots every elementary schooler knows well.
* When Tim cooks lunch, other firefighters help.
* Pat Gutrich smashes a lettuce head into leafy sheets for the BLTs. Mike Walsh chops fruit for the fruit salad, holding and chopping a knife as if it were an ax.
* The fruit salad is a healthy mix of watermelon and bananas—but no cantaloupe, since it was priced too high at Food 4 Less.
* Pat also intermittently stalks flies with a colorful plastic gun dubbed the Bug-A-Salt. It kills flies with a blast of salty air. "Some guy got it on the Internet," Pat says. He shoots down at least three flies.
* Tim bakes most of the bacon for the turkey BLTs in the firehouse's industrial oven.
* He delicately rolls each slice of turkey onto a plastic serving platter.
* The platter is decorated with a faded Christmas tree.
* Meals are buffet-style at the firehouse, and for lunch the guys build their own BLT sandwiches onto white bread that Tim almost did not buy because its plastic bag was emblazoned with a Cubs logo.
* The firefighters eat at a long table with mismatched chairs that sit between the kitchen's stoves and fridges.
* The kitchen has four refrigerators. One is a community fridge and the other three are for each shift. Each of these shift fridges has a padlock slapped across its door.
* The locks are not for concerns for thieves, Tim assures me. They have more to do with inventory control. "If I know I have ketchup," Tim says, "then I know I have ketchup. I don't got to worry about needing to go buy more ketchup."
* A whole table of firefighters will drop a turkey BLT mid-bite when a call comes in.
* This lunch-hour call is for an automatic alarm.
* I stay back and go up for seconds, grabbing plenty of tater tots.
* A fire truck can scream down a city street for only a few blocks before it is called off from the scene, as Engine 62 and Truck 27 were during our lunch.
* Firefighters eat really fast, but before and after meals, when there is downtime, they can be quite a group of gossipers, chatting about kids, graduation parties, and baseball games.
* Most of the firefighters live in Mount Greenwood, a Chicago neighborhood about 6 miles directly west down 111th Street from their firehouse in Roseland-Pullman.
* Pullman, the historic factory town, is a large swath of Engine Co. 62's territory.
* Much of the impressive 19th-century architecture remains, including the Pullman Free School of Manual Training (currently Gwendolyn Brooks College Preparatory Academy); the Queen Anne style of the Hotel Florence; the old Market Square, with timber beams that still show signs of a fire; and the old watch tower, Pullman's original firehouse.
* In 1896, Pullman was called "the world's most perfect town."
* In 1960, it was nearly bulldozed before being granted National Historic Landmark status in 1971. As Tim drives me past the Pullman landmarks, he says, "I wish I could live in a neighborhood like this. The architecture, the history."
* Like most of his Mount Greenwood neighbors, Tim spends thousands of dollars annually on private-school tuitions.
* All the kitchen's knives are sharpened on Wednesday. "You always know when it's Tuesday," Tim says. "And you always know when it's Thursday."
* Lunch begins at noon, dinner at 6 p.m.
* Lunch does not last very long. By 12:25 p.m., even with the call, everyone finishes up and stacks their dishes by the sink.
* The firefighters disperse.
* Some clean or do other little chores in the kitchen and break room, where two TVs hum in the background.
* Some look over the plans for that afternoon's training.
* Some veg out in front of the TVs on a pair of sheet-covered, fraternity-style couches.
* Some hit the weight room in the basement.
* None of them sneak away for a quick 40 winks in an upstairs bunk.
* Some of them do sit and chill by the firehouse's wide-open garage bays, watching people across the street spill in and out of a methadone clinic.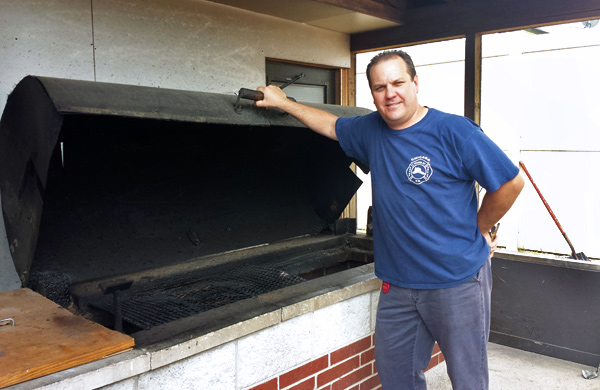 * Tim has his mind on dinner and that loin, which he wants to cut into 11 rib-eye steaks. He'll be grilling them behind the firehouse on a 5'x3' roll-door grill built into brick by a bunch of firefighters in the 1980s.
* "When you're cooking steaks," he says, "you really hope you don't get a fire call."
* If they do get a fire call, Tim can slide the grates with the meat away from the heat. When they get back, the steaks might be a little tough, but it won't matter. It doesn't take a firefighter long to clean a plate.
Video by Ben Nissen, Groupon
BY: John Flaherty
Editors
John writes and edits stories on food and style.