Now I Have Custom-Blended Perfume That Smells Like Big Sur
BY: Favin the Maven |
Apr 23, 2014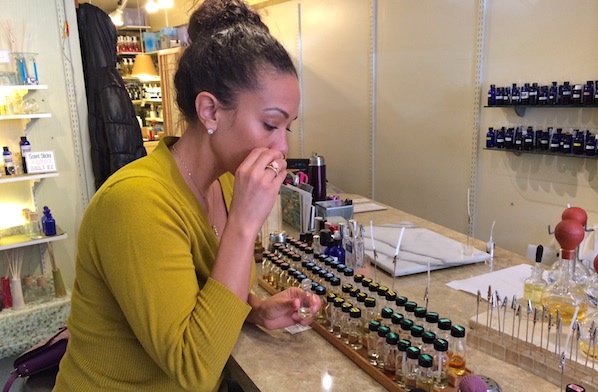 A perfumer at Aroma Workshop made me a custom perfume, even though I was really indecisive along the way. There are too many good-smelling things in the world.
I've confessed this before, but
I'm sort of a perfume addict
. So spending an afternoon making my own scent at
Aroma Workshop
(2050 N. Halsted) was a dream come true, about on par with marrying Vin Diesel. The process wasn't without its struggles, though. I'm terribly indecisive, and nothing sets off my indecision quite like trying to narrow dozens of gorgeous fragrance oils down to my 8–10 favorites. It was like
The Bachelor
for my nose. Here's how I decided which scent to spend the rest of my life with, in eight steps. Watch out, Juan Pablo!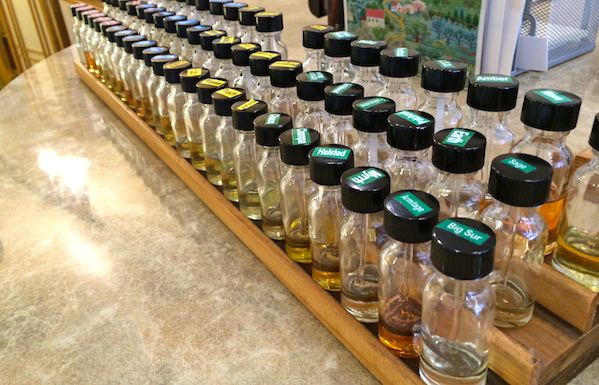 1. I talked to the smells.
As I sat at the "scentbar" and made my way through the four categories of fragrance oils (florals, flavors, citruses, and musks), I had knee-jerk responses that ranged from a straight-up squeal of joy for white tea to "Settle down, peach." (Someone had to say
something
to peach.)
2. I smelled my way through the entire store.
That's right. I smelled
all
of the oils, and it was good that I did. There was no way to know what something would smell like just from its name. Mango, IMHO, smelled like vomit somehow, and some of them had hard-to-interpret names like Armitage and Big Sur (which smelled exactly like my boyfriend!).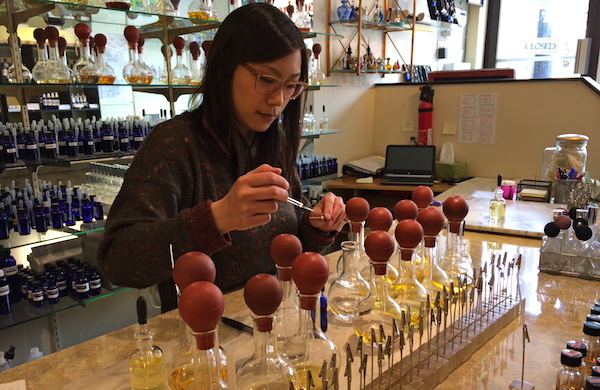 3. The perfumer, Iris, started making mini blends for me.
As I started setting aside the 8–10 oils I liked best, my perfumer, Iris, started working. She would mix 3–4 oils together onto a test strip, then hand it off to me for approval. I fell hard for the first blend she made for me. But Iris had
skills
. As I selected more oils, she made more blends I thought I couldn't live without, and I realized the selection process wouldn't be easy.
4. I asked Iris how she was so dang good at this.
"It's kind of like an intuition, like cooking," she said. "[The oils] all have different strengths. The citrusy ones tend to be really bright and jump out at you, and then there's some, like white tea, that are really subtle. So you just have to balance that."
5. I took my perfume blends for a walk.
Not surprisingly, the air around the scentbar is full of smells. There are so many flying around that you can't
really
be sure what your blends smell like until you take them outside. So I took my favorites out to the sidewalk, where I quickly discovered that everything I thought I knew about life was completely wrong. Inside, fig and I were BFFs. Outside, fig was suffocating. In the end, I chose a blend with Big Sur in it. Combined with açai and white tea, it smelled fresh, subtle, and not too girly. It reminded me of summer. I was in love.
6. Iris turned my final pick into an "eau de parfum" in her perfume lab.
Iris pulled beakers of oils off the shelves, and drew fluid out with pipettes. She blended the oils carefully, dropping in full pipettes of some and just a few drops of others. She was like a scent scientist. She informed me that she was making my fragrance to the eau de parfum standard, which meant it would be 20% oils. The other 80% would be cologne base—a blend of water and perfumer's alcohol, a denatured grain alcohol Iris likened to Everclear "that won't get you drunk." The base prevents the scent from being too strong, and helps thin out the oils so that they can be sprayed.
7. I picked out a bottle for my new scent.
Some bottles were very girly—like one that had patterned glass and a pink atomizer—but I choose a straightforward square bottle with a regular pump.
8. I felt excited about the future!
After Iris bottled my blend, she filed the formula away for future reference. If the mood strikes me, I can go back and get my scent put in anything from massage oil to a linen spray. So really,
The Bachelor
analogy still holds up, because the "After the Final Rose" show is always about…linen spray. Okay, it might not hold up after all.
Photo: Mahreen Younus, Groupon
BY: Favin the Maven
For me, both beauty and fashion need to be accessible and not intimidating. I love a great deal and a good DIY beauty treatment. I pride myself on trying new trends, being open minded and getting a great treatment without breaking the bank. In the name of beauty I will try anything once.