Nowhere Are Vests Hotter Than in the Dog Fashion World
BY: Courtney Ryan |
Feb 19, 2014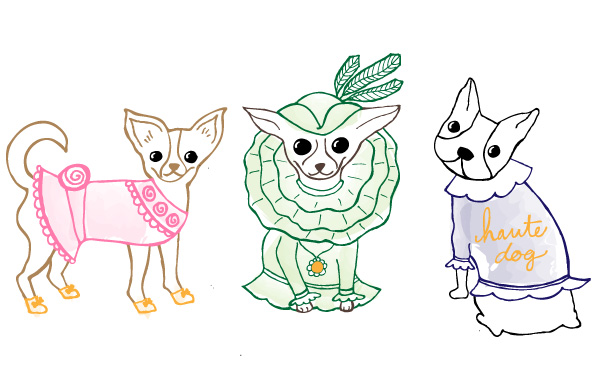 Five ways this weekend's Sophisticated Pup Fashion Show is just like a human show, and three ways it's different (besides the whole "dogs wear the clothes" thing).
While some dogs at the International Kennel Club's annual show aim for the coveted Best in Show award, others are content with Best Dressed. This weekend, they'll earn the title during the Sophisticated Pup Fashion Show, which features the latest pieces in canine couture—ball gowns included. We spoke with IKC Show Chair Susan Olsen to nail down what the event has in common with human fashion shows.
LIKE A HUMAN FASHION SHOW…
…its models conform to a strict standard of beauty.
There will be between 15 and 30 dogs modeling in the show, and most of them will be tiny. "Dog fashions are best suited for small dogs," Susan says, predicting that we'll see "a number of chihuahuas, yorkshire terriers, pugs, and toy poodles" trotting down the runway. That doesn't mean that larger breeds can't be stylish, though. Some designer collars and coats for sale will certainly fit your mastiff.
…it showcases the work of a single designer.
All of the pieces in the show are made by
Sophisticated Pup Fine Pet Products
. This is the company's third year contributing to the show, and they've come up with looks for both day and evening.
…its fashions are tied to the season.
"Dog fashion seems to follow what's hot in human trends," Susan explains. You might see some rain gear in time for spring, as well as holiday-themed items. Designers also look at what colors, cuts, and prints are in vogue when crafting their canine-friendly versions.
…it probably won't feature any blue-ribbon pugs.
The dogs competing in the regular IKC show might be stunning, but they usually don't double as models.
…personality and practice are important.
These diva dogs "love to strut their stuff," Susan says, and each one brings character to the ensemble they're wearing. Some standouts from last year included a wedding gown ("in the spirit of a collection shown at Fashion Week") and a motorcycle jacket. A miniature pinscher sported the latter over a hot-pink ball gown, thereby mixing cute and punk. But a good runway walk can only come with practice, and to make sure that each pup is comfortable in their outfit, their handlers will often do rehearsal runs.
UNLIKE A HUMAN FASHION SHOW…
…the humans will dress down.
Sometimes, handlers will coordinate their outfit to match their dog's. Susan says that it's more typical for the handler to dress down, however, thus allowing the four-legged model to own the spotlight.
…"couture" can mean "lots of vests."
Susan wouldn't give us any spoilers, but you'll probably see some of Sophisticated Pup's signature outerwear vests. These pieces keep pups warm on chillier days, and come emblazoned with a variety of patterns. As for what else the show might contain, there are rumors of capes, coats, and luxurious gowns.
…you can buy the pieces afterward without selling the car you drove there.
Sophisticated Pup will have its items available for purchase, and it's a safe bet that most (if not all) of them will be priced at less than $100.
The IKC Canine Couture Dog Show takes place from 1:30 p.m. to 2 p.m. on Saturday, February 22, and Sunday, February 23, at McCormick Place Lakeside (2301 S. Lake Shore Dr.).
Illustration: Jessica Duff, Groupon