Of Montreal Looks Backward to Take a Step Forward
BY: Kelly MacDowell |
May 13, 2014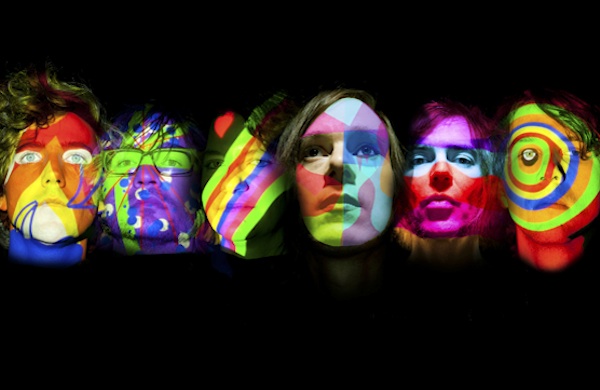 For last month's
Record Store Day
, Of Montreal reissued
Satanic Panic in the Attic
to commemorate the seminal album's 10th anniversary. Though
Satanic Panic
introduced the band's electro-pop sound to the world and earned them thousands of new fans, it was merely a stepping stone in frontman Kevin Barnes's development as a songwriter. The band's most recent album,
lousy with sylvianbriar
, represents another step in that development. Rather than rely on computerized sounds and editing, Barnes captured the songs with a 24-track recorder. It was an inspired move that gels with the album's classic-rock aesthetic, and it moves Of Montreal further away from their dance-pop peers. For those who have yet to tackle
lousy
and its unexpected sound, here's a song-by-song primer to get you ready for the band's
Lincoln Hall
show this weekend:
1. "Fugitive Air"
For fans of:
Unknown Mortal Orchestra Barnes's delivery wavers between passion and despondency on the album's opening track, and it's blanketed with a faint distortion that recalls UMO frontman Ruban Nielson. Even better are the upbeat, funky guitar riffs that'll make you want to cut a rug or five.
2. "Obsidian Currents"
For fans of:
Neil Young On this track, Barnes channels Neil Young's easy, methodical delivery. He only strengthens the comparison with a string of cutting commentary reminiscent of "Southern Man" ("You're so lizard-like / You don't feel any passion for anyone but yourself").
3. "Belle Glade Missionaries"
For fans of:
The Beatles The twangy electric-guitar riffs on "Belle Glade" evoke the Fab Four's later hits, especially "Come Together" and "Get Back." Barnes also does his best John Lennon impression with semipolitical lyrics that call attention to perceived world evils.
4. "Sirens of Your Toxic Spirit"
For fans of:
The Velvet Underground and Nico Barnes's voice takes on a genderless, Nico-esque tone in this track, which features its share of dreamy harmonies. The "toxic" protagonist facing addiction and broken friendships sounds like a kindred spirit of the sad girl in The Velvets' "All Tomorrow's Parties."
5. "Colossus"
For fans of:
Elliott Smith The late Elliott Smith was known for his morose lyrics, but even he would've shed a tear after listening to the opening verse of "Colossus." If you try to ignore the tragic narrative, the piano will still break your heart.
6. and 7. "Triumph of Disintegration" and "Amphibian Days"
For fans of:
Foxygen Equal parts dance pop and hippie rock, both of these songs would feel right at home on Foxygen's
We Are the 21st Century Ambassadors of Peace & Magic
. In fact, Sam France and Jonathan Rado's quirky lyrical style could have been influenced by Barnes, who's always been known for penning head-scratchers.
8. "She Ain't Speakin' Now"
For fans of:
The Rolling Stones Thanks in part to its driving guitars, this song is the most "classic rock" of the bunch. A Jagger-y sense of rhythm sneaks into the vocal delivery, particularly during the bridge.
9. "Hegira Émigré"
For fans of:
Parquet Courts Though it's significantly longer than most of Parquet Courts' tracks, this song's alternative folk-punk vibe should ring some bells with fans of the Courts. The punk undertones are fueled by a rebellious declaration: "I ain't gonna get walked on anymore."
10. "Raindrop in My Skull"
For fans of:
Dirty Projectors The only song on the album sung by new band member Rebecca Cash, "Raindrop" sounds sweet despite its eerie lyrics, like many of the Dirty Projectors tunes delivered by Amber Coffman.
11. "Imbecile Rages"
For fans of:
The Men This track's vocal rhythms initially sound Bowie-esque, but thanks to the modern lo-fi influence, The Men make for a more sensible comparison. Like Of Montreal, that band relied heavily upon reimagined '70s sounds on their 2014 album,
Tomorrow's Hits
.
Of Montreal plays Lincoln Hall on Friday, May 16, at 9 p.m. Search Groupon for deals on other concerts in Chicago.
Photo courtesy of Of Montreal
BY: Kelly MacDowell
Kelly's first concert was Fleetwood Mac and her first career was in the beauty industry. Now a style and music writer, she loves Project Runway and her dog, Watson.