Off the Eaten Path: Four Great Restaurants Near the Shedd Aquarium
BY: Halley Lawrence |
Aug 21, 2013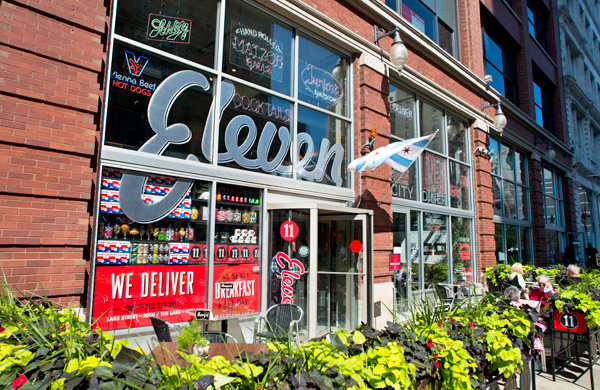 It's only natural that the
Shedd Aquarium
is usually jam-packed with visitors. It is, after all, the world's largest indoor aquarium, filled with aquatic wonders from the ghostly moon jellyfish to beluga whales. Still, it's also only natural to want to escape the hordes at the end of the day. For those looking to bypass the tourists queuing up at the onsite McDonald's or Corner Bakery Cafe, these four lunch and dinner destinations offer alternative meal options within walking distance of the Shedd. Each offers cuisine more memorable than what you can find at the aquarium's restaurants, and more legal than what you could fish from the aquarium's tanks.
Eleven City Diner | 1112 S. Wabash Ave.
(0.8 miles, a 15-minute walk;
click for map
) Bradley Rubin, owner of Eleven City Diner, grew up frequenting old-school diners and Jewish delicatessens on Chicago's North Side. In his own restaurant, he pays homage to them. Men behind the counter hand-slice corned beef and pastrami for sandwiches that are almost absurdly massive, as if doodled by a hungry cartoonist. These can be accessorized with a schmear of chopped liver or paired with one of Rubin's bloody marys. (Take home a bottle of his housemade bloody-mary mix to recreate the experience with your leftovers.)
Little Branch Cafe | 1251 S. Prairie Ave.
(0.8 miles, a 16-minute walk;
click for map
) Little details set Little Branch Cafe apart. An egg wash lends a savory gleam to a wasabi burger's buns, for example, and doilies peek prettily from beneath stacks of cookies arranged in glass cake stands. Open until 10 p.m. on Wednesday through Friday and 7 p.m. on other evenings, the spot also welcomes sippers for cocktails like the White Devil, a tequila-based beverage enhanced with housemade pomegranate bitters.
SouthCoast Sushi | 1700 S. Michigan Ave.
(1.2 miles, a 23-minute walk;
click for map
) On Saturdays and Sundays, SouthCoast Sushi—sister restaurant of Bucktown's Coast Sushi Bar—offers a short list of lunch dishes. Get a taste of fusion with a Japanese-inspired version of fish and chips made with sea bass and tempura-fried sweet potato, or warm up on a cool day with the ramen bowl's hearty braised pork and sake-laced broth. Starting at 4:30 p.m. every day of the week, the menu expands to include traditional sushi-house dinner options such as fatty salmon nigiri, tuna tartare, and sashimi.
Bongo Room | 1152 S. Wabash Ave.
(0.7 miles, a 14-minute walk;
click for map
) There are foods that are considered indulgent, and then there are foods whose very existence seems to challenge the idea of dieting. Bongo Room's decadent brunch and lunch dishes fall into the second category. Think banana pancakes with hazelnut cream and candied praline, or perhaps a stack of chocolate-chunk french toast stuffed with maple-infused marscapone. Typically less crowded than its Wicker Park domicile, the
South Loop
location closes each day at 2 p.m.
Photo: © Timothy Burkhart, Groupon