Omakase with Sushi Mike Means No Menus and No Soy Sauce
BY: KEVIN MOORE | 11.25.2013 |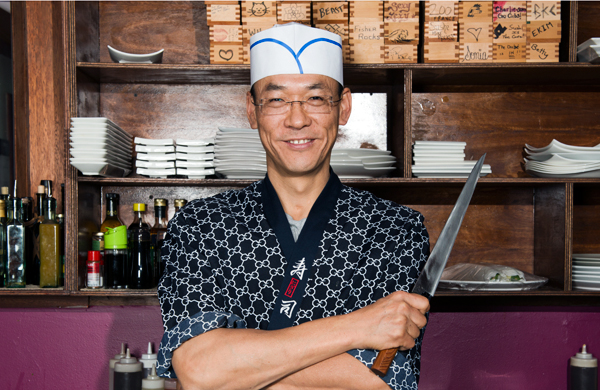 Tanoshii's (5547 N. Clark St.) version of fish and chips was beautiful.
The chef spent minutes meticulously assembling a perfectly round, 2-inch-tall cylinder of what appeared to be spicy tuna. He added a layer of avocado and diced tomatoes. He carefully spooned roe across the top. He squeezed two large wedges of lemon over the fish, letting the juice pool in the center. It really was beautiful.
Then, he destroyed it.
Attacking the creation with a spoon in each hand, the chef mashed and folded the entire cylinder in on itself before scooping portions onto triangles of crispy wonton skins. He handed them to us across the sushi bar, and as we took each bite, juices dripped down our hands and small scraps of fish fell onto our plates. The dish hit us with a refreshing—and almost bracing—acidity, although the umami flavor of the fish mellowed the lemon and tomato, allowing a subtle spice to create a pleasantly lingering warmth that endured long after we had finished.
This was our first course at Tanoshii, and we didn't order it. In fact, we had chosen to dine omakase—a word derived from the Japanese verb meaning to trust, according to Food & Wine, and commonly used to give chefs free reign to make and serve whatever they please—so we had no intention of ordering anything. Instead, the three of us placed our trust in chef-owner Mike Ham: "Sushi Mike" to the media, just "Mike" to the regulars who steadily arrived throughout the night.
When we said we would eat anything, Sushi Mike raised an eyebrow and said, "Really?" Then he jokingly suggested a freshly dissected frog heart—a trendy delicacy in Japan, apparently. Next, he earnestly asked about spice tolerance and food allergies. With this info logged, he slowly nodded, exaggerating his tall, slightly stooped frame, as he mentally planned our menu.
"I have one rule," he said at the beginning. "No soy sauce."
By ordering omakase, our group gave Sushi Mike our complete faith in both his abilities and ingredients. We essentially relinquished most of our control over the experience and allowed him to make whatever he thought best.
On two occasions, we failed to uphold our end of the bargain by asking what was in a particular roll or plate of sashimi. Sushi Mike responded both times with the same deadpan reply: "fish."
This seemingly simple one-word response clearly conveyed the sentiment, "Don't worry about it." Soon, we learned to stop asking and to enjoy whatever appeared in front of us.
This isn't to say that nobody cared what we thought about the food. While the sound system played a collection of greatest hits by Journey, Queen, The Police, and other '80s icons, the chefs would check in after virtually every single course. "How was it?" "Too spicy?" "What did you think?"
Sushi Mike admitted that people are going to prefer different things, so it's impossible to make one dish that everyone will love. That being said, he was fiercely proud when it came to the quality of his ingredients, specifically his seafood.
"Everyone's palate is different," he said while arranging translucent slices of sashimi, "but if you don't like my fish…we're going to have a fight."
As evidenced by the fish and chips that began our meal, Sushi Mike isn't interested in making simple rolls with rubbery salmon, julienned cucumbers, and overly cold rice. Instead, he experiments with nontraditional ingredients, using textures and layered flavors to accentuate his seafood without masking it.
Shiitake mushrooms turned a plateful of tender scallops into a profoundly earthy dish, although each bite brought more of the scallops' natural sweetness to the forefront. A streak of dark red sauce—Korean gochujang, guessed one member of our party—added to a salmon roll an unexpected, yet exceedingly welcome bit of funk. Even the mildly sweet sauce accompanying the sashimi managed to balance, rather than overwhelm, the fish's decadent richness.
Normally, I believe less is more when it comes to sushi. Sushi Mike heartily disagrees, and his creations manage to be intensely complex and entirely original, using inventive preparations to highlight the remarkable flavors and textures of his seafood.
As we devoured course after course, more people began to arrive at Tanoshii, and it was clear many were regulars. They addressed Sushi Mike on a first-name basis and chatted with the chef as he prepared order after order. Shortly before we left, one gentleman settled onto a stool next to mine, where the chefs showered him with an unprompted chorus of "happy birthday" wishes. Soon, he was talking with Mike about how hungry he was.
"Whatever you do," he said with a smile while jabbing a thumb in Sushi Mike's direction, "don't become this guy's best customer."
Photo credit: Andrew Nawrocki, Groupon
BY: Kevin Moore
Guide Staff Writer
Iowa-born, Arizona-raised, and Illinois-tax-paying writer who can answer any Trivial Pursuit question about wine or snakes.