Outdoor Brunches with a Punch
BY: Adam Bass |
Jun 19, 2013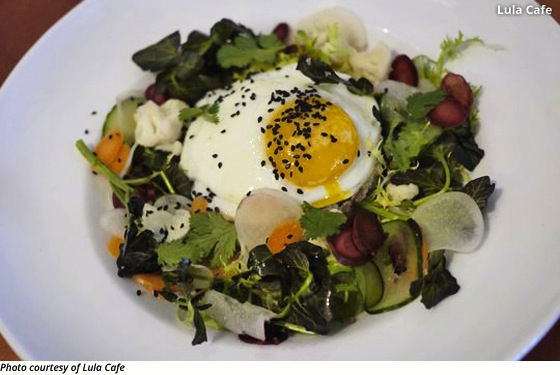 These five outdoor patios deliver seasonal veggies, hangover sanctuary, and a swift midmorning kick without bruising your shins.
If You Want to Sip a Sandwich Through a Cocktail Straw:
Twisted Spoke
(River West | 501 N. Ogden Ave.) You've heard of "hair of the dog that bit you" for a hangover? Well, Twisted Spoke is the whole dog. For roughly $6, you can lounge on the rooftop patio with a sandwich in a glass: a bloody mary with meat, olives, onions, parmesan cheese, and a Guinness topper—not to mention a 4-ounce beer chaser.
If You Want to Raid a Rabbit's Pantry:
Lula Cafe
(Logan Square | 2537 N. Kedzie Blvd.) In a decade and some change, Lula Cafe has gone from thrift-shop skillets to Michelin Bib Gourmand, thanks to ambitious self-taught chefs and a die-hard farm-to-table ideology. The outdoor patio's flower boxes spill with greenery, as does the brunch menu, which changes with the seasons. Turnips, asparagus, and shaved fennel are among the spring mainstays.
If You Want to Verify That Austria Isn't Short for Australia:
Austrian Bakery
(Lincoln Park | 2523 N. Clark St.) It's hard to miss the fresh-baked cranberry-walnut loaves stacked against the back wall like bricks, the busser endlessly stuffing plump oranges into an impressive juicing contraption, or the deadly dessert case. To avoid chocolate paws and broken promises, retreat to the sidewalk patio for benedicts, skillets, and bliss.
If You Want to See a Lumberjack's Sensitive Side:
Frog N Snail
(Lakeview | 3124 N. Broadway St.) With faux-wood wall panels and a bar of stacked logs, the dining room is lumberyard chic. Despite the decor, I prefer chopping down a mimosa or five on the sidewalk patio. It's a brighter complement to the midwestern bistro's brunch dishes—duck-hash benedict and egg-drop bouillabaisse, rife with leafy greens and locally sourced fresh veggies.
If You Dream of Gondolas Floating Down a Mimosa Canal:
Orso's
(Old Town | 1401 N. Wells St.) Orso's Italian restaurant has been the backbone of Old Town for more than 40 years, and its posture is still perfect. Stained-glass windows enliven the space with geometric swatches of color, and the brunch fare is just as vibrant, with selections such as garden-fresh omelets and Nutella french toast. For a hangover sanctuary, dine on the enclosed patio, where overhead chandeliers mingle with latticework, budding vines, and empty aspirin bottles.