Pan-Seared Duck Breasts: A Recipe from a James Beard Award Winner
BY: Nathalie Lagerfeld |
Nov 14, 2013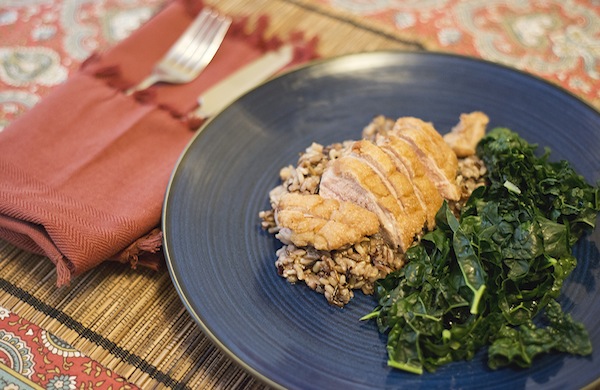 An avid hunter, Hank Shaw often sings the praises of wild game meats. His James Beard Award–winning blog,
Hunter Angler Gardener Cook
, is a well-researched how-to for those looking to start hunting their own food, whether it comes to
plucking a duck
or
cutting up a rabbit
. But he also insists that there's no recipe in his latest waterfowl-focused cookbook,
Duck, Duck, Goose
, that can't be cooked with a boring old supermarket duck. "The book is not a hunter's book," he told me. "[The recipes] have all been tested on wild and domestic birds."
See my full interview with Hank Shaw .
I didn't quite believe him. There was no way that using a farm-raised duck wouldn't introduce unforeseen wrinkles into the operation. However, all human activity is more interesting when performed under adverse conditions, so I decided to test out Hank's claim. I'd break down the bird myself, then attempt pan-seared duck breasts, a recipe he'd recommended for first-timers.
See Hank's full recipe for pan-seared duck breasts.
A FROZEN DUCK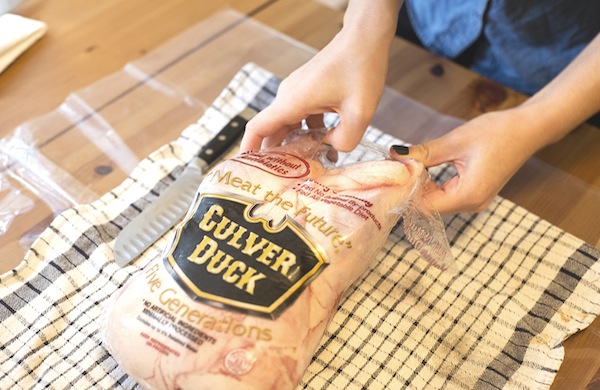 I've heard that if you call ahead, you can get a freshly slaughtered duck at fresh-kill poultry shops such as Alliance Poultry Farms (1636 W. Chicago Ave.) in Ukrainian Village. (
Read our behind-the-scenes look at Alliance Poultry Farms.
) However, that was not my intent. I headed to the
Lincoln Park Whole Foods
(1550 N. Kingsbury St.) and retrieved a duck carcass from the freezer case that was hard as a rock. It took a full day to defrost in the fridge, and even then the sack of guts and gizzards stuffed in the middle were stiff and covered in ice crystals. Perfect.
A DULL KNIFE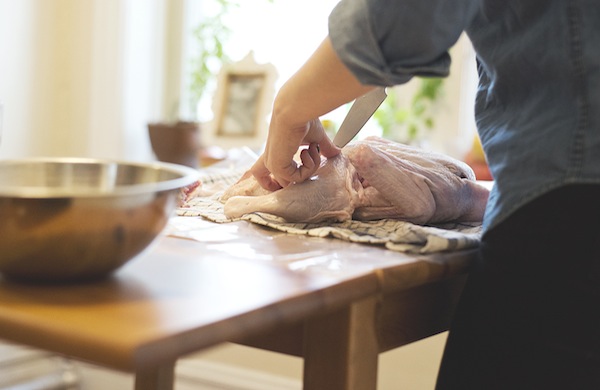 Hank had told me that the only thing you need to break down a duck is a "small, sharp knife." Emphasis on "sharp"—"a dull knife is a lazy servant," he'd added. Well. My IKEA knife set yielded only one blade small enough for the job. Like all the other knives in the set, it doesn't really fall into a conventional knife category. It's kind of a paring knife, except that it has a serrated edge. (Maybe IKEA's knife designer was feeling wild that day.) It was with this misfit of a weapon that I would go into battle.
A SLIPPERY MEAT SWEATER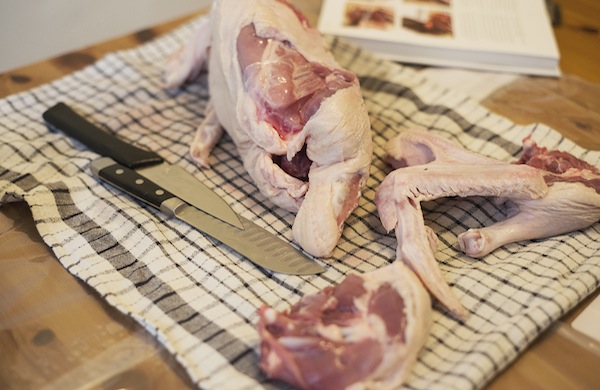 My first challenge was the skin, which was nothing like the thin, tight covering depicted in the cookbook's
step-by-step photos
. Pallid and fatty, it gathered into thick folds around each of the bird's limbs, like a sweater several sizes too large. I tried to cut around the wing- and leg-joints as instructed, but the loose skin mostly just slipped around under my IKEA blade. Where I did gain purchase, the knife shredded more than cut, leaving said meat sweater in tatters. I hear that butchering a whole animal is supposed to help you respect them more by bringing you face-to-face with the true nature of what you're eating, à la
The Omnivore's Dilemma
. But as I sawed away awkwardly, I felt like I could hear the duck quacking with disapproval from beyond the grave. Respectful this was not. Cutting the actual flesh of the bird was only slightly better. My knife was surer, but with all the shredded skin around, it was difficult to locate the joints in the legs and wings that I was supposed to cut through. I began hacking almost at random at likely-looking tendons and ligaments. At one point, the photographer, Tim, just stopped taking pictures. "This is gonna be too gross to put on the blog," he said.
AN IMPATIENT COOK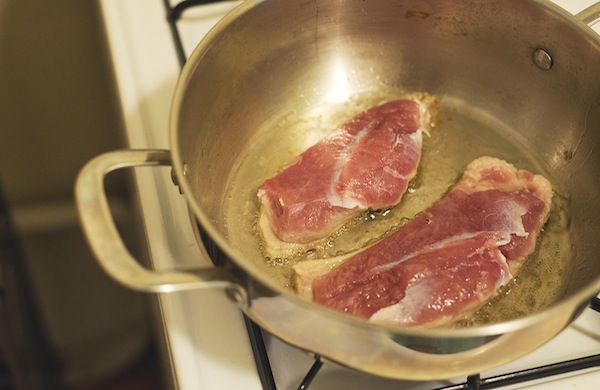 When I had finally sliced the breasts off the ribcage—or "freed" them, as Hank reminds us to say—it was time for the next step: pan-searing. The recipe didn't sound too challenging. "Do them simply like a steak," Hank had told me. "Salt, pepper, maybe a squeeze of lemon, call it a day." Yet here, my thick-skinned duck thwarted me again. I let the breasts sear skin-side down for 5–8 minutes, the recommended length of time for domesticated duck. When it came time to flip, however, the fat hadn't rendered yet. There was still a thick layer of gummy whiteness between the meat and the skin. If I have one flaw as a cook—besides my lack of proper knives—it is impatience. So I flipped the breasts over without a second thought. Big mistake. I hadn't given the skin a chance to crisp, thereby denying myself one of duck's central pleasures. When I did finally tuck into my meal, only the thin, tapered ends of each breast had achieved the crunchiness I'd desired. In between, the skin was only slightly browned, with unpleasantly chewy fat underneath. I ended up cutting most of it away and just chowing down on the actual meat. Though it was still a hearty meal—especially with some wild rice and balsamic-sprinkled steamed kale—it felt like a bit of a missed opportunity.
NOTES FOR NEXT TIME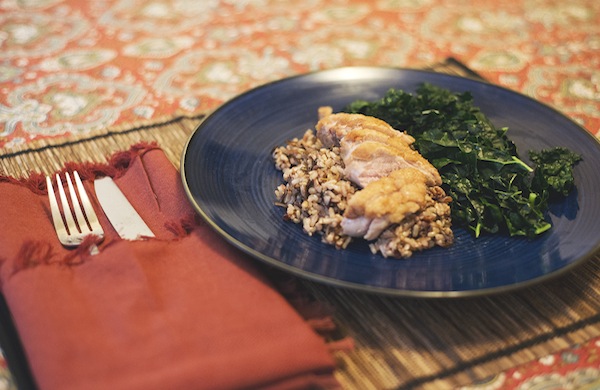 I can't blame my uncrispy meal on the supermarket duck entirely. If I work with an equally fatty duck next time, I'll turn the heat up on my sauté pan to make the skin side cook more quickly and crispily. But my experiment does suggest it might be worth it to track down something a little better than your average supermarket bird—even if you're not quite ready to hunt down your own wild game.
WHAT TO BUY
Learn from my lesson of using "lazy servant" knifeware. Here are three options that respectfully cook up a bird carcass: 1.
Emeril 15-piece stainless-steel knife set with block for $59.99 ($139.99 value)
 | 
There are no filet or de-boning knives, like Hank would recommend, but there is a proper paring knife here to help you break down a bird.
2.
Epoca high dome three-piece roaster set for $27.99 ($39.99 value)
 | 
For when you want to forget about cutting and just roast a bird whole.
3.
17-piece kitchen starter set for $39.99 ($79.99 value)
 | 
For those starting over after greedy elves absconded with all their cookware.
Photo credit: © Timothy Burkhart, Groupon
BY: Nathalie Lagerfeld
Guide Staff Writer
Nathalie is a writer and editor on the Guide's food team. Originally from Virginia, she now lives in Chicago, where she regularly indulges her love of tortas, bibimbap, and Cheez-Its. Follow her on Twitter @maviswillsaveus.