Parents, Commandeer Your Kids' Menus Like This Chef
BY: AIMEE ALGAS ALKER | 2.25.2014 |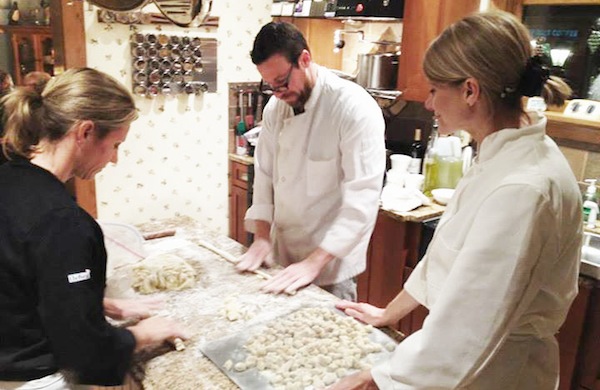 Chef Colin Turner of Tin Fish (Tinley Park | 18201 S. Harlem Ave.) has been delighting suburban palates for years with fresh seafood and generous chops, but when it comes to pleasing his kids' palates, it's a whole different story.
"Two of them will eat—or at least taste—pretty much anything," he says, "but our youngest is super picky."
His trick to getting his young son to scarf down the seafood his customers clamor for in his restaurant? "As long as we tell him it's chicken," he says, "he eats it."
Philosophy
He and his wife Michelle are super health conscious—Colin's been an avid cyclist for years, and in 2013, as part of their commitment to try something new together each year, they both fell in love with CrossFit. So it should be no surprise that as parents, they read labels judiciously and cook with organic ingredients as much as they can, reserving processed or prepared foods as treats.
Dining out
To tackle this typically tricky situation, Michelle and Colin commandeer the menu, ordering items for the whole family to share. "We seldom order from the kids' menu, unless one of them is tired or having a bad day." Even his youngest will at least try something new when they eat family style.
His kids' favorites
Colin takes as much care when he cooks for his little family of five as when he cooks for 50 families a night. His kids will never turn up their noses when he makes chili, steaks, or homemade gnocchi (picture above).
Photo courtesy of Lynfred Winery
BY: Aimee Algas Alker
Guide Staff Writer
Though Aimee stays up to date on the latest food trends for the Guide, most of her meals are served cold and cut into tiny, toddler-sized bites.