GROUPON GUIDE TO WASHINGTON-DC
See It or Skip It: Pike Place Market in Seattle
BY: Molly Metzig |
Dec 11, 2014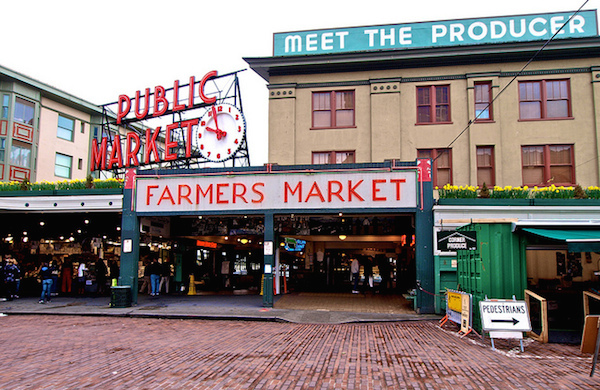 What is Pike Place Market?
Pike Place Market is the oldest farmers' market on the West Coast, and it's particularly famous for its fishmongers, who toss freshly caught fish to each other before big crowds. The fishmongers are the figureheads of the local vendors who define this labyrinthine space, where you can pick up just about anything, much of it fresh or handcrafted. More than 10 million people visit the market each year.
Why am I here?
I'm in Seattle visiting a good friend; many people I've talked to say Pike Place Market is a must-visit. I was worried my host would recoil at the idea of taking me to what could possibly be the most crowded, "touristy" place in town, but I'm pleased to find that he's willing to go.
Already been to Pike Place Market? Find other deals for sightseeing in Seattle.
What's Pike Place Market like?
Stimulating. During one 10-minute stretch, we stop to hear a talented violinist, some guy hands me a pear slice, and crafts consume my field of vision. All the while, we can smell the salty air from Elliott Bay.
Pike Place Market also famously includes the world's original Starbucks. The line is pretty much always long, but it's worth walking by to check out the goofy original company logo—a voluptuous, two-tailed mermaid. It's one way the company pays tribute to Seattle's seaport heritage; Starbucks is also named after a character from Moby Dick.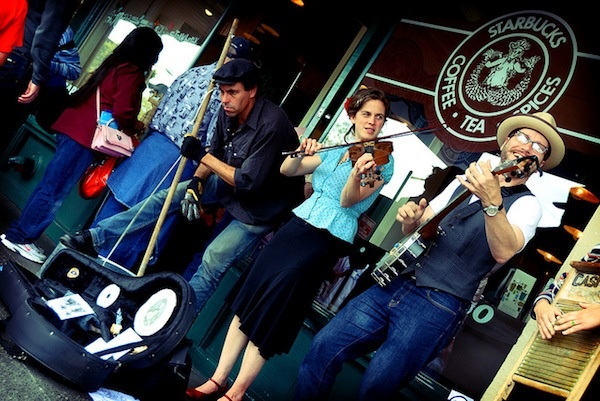 The main level of the market is lined with vendors selling food, flowers, and all things handmade. Bring your appetite—free samples abound. The crowd subsides a bit on the lower levels, which has more permanent shops than pop-up stands. (Check out our Pike Place Market Dining Guide for further details).
Then there's the biggest draw—Pike Place Fish Market. In the 1980s, when the fish market was on the verge of bankruptcy, the owners decided to play up their showmanship: when someone orders a whole fish, the fishmongers shout unintelligibly about the order and then hurl the fish through the air like a rugby ball from the front of the stand to the back, where it gets weighed. It's strangely captivating, and customers are hooked.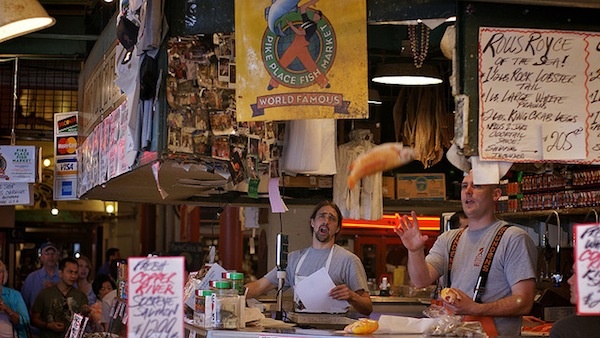 A little off the beaten path of the market is Post Alley, a commercial backstreet of various shops, bars, and restaurants that feels almost European. Somewhere over here you can find a famous wall that is plastered in chewing gum, but we didn't pursue it further because it sounded disgusting.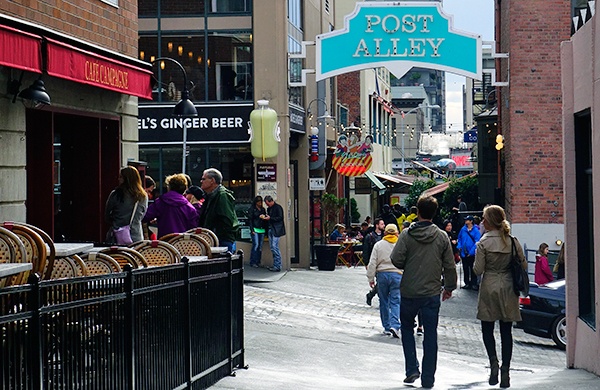 I do have one regret about my visit to Pike Place Market: not stopping for a beer. Post Alley is the area to have one, and friends said that White Horse Trading Co. is the best spot there. It's an English-style pub that imports beers from England, Ireland, Scotland, Wales, and Belgium, an interesting contrast to the many (great) local breweries scattered around Seattle.
Looking for something else to fill you up? Shop Seattle food and drink deals.
The Verdict
See it. It's certainly not a tourist trap, because you can easily have fun here without spending a dime. But if you do spend money, you can leave feeling good about it—the vast majority of Pike Place enterprises rely on local supply chains, meaning the proceeds directly strengthen the local economy.


Photos: Public Market Farmers Market by Kristin Wall under CC BY-ND 2.0; Seattle lomography - the Original Starbucks by Loren Kerns under CC BY 2.0; Pike Place Market by mat79 under CC BY 2.0; Post Alley by Molly Metzig, Groupon