The Best of Pitchfork Music Festival 2014
BY: Emily Wachowiak |
Jul 22, 2014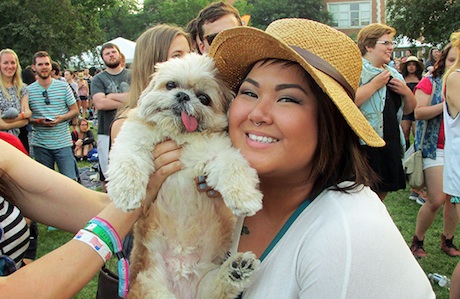 Compared to previous years' rainstorms and heat waves, 2014's
Pitchfork Music Festival
was all sunshine and cool breezes. The idyllic weather helped set the vibe for the 43 performances spread over the three-day event. Here are our highlights of the festival's best moments (both musical and non-musical):
Musical
Best Headliner: Beck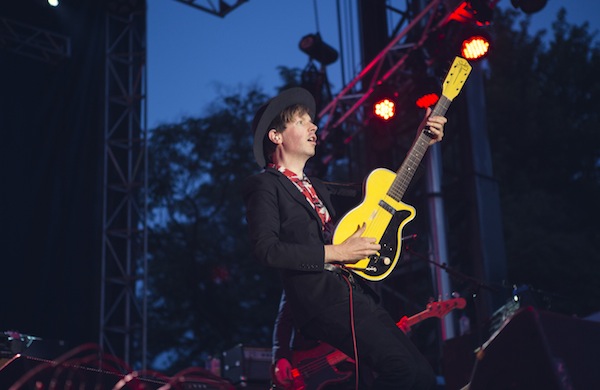 Neutral Milk Hotel delivered an intimate set to loyal fans and Kendrick Lamar ended the fest on a bombastic note, but
Beck'
s Friday-night showmanship proved hard to top. He showcased well-known (aka funky) hits—"Loser" and "E-Pro" among them—as well as the softer, more introspective side exhibited on albums like
Sea Change
and this year's
Morning Phase
, reminding fans of his status as a true genre chameleon. The constant hopping from hip-hop to blues to country all built to a maximalist encore that included a wicked harmonica solo, an early-career medley of "Where It's At," "One Foot in the Grave," and "Miss You," not to mention an impressive amount of dancing.
Best Finale: St. Vincent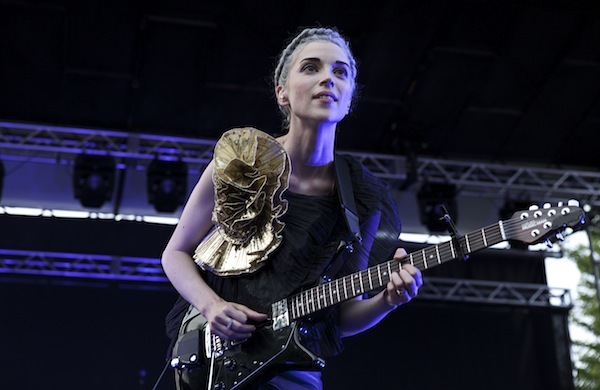 The bewitching
St. Vincent
owned the Red stage on Saturday with her ferocious guitar playing and raw choreography. There were no straight-up dance routines, but Annie Clark practically glided across the stage, moving in synchronicity with her backup guitarist to give the show a near-cinematic quality. Clark (whose gold-embellished dress would look at home on any red carpet) ended her set by rolling around on the stage and smashing her head into a bass drum—her
post-show icing
was well-deserved.
Best Brass: Neutral Milk Hotel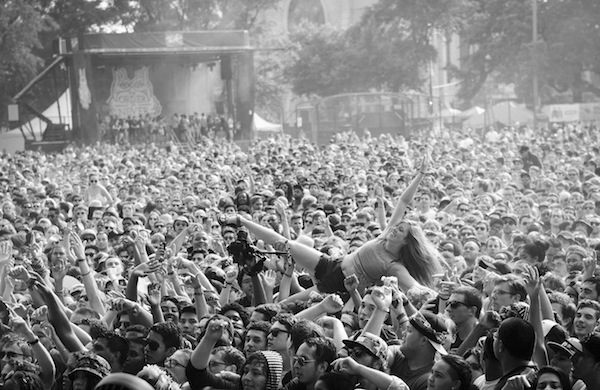 It's not every year that a tuba takes center stage at Pitchfork. Then again, few things about
Neutral Milk Hotel
's set were conventional—the lack of photo and video coverage, for one, and the fact that the crowd felt "Holland, 1945" was moshing music. All shoving aside, the band delivered an emotional set that was true to the antiquated sideshow spirit of their cult album
In the Aeroplane over the Sea
. A heavily bearded Jeff Mangum sang in his broken-boy yowl while Scott Spillane blew the brass until his cheeks were purple and Julian Koster shredded his bow on a musical saw.
Best Near-Disaster: Majical Cloudz
The weekend was not without its glitches—the most severe of which was a complete keyboard failure for
Majical Cloudz
. Whereas
Pusha T
delayed his set by 30 minutes to wait on a late DJ, the electro-pop duo decided to power through their technical difficulties with a largely a cappella set, drawing on the audience for handclaps and making a few jokes along the way. Things ended dramatically with an onstage demolition of the busted keyboard.
Best Rookie Rapper: Isaiah Rashad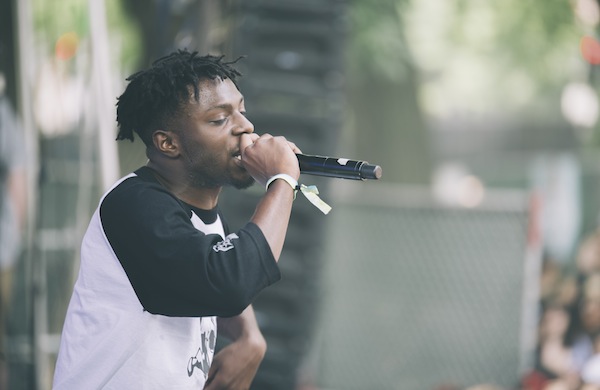 Recently signed to
Top Dawg Entertainment
—home of fellow Pitchfork Fest MCs Kendrick Lamar and Schoolboy Q—the 22-year-old rapper drew a loyal crowd to the small Blue stage, no doubt recruiting some new fans in the process. Rashad laid his spitfire verses over subdued, jazz-like melodies. The end result was a fusion of West Coast party vibes and the gruff Southern style of his native Chattanooga.
Best Collab: Sharon Van Etten and Goose Island Beer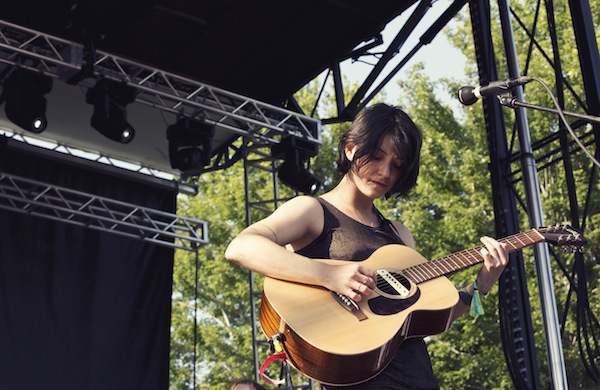 Near the end of her downtempo yet emotionally powerful set,
Sharon Van Etten
dropped in a plug for the dry-hopped kölsch she helped make for
Goose Island Beer Company
. "They asked me if I wanted to collaborate on a beer, and I said 'Yeah, if you want it to be disgusting,' but it was really good!" Indeed, the SVE Kölsch was a hit, though you won't find the limited-edition brew outside this year's Pitchfork Festival—yet.
Non-Musical
Best VIP: Marnie the Dog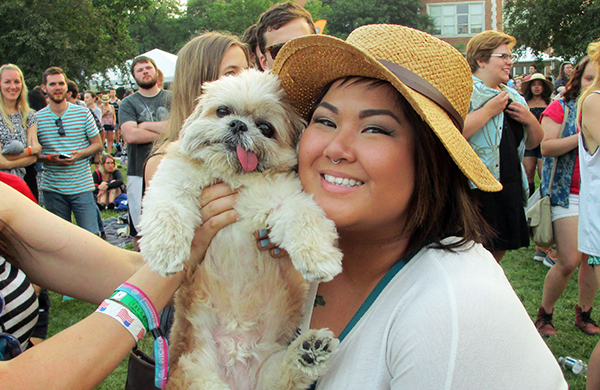 The 12-year-old
Instagram celeb
hit the festival hard, snapping selfies with fans, shopping for vinyl, and
cuddling with Dum Dum Girls, DIIV, and Perfect Pussy
.
Best Festival Perk: Free Haircuts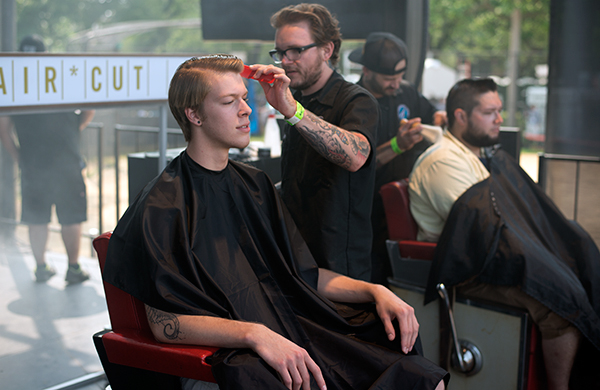 Tyler Scott and Will Valentine of
Joe's Barber Shop
gave out more than 200 free haircuts at the festival this weekend. The catch? Their clients had no say in what kind of style they received. "I made a girl cry," Scott said. "I shaved half her head." Nonetheless, most festival-goers left happy. "It's a free haircut. You get what you get!"
Best Artwork: Geometric Village from Johalla Projects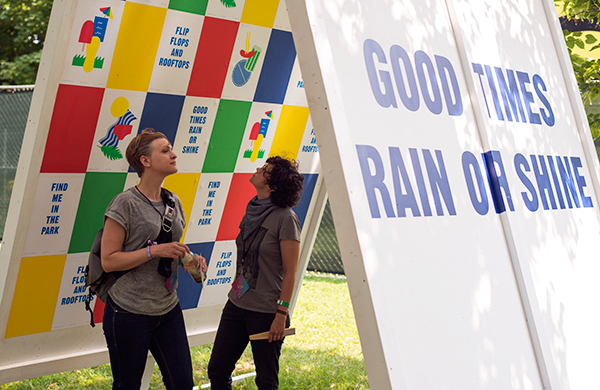 Johalla Projects
debuted its newest public art piece at Pitchfork: a duo of
tent-like structures
designed by collage artists
Heather Gabel
and
Chad Kouri
. The two contrasting pieces created a sort of Choose Your Own Adventure depending on who was playing the nearby Blue stage. Kouri's vibrant, simple prints and upbeat slogans paired well with the carefree electro-pop of
Avey Tare's Slasher Flicks
, while Gabel's stark black-and-white images included a human skull and a coyote torso that complemented the darker, more contemplative compositions of
Jon Hopkins
.
Best Craft: Mia Weiner's Custom Embroidery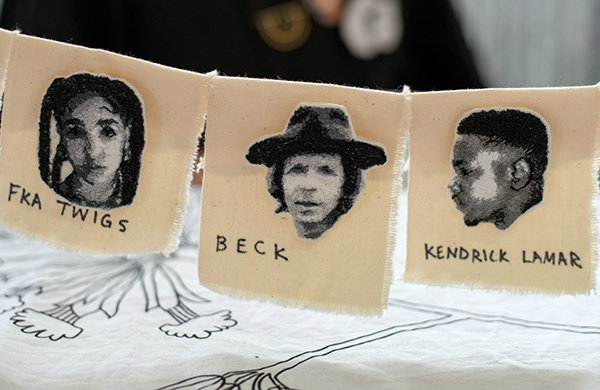 In the craft tent's sea of chunky plastic earrings, flower-adorned sunglasses, and ironic T-shirts, Mia Weiner's booth stood out for its direct connection to the music. Her custom-embroidered pieces—each taking untold hours to complete—offered a truly unique souvenir: hand-stitched flags and pins of the festival's featured artists. Request your own custom piece from her online shop,
How Could You?
.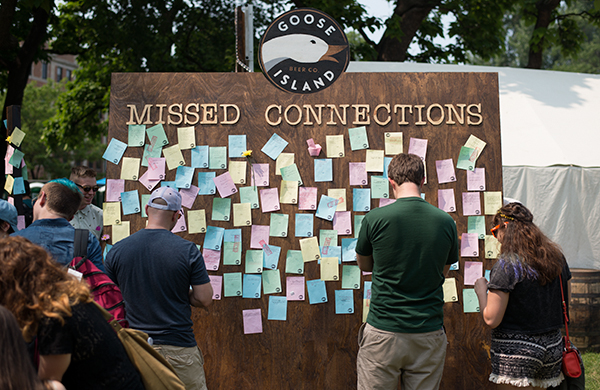 The next Pitchfork Music Festival won't be for another year. In the meantime, check out more music in the Windy City with these deals for concerts in Chicago.
Photos: Jessica Lehrman (Beck, crowd); Tom Spray (Isaiah Rashad); Ebru Yildiz (Sharon Van Etten, St. Vincent); Andrew Nawrocki, Groupon (non-musical categories)