Pizza Party and Crowd Control at Dimo's Pizza in Wrigleyville
BY: Jen Jackson |
May 28, 2013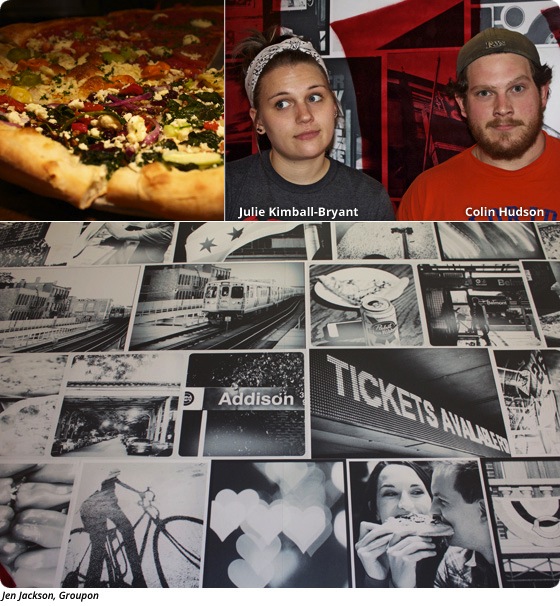 Everyone knows it's a party at
Dimo's Pizza
, whether you ask the hordes of customers gazing lustily after inventive slices or the exuberant young staff working behind the counter. Off the clock, Dimo's employees are improvisers, singers, and musicians. But when they're at that party, they become peacemakers, inventors, hagglers, and chefs, all working to please and appease the boisterous masses of Wrigleyville's Clark Street, even on some of the rowdiest days of the year. I stopped in for a bite and a chat with three Dimo's employees—Julie Kimball-Bryant (assistant manager), Brandon Price (general manager), and Colin Hudson (a supervisor at Dimo's new Wicker Park location when it opens this summer)—to talk about good samaritans, George Wendt, and the lengths people will go for a slice.
GROUPON: You've got a pretty diverse group of people that comes in here: Cubs fans, improvisers, bar crawlers, the Boystown crowd. What kind of pizza do these different groups like the best?
JULIE KIMBALL-BRYANT
:
If they're an out-of-towner, they want something they've seen before like a pepperoni-sausage. If they're a regular, or if they're drunk, they want barbecue chicken-bacon-cheddar-ranch or mac 'n' cheese, which is our biggest seller. COLIN HUDSON: Mac 'n' cheese brings all people together.
G: How does the Cubs' score affect business?
BRANDON PRICE: If they're winning in the seventh or eighth and then they blow it, no one wants pizza. If people are expecting them to lose from the beginning and then they do, they're still in a good mood and they'll come in.
G: How do you keep a rowdy crowd under control?
JKB: People really like to clump together. So I do my best to get the groups where they need to go. I have to make a lot of assumptions about people's relationships—like I'll think I'm talking to a couple that's been together for five years, and they'll turn to each other and yell, "We just met!" CH: The busiest day that I took part in was Saint Patrick's Day. I was just about to leave for the night when one of the customers in line, who was very drunk, said, "I'll help you, don't worry." And she was hopping around from table to table trying to help me clean up. She kept saying, "I'm in the hospitality business, I understand. I want to help out," which was actually pretty cool but unnecessary.
G: What's the best part about working with such a lively crowd?
CH: Everyone's in it to have a good time. Our busiest shifts are probably my favorite, since everyone's in it together. We're here to party. We're here to have some pizza. JKB: The neighborhood is a destination, so people want to come and have a good time. Even our regulars who come in every day, they come because they know us and they want to hang at
their
pizza spot. It's the
Cheers
of pizza, as I like to call it. Norm!
G: What's the craziest thing anyone has ever done to get free pizza? 
JKB: On Saint Paddy's Day, there was a line of people out the door, and someone came out with a box of pizza they'd just bought and another guy offered $50 for it.
G: Did he take it?
JKB: No! CH: I had a customer argue with me for about five minutes about a buy-one-get-one-free coupon. We've never done one of those. But he insisted he had one, and when I asked to see it, he said, "It's in my mind."
G: Describe your average Saturday-night shift using one adjective, one verb, and one exclamation.
JKB: I want to include an onomatopoeia: unpredictable, house party, BOING!
G: Do you take customer suggestions for new pizza?
JKB: We do. On Fridays, we do "lab lunch" from 11 a.m. to 2 p.m. We offer pizza that we're trying out for potential specials. If you buy a slice, you get a lab slice for free. CH: Tomorrow we're doing a spanakopita slice. And you can always suggest things on our Facebook. One of our regulars, Jake, came up with the jerk-chicken recipe on our menu.
G: You've recently redesigned Dimo's. Where did these wall photos come from?
BP: Some of these shots are of our regulars, and some are from our staff parties. We have a lot of former staff members who have moved on to start other stores. There's a teacher in Austin; there's a guy who runs a food truck in California. It's just sort of the history of everything.
G: Tell me a bit about the new store.
BP: It's going to be a sit-down restaurant, and it'll be almost four times as big as this place. There'll be a salad bar, we'll sell beer, and we're going to do gourmet pizza, too—I'm talking shrimp, lobster, all sorts of crazy stuff. It'll still be Dimo's, though, so you can come in for a drunk slice if you need to.
Dimo's Pizza's new location at 1615 N. Damen Ave. will open this summer.
BY: Jen Jackson
Jen writes, paints, and dreams of having a pizza wedding cake someday.