Plate by Plate: Goat-Cheese Fritters at the Dining Room at Kendall College
BY: Shannon Jewitt |
Jul 22, 2013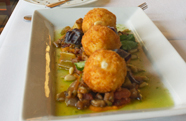 On an extended lunch break, I walked from my office to the
Dining Room at Kendall College
. The brisk 10-minute trek in Chicago summer humidity took me past a cement factory and a Greyhound parking depot before I stood in front of a building that looked very much like my college dormitory. Inside the Dining Room, however, was a surprisingly elegant contrast to the industrial landscape surrounding it.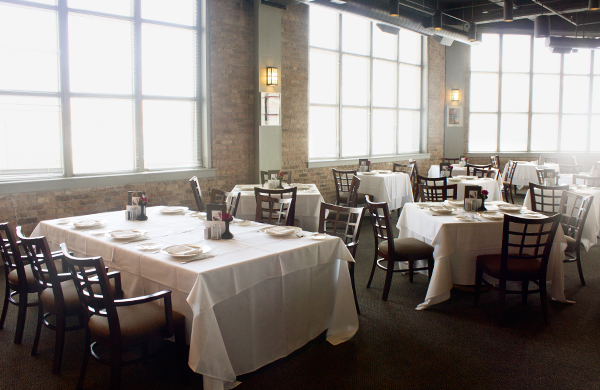 The restaurant is run by the college's culinary-arts students, who are overseen by expert chefs, including Kendall alumna Beverly Kim, whose previous gigs include a stint on
Top Chef
and at Logan Square's Bonsoirée. The combination of her expertise and the students' inexperience, I had heard, would ensure us upscale food at an affordable price. The prix fixe lunch, which my friend and I had come for, would allow us to indulge in a starter, entree, and dessert, along with nonalcoholic drinks called pomados, for $22 each. We sat close to the kitchen, with only a glass panel separating us from the action. Chefs, most in their 20s and 30s, were hard at work chopping vegetables, squeezing fresh juices, and plating dishes. Soon, their work began arriving at our table: a first course of cheese-filled squash blossoms, followed by a palate-cleansing gooseberry sorbet.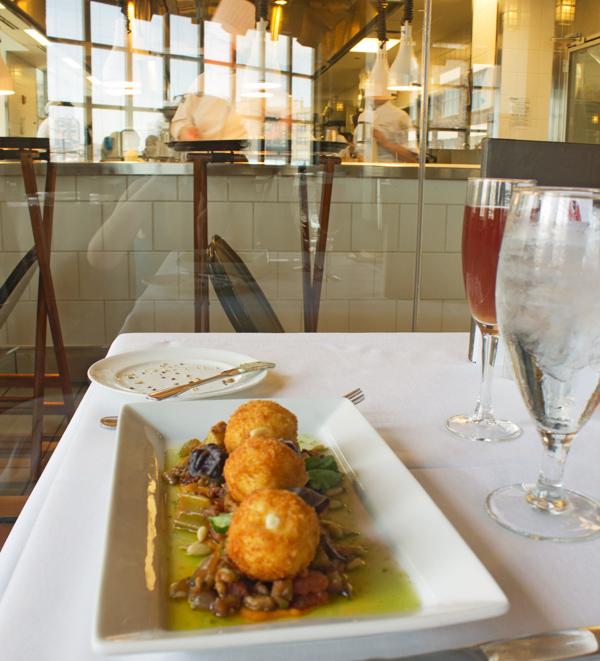 Then our entrees arrived. I ordered the goat-cheese fritters. Now, there are few things I love more than goat cheese—I'm talking about straight from the container—so this dish clearly had potential to become one of my favorites. The fritters were bursting with rich, creamy goat cheese. They came atop a caponata, with spongy eggplant and tomatoes and crisp celery and pine nuts. The last two ingredients added the perfect amount of crunch to the dish. Drizzles of summer-vegetable crema surrounded the caponata, adding just enough tartness to complement the goat-cheese filling. I opted to dip the fritters in the vegetable mélange, which created an excellent balance of savory and sweet flavors.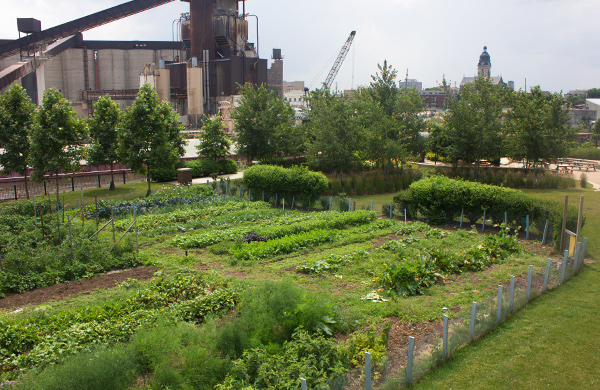 The fresh vegetable accents were no surprise, as the Dining Room at Kendall College is
Guaranteed Green
by the Green Chicago Restaurant Coalition, which means it has "achieved a markedly high level of environmental responsibility," according to the coalition's website. Although the server couldn't give me specifics on my meal, he pointed to the school's garden as playing a major role in the menu. A salad on the menu entirely comprises vegetables from the garden, and many of the vegetables used in the restaurant's dishes are offerings fresh from the garden. In addition, the Dining Room at Kendall College has a seasonal menu, so its dishes include the garden's freshest herbs and vegetables. After my leisurely two-hour lunch, I stepped out of the college and into a blanket of humidity. My mini vacation was over; it was time to go back to work. Still, with my belly full of student chefs' carefully prepared food, I felt ready to face the day.
BY: Shannon Jewitt
Resident Beer Stalker Shannon has an insatiable thirst for craft beer. Despite being a vegetarian, she always makes an exception for fries cooked in duck fat.