Plate by Plate: Smoked Pepper Salmon at Calumet Fisheries
BY: Patrick Winegar |
Aug 5, 2013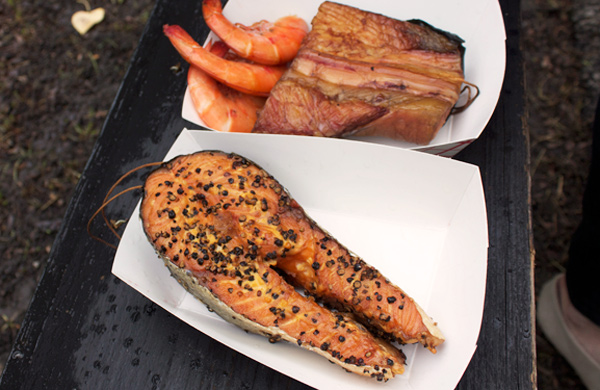 Calumet Fisheries
is just a tiny shack on the far South Side, but it's almost impossible to miss. Surrounded by the hulking iron bridges, bulk cargo docks, and freight trains that line the industrial corridor of the Calumet River, it looks like the only place in sight that serves food. As we drive up to the foot of the 95th Street Bridge, the little red-roofed hut calls out to me with a hand-painted sign—
Smoked Fish
—my favorite food.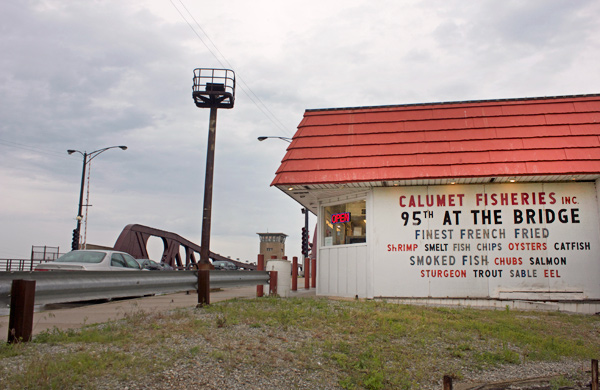 My girlfriend and I line up at the glass display case. There's stacks of meaty salmon collars, buckets of Gulf shrimp, and cuts of Lake Superior trout. It's all slow-smoked on site. Though Calumet Fisheries isn't a ritzy five-star restaurant, the walls are covered in awards and honorable mentions, from
Anthony Bourdain's glowing endorsement
on an episode of
No Reservations
to a coveted
James Beard Foundation Award as one of America's Classics
. After we order, Carlos, the manager, happily takes us outside to show us the smoker: a simple brick kiln with twin wooden doors. Painted on its side is a mural of the Blues Brothers. Jake and Elwood famously
launched their Bluesmobile over the bridge next door
in one of the movie's iconic scenes. In front of the smoker, Carlos explains the time-intensive cooking process: the smoker runs for up to an eight-hour shift each day, infusing a rich woodsy flavor throughout racks of whitefish, chub, salmon, and sturgeon. I ask what they use for fuel and flavoring, and he simply points to a stack of split oak logs nearby. No additives, no frills. Just plain old wood, quality fish, and plenty of time.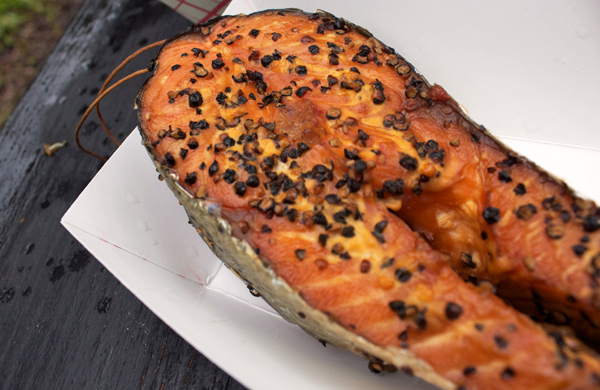 The restaurant is take-out only, so we have to eat our haul of salmon, shrimp, and sturgeon in our car or on the banks of the Calumet. We opt for a park bench a few blocks away, not far from the shores of Lake Michigan and the Indiana border. I unwrap the pepper salmon, dig my fork in, and take a bite. It's rich and buttery but cut through with the toasted, smoky earthiness and a spicy, subtly sweet glaze of garlic and peppercorns. The smokiness fills the whole flaky collar of fish, accenting—not overpowering—the salmon's delicate natural flavor. But I'm not alone in enjoying my meal. A one-legged gull has picked up the scent of our lunch and hops perilously close, clacking his beak and squawking enviously. As he vaults into the air and begins to circle overhead, we decide to pack up and leave. He swoops and wheels above me as I savor one last mouthful of salmon before I jog through the fog-soaked grass to the car. My shoes are drenched through to my socks, my hands smell like fish, and I've just been attacked by a seabird. But it was all worth it—this was one of the best meals I've ever had.
BY: Patrick Winegar
Patrick is an Alabama transplant to Chicago who writes about food and leisure for the Guide. He spends his free time writing sketch comedy and hunting for good barbecue.