Polish Food Within a Pierogi's Throw of Your Neighborhood
BY: Melanie Zanoza Bartelme |
Jul 18, 2013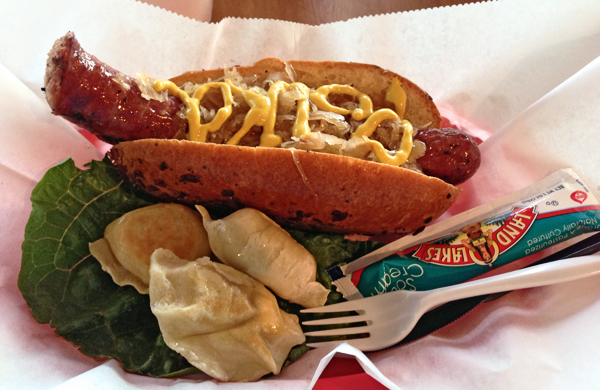 The best part of the holidays for me has always been the food. And, because I'm a second-generation Polish Chicagoan, "the food" means a beige and brown feast centered around juicy smoked sausages nestled in sweet and tangy sauerkraut, and fluffy bread dumplings swimming in a rich brown gravy. Platters get passed as stories shoot across the table, distracting us from making eye contact with my grandma's beloved czernina, a vinegary soup made with duck blood.
Unfortunately, the holidays come and go too fast, taking some of my favorite flavors with them. And despite living in a city that once boasted the largest Polish population outside Warsaw, it's surprisingly hard to find good Polish food on a whim. (There aren't pierogi joints on every other corner the way there are pizza and burrito places.) That said, great Polish food does exist throughout the city (and just beyond), sating cravings for this comfort food year-round.
If you want to feel like a regular:
Podhalanka (Wicker Park | 1549 W. Division St.)
Vinyl-topped chairs surround white-clothed card tables at this BYOB tavern-like joint, where, at any given hour, you can scout regulars devouring traditional dishes ordered from a laminated menu. One such dish is the flaczki, a tripe-based soup. "If you've been in a kitchen in Poland circa 1988, this place will immediately strike a chord," said a fellow Polish Groupon staffer, describing the women in the kitchen who peel the potatoes. "It's standard stuff, which is why it's authentic."
If you want to dine with college seniors and senior citizens:
Polka Sausage & Deli (Lincoln Park | 2401 N. Clybourn Ave.)
Established in 1945 on the South Side, this institution recently moved to new digs in Lincoln Park. The sausages are ground and smoked in house, then set into pretzel rolls—new to this location—and slathered with mustard and sauerkraut. Make it a "Polish combo" by adding three pierogis instead of fries (though you can get those, too). And be prepared to share space with both DePaul students and veteran customers who make the trek up north for a taste of their old favorite.
If you want a power lunch with pierogis:
Pierogi Heaven (The Loop | 169 N. Wells St.)
The offerings at this quick-service lunch spot aren't limited to its namesake pierogis, although it's hard to pass up the near-dozen varieties of those on the menu. Customers can alternatively opt for smoked sausage with mashed potatoes and sauerkraut for a heavier midday meal or stuffed cabbage and dark-red borscht for a taste of Russia. Pierogis stuffed with potato, spinach, and kraut are available in batches of 3, 6, or 12—perfect for a little taste or a whole meal.
If you need Polish food like Mom made it:
U Gazdy (Wood Dale | 270 W. Irving Park Rd.)
With the breakdown of traditional neighborhoods, many Poles moved to the burbs, bringing their food with them. At this Wood Dale restaurant, with its hand-carved wooden interiors and lodge-like exterior, Polish culinary traditions live on. In addition to its well-known breaded pork cutlets and pierogis, U Gazdy dishes out regional items such as potato pancakes and whole roasted rabbits. And instead of being served with butter, bread comes with a plate of lard-based smalec, a spread made with bacon, garlic, and herbs. A first-generation Polish friend of mine once said, "This is how my mom would cook."
If you want to eat like the pope:
Bobak's (Garfield Ridge | 5275 S. Archer Ave.)
This purveyor Old-World sausages and deli meats has been around since 1967, and it has gained quite the following during its nearly 50-year run. The sausages are distributed all over the world, which is probably why Pope John Paul II specifically requested them when he visited Chicago in 1979. In addition to meats, Bobak's provides shelves and shelves of international specialty foods, from teas to chocolates, and a hot bar offers a taste of its wares.
If the voices in your head are screaming, "Follow that dumpling!":
Pierogi Wagon (???)
After a very recent Kickstarter campaign, the creators of Pierogi Wagon—Damian Warzecha and Jessica Whitney—are getting ready to launch Chicago's first-ever Polish food truck. He's Polish, and she grew up eating the same food. According to their Kickstarter page, they're "taking the traditional pierogi and creating delicious artisan dips to make them even better." Watch for flavors such as jalapeño ranch and caramelized-onion aioli, as well as innovative pierogis that might include bacon and egg.