Power Lunch Spots in Chicago
BY: KATIE KAHN | 1.16.2015 |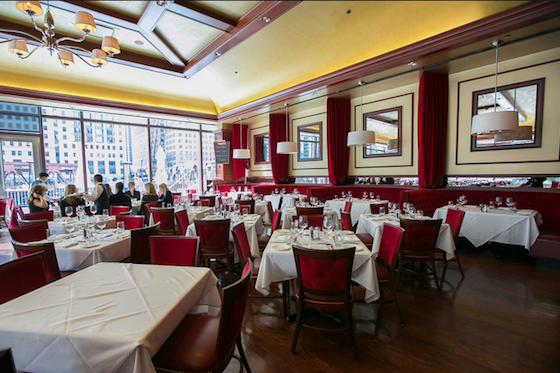 According to Dictionary.com a power lunch is defined as: a high-powered business meeting conducted over lunch. While we might not all be C-Suite executives, we do all need to eat lunch. Why not network while you dine? Do you know where the best spots in Chicago are to shake hands over a Cobb salad?
Chicago Cut
This has been dubbed as the holy grail of Chicago steakhouses and is often visited by celebrities and athletes. With a wall of 21-foot-tall windows there is no better view of the Chicago Loop and River. Diners can scroll through the extensive wine list via an iPad and the lunch menu offers much more than steak with a large selection of salads, tacos, and sandwiches. An appetizer that is definitely worth splurging on is the Lobstercargot. This is a spot where it's best to dine with someone who can expense the meal.
The Gage
Inspired by the gastro pubs of Europe with vintage décor, The Gage offers up upscale comfort food. Located in the South Loop, which can often be a tourist trap with Millennium Park and The Bean across the street, this spot caters to the Chicago business lunch crowd. Two items that are hard to resist--the fish and chips and the venison burger.
Terzo Piano
Situated in the Modern Wing of the Art Institute of Chicago, Terzo Piano is a gorgeous dining option with a breathtaking patio. Featuring dishes created by one of Chicago's top chefs, Tony Mantuano, you truly can't go wrong with any option. All of the ingredients are locally sourced and organic, which in turn creates seasonal menus. Save room the dessert and artisan cheese selections. After lunch, you can always opt to play hooky and take in the art exhibits.
Southbranch
This eatery, located on the Chicago River is a lunchtime staple in the loop. In the summer, catch up on your Vitamin D count by soaking up some rays on their outdoor patio. The menu offers tried and true salads, wraps and sandwiches. Finish your meal with the cookie skillet, which will be sure to put you in a sugar coma. With an extensive craft beer list this is a great spot to sip and shake hands on your lunch break.
The Florentine
Nestled in the J.W. Marriott hotel is The Florentine. Among many chain restaurant options this spot stands out as one of the best restaurants. The tables are spaced apart well, so you don't feel like someone is ease dropping on your conversation. The antipasti's and wood-fired pizzas will certainly fit the bill.
Have your people call my people, we'll do lunch.
BY: Katie Kahn
Kel & Kate
Katie Kahn is Co-founder of the blog Kel & Kate (kelkate.com). The blog focuses on fashion, lifestyle, food and travel. Katie is a social media enthusiast and a lover of red wine, vogue and all things Hermes. Follow Kel & Kate on twitter, Instagram and Facebook @kelandkate!