Weird Pumpkins, and How to Decorate Them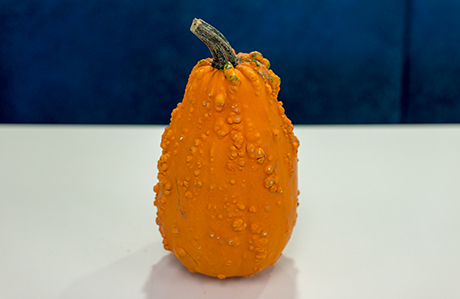 In 2014, a grocery-store pumpkin display is rarely ever a wall of monolithic orange. Chances are, you'll see a stand peppered with green gourds, white-skinned pumpkins, knobby squashes, and other unusual shapes. When faced with an in-office display of pumpkins of all kinds, we found inspiration in the skins and shapes of each variety. Here are our suggestions.
Standard Orange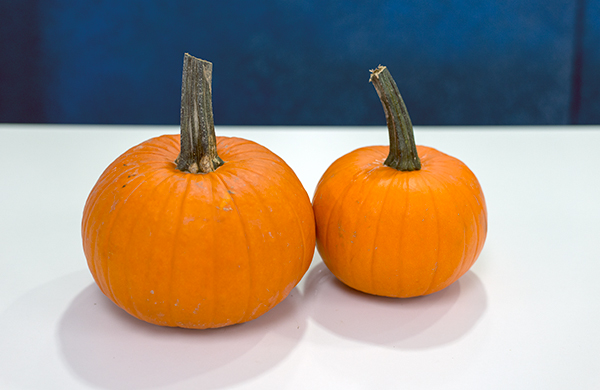 Notable varieties:
Howden, Baby Pam, Autumn Gold
Good for:
Traditional carved jack-o'-lanterns; any character from
Orange is the New Black
This pumpkin's smooth, slightly ridged skin makes it an easy canvas for nearly any design. But who says the pumpkin's skin must be its face? Expand your design upward by jamming a Barbie Styling Head into the top of the pumpkin. Add a couple of arms (orange construction paper), and a white paper triangle just below the neck, and voila: a bona-fide inmate of
OITNB
's Litchfield Prison. Grab a few more Barbie heads for your very own prison gang!
White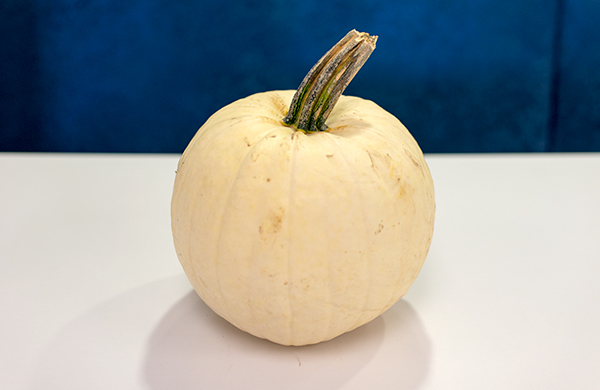 Notable varieties:
Baby Boo, Lumina, Polar Bear
Good for:
Silhouettes, ghosts, skulls, a detailed bas-relief of Michelangelo's
David
Once a rarity, white pumpkins have gone mainstream over the last few years. As the blank slate of the decorative squash world, white pumpkins and gourds lend themselves to easy
painting and stenciling
. If you do choose to go with a traditional carving approach, these pale pumpkins will reward you with an eerie alabaster glow when lit.
Green/Blue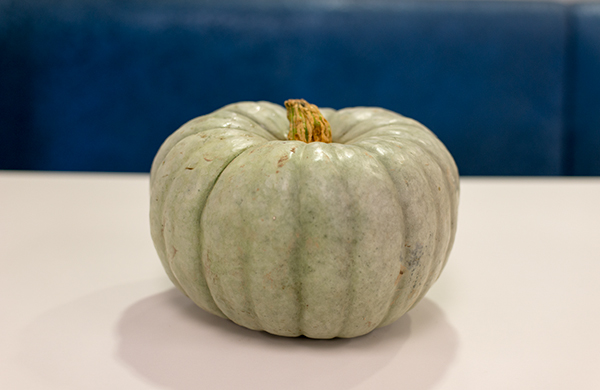 Notable varieties:
La Estrella, Marina di Chioggia, Blue Jarrahdale
Good for:
Not much. We suggest cutting out a lid, clearing the guts, and placing a pillar candle inside. Because this pumpkin's sides are very thick and difficult to cut, we recommend designs that require superficial cuts, scoring a phrase into skin, or peeling away the first layer of skin on every other ridge to create stripes. Just try not to think about the phrase "peeling away the first layer of skin."
Oblong pumpkins and squash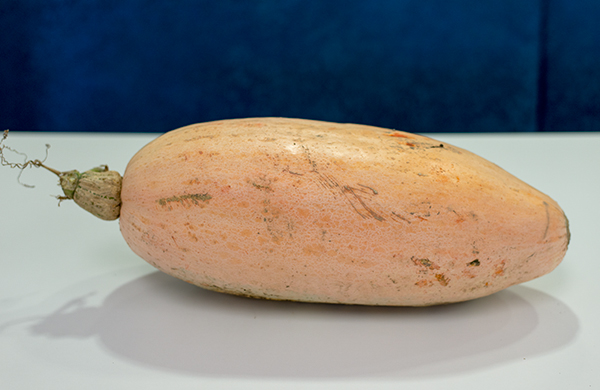 Notable varieties:
Banana squash, butternut squash, Orange Hubbard: the pumpkin that thinks it's a squash
Good for:
Long, humanoid faces. Think Bert from
Sesame Street
and Edvard Munch's
The Scream
. You can also take advantage of the large surface area of these varieties to try an elaborate-to-carve word or phrase, such as "Happy Halloween" or "Homecoming '99: Autumn at the End of the Millennium."
Gourds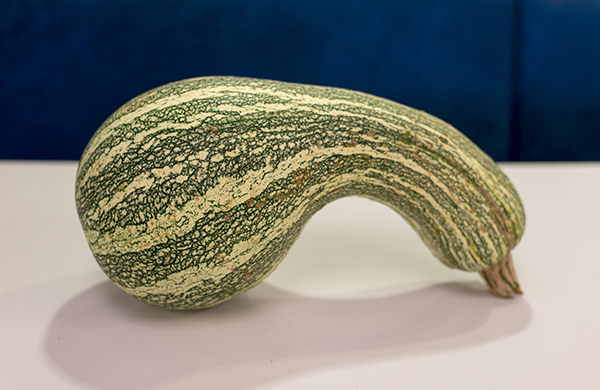 Notable varieties:
Elongated bottle gourds and round calabashes are actually the same fruit, grown from the
Lagenaria siceraria
vine.
Good for:
A lawn flamingo, an elephant, an actual calabash pipe for your Sherlock Holmes costume The gourd's singular shape has incredible acoustic properties: hollow calabashes have been used as resonators in traditional Indian stringed instruments for centuries. But when it comes to decorative uses, the combination of the gourd's elongated neck and resonant belly make it ideal for animal shapes. With some googly eyes and feathers, it could double as just about any bird you want.
Heirlooms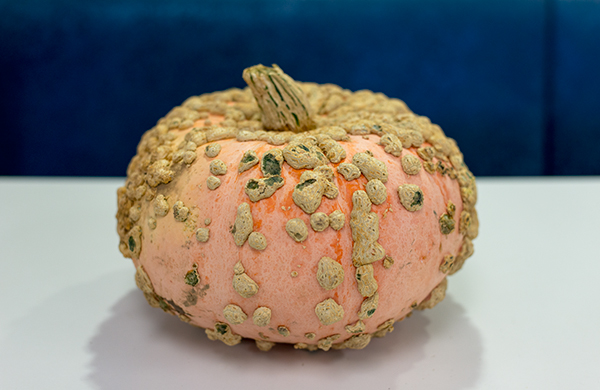 Notable variety:
Galeuse d'Eysines, or "peanut pumpkin"
Good for:
Recreating the contents of an early 20th-century dermatology textbook It isn't much to look at, but this 200-year-old French heirloom variety possesses a sugary flesh that's delicious in soups and desserts. In fact, a good indicator of the fruit's sweetness and ripeness is the texture of its rind: those "warts" are created as sugar builds up just under the skin. So, the more warts, the sweeter (and uglier) the fruit. But if you insist on displaying this bad boy instead of cooking it, capitalize on those nutty shapes. Draw a pair of stick legs, arms, and a top-hat onto the pumpkin's sweet, sweet warts and you have a legion of Mr. Peanuts.

Read more Halloween coverage on the The Guide:
| | | |
| --- | --- | --- |
| | | |
| America's Scariest, Most Intense Ghost Tours | Decorative Gourds Inspired by "The Raven" | Zombie Race Tips: How to Outrun the Undead |
BY: Groupon Guide Staff
Groupon Guide Staff