Quit Your Job and Become a YouTube Sensation in 10 Easy Steps
BY: Collin Brennan |
Jan 23, 2014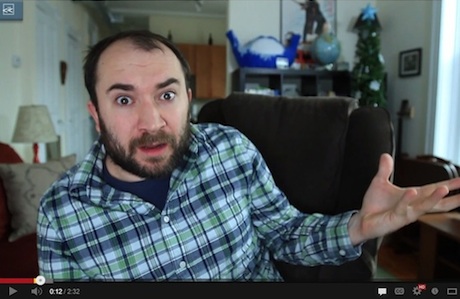 YouTube celebrity Craig Benzine, a.k.a. Wheezy Waiter, started his daily video blog in 2009. Now he's five years into an unlikely career as an Internet star with half a million subscribers.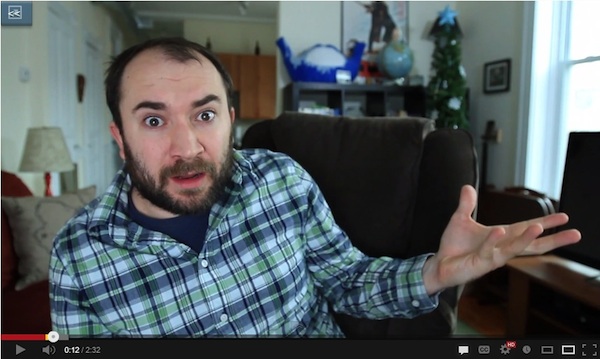 Craig Benzine looks like your average Logan Square 30-something. All the telltale signs are there—a thick beard, a stylish black peacoat, a travel mug filled with the latest artisan brew from
HalfWit Coffee Roasters
. But Craig doesn't take the Blue Line in to work at his 9 to 5. When he rolls out of bed on a frigid Chicago morning, all he has to do is walk over to his computer, flip on the video camera, and say the first thing that comes to mind. Of course, he has to do so with the knowledge that half a million people will be watching. Craig is known to most as
Wheezy Waiter
, a daily video blogger (or "vlogger," for short) whose trademark style—clipped, frenetically edited monologues on topics ranging from
beard length
to
technology
—has earned him a dedicated fan base. His internet celebrity is such that he
actually makes a living
off YouTube. But this wasn't always the case. As his internet handle suggests, Craig was once just another underemployed waiter with asthma. Slightly envious of his ability to work from home on days with single-digit weather forecasts, we asked Craig to explain how one might replicate his unlikely career.
1. Use your downtime to make funny videos and post them for free online.
"I started making videos because it was a way to get out of waiting tables," Craig explains. "I went to school for communication arts and I knew how to shoot and edit video, but I just wasn't using my skills." Craig had moved to Chicago from Madison with his band,
Driftless Pony Club
, and "we all know how lucrative being in a band can be." With a crappy (albeit flexible) job and no record deal, Craig decided to start posting videos for free online. His faint hope was that it might lead to a job that wasn't waiting tables.
2. Quit your job, get a new job, then quit that job.
Craig's daily videos did help him land a job—as a videographer at a web development company. If this were a normal story, it would probably end on this happy note. But Craig encountered a new and unforeseen dilemma: "I realized I didn't really care much for office life, either." So he threw caution to the wind and quit that job as well. He hoped that his growing list of YouTube subscribers would somehow translate into a livelihood, but he also knew that there was little precedent for his new career path.
3. Find a community.
"I did my first hundred or so videos to nobody. I had maybe 32 subscribers on YouTube," Craig recalls. Then he stumbled across a website called YouTube Reviewed, which reviews YouTube videos and recommends them to new fans. "I just send them a message and didn't really think anything of it…and then they did a whole article on me." Almost as soon as he had discovered that there was such a thing as a YouTube community, that community had discovered him.
4. Set goals and deadlines. (Then ignore them if you fall a little short).
The real breakthrough came when a fellow vlogger read that article and retweeted it to his fans. "I woke up to like, 97 emails from new subscribers," Craig remembers. After working his way up to 16,000 subscribers, Craig made a decision to go all in. "At the beginning of 2010, I said, 'Alright, I'm going to do a video every weekday of January, and if I can get to 100,000 by the end of the month, I'll make one every day for the whole year.'" He got to 42,000—barely half his goal—but it was enough to keep him going.
5. Give birth to your own fan club.
If you want to have a memorable YouTube presence, the first order of business is to create a catchy nickname for your fans. In one of his earlier videos, Craig began referring to his small base of dedicated viewers as "Beard Lovers." What started as a joke has since become a very real thing. Now, "there's a good-sized group that will follow me to a lot of things," explains Craig. These days, they're even following him into production (sort of). "There's a
Beard Lovers Subreddit
, and they went there and voted up sections of script and kind of concocted a weird script," he explains. So he took that, wrote it out, and is putting the final touches on his first fan-written episode.
6. Find the right balance between quantity and quality.
When it comes to YouTube, "what usually works is consistency. If you put up things a lot on a regular basis instead of once every year or something, it's easier to connect with people," Craig explains. "I think big-budget web series are really hard to get an audience with because they take so long to make." It's something he discovered while filming his ambitious new series,
The Good Stuff
, and it's why he likes keeping up a blog that's a little less stressful to maintain.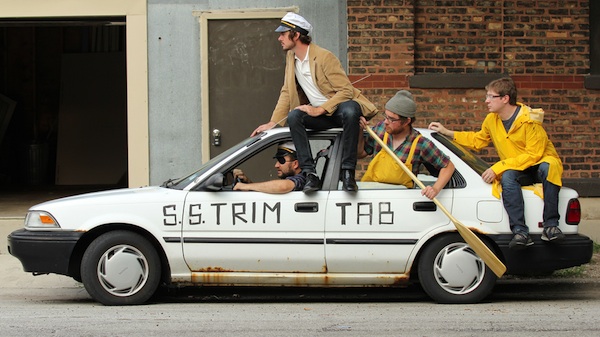 7. Use social media to your advantage.
"You have to be consistent and you have to do it a lot." In Craig's mind, there's no getting around that. But he also stresses the importance of reaching out and communicating with others who are making videos. "Get on Twitter, get on Facebook, and tweet at people," he says. "If you live in Chicago and made some video that has something to do with what I do, tweet at me, and maybe I'll promote it."
8. Make money from sponsors and advertisements.
So, how exactly does a YouTube star generate income? "The majority comes from advertisements," Craig explains. Every time a viewer clicks on one of his page's pop-up ads, a couple pennies land in his bank account. Multiple that by 500,000, and you get something along the lines of a real paycheck. Craig is also part of an online branding network called Big Frame, which sets up one-off ads for him. He's currently working on a spot for AT&T.
9. Let Ford pay for your band's next tour.
Craig moved to Chicago to see if his band, Driftless Pony Club, could finally make it big. That never happened, but his new profession comes with a few music-related perks. A few years ago, "I did this thing for Ford called Fiesta Movement. They were giving out 100 Ford Fiestas to bloggers and paying for gas for six months, and in turn we would have to do one video a month about the Fiesta." His verdict? "It was amazing. The band rented another car and went on tour with two cars, but we didn't have to pay for gas in one of them."
10. Follow your passion to new projects—and bring your audience along with you.
The best part about the Beard Lovers is their unflinching loyalty to all things Wheezy. Fans of the blog routinely show up at Driftless Pony Club shows across the country, and it's helped the band break even or even make money on their recent tours. Many of Craig's fans have also checked out his latest passion project: a monthly web series called
The Good Stuff
, in which he posts five videos that revolve around a specific theme. "I always tell myself that, if I haven't done a really big project by the time I'm 35, I'll [temporarily] stop working on the online videos and do that." Maybe it will be a movie, or maybe it will be a web series. Either way, it's safe to say that people will be paying attention.
Subscribe to Wheezy Waiter's YouTube channel for his latest updates, and check out the most recent episode of
The Good Stuff
below:
BY: Collin Brennan
Guide Staff Writer
Collin is a senior editor and a staff writer for Consequence of Sound. He self-publishes zines and moderates writing workshops for The Chicago Publishers Resource Center (CHI PRC).