Ring in the Chinese New Year with Redmoon Theater at Navy Pier
BY: Will Landon |
Jan 30, 2014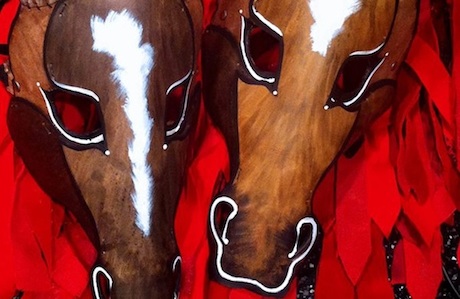 Navy Pier's Grand Ballroom becomes a playground for the imagination as Redmoon Theater incorporates horses and hot-air balloons into its New Year festivities.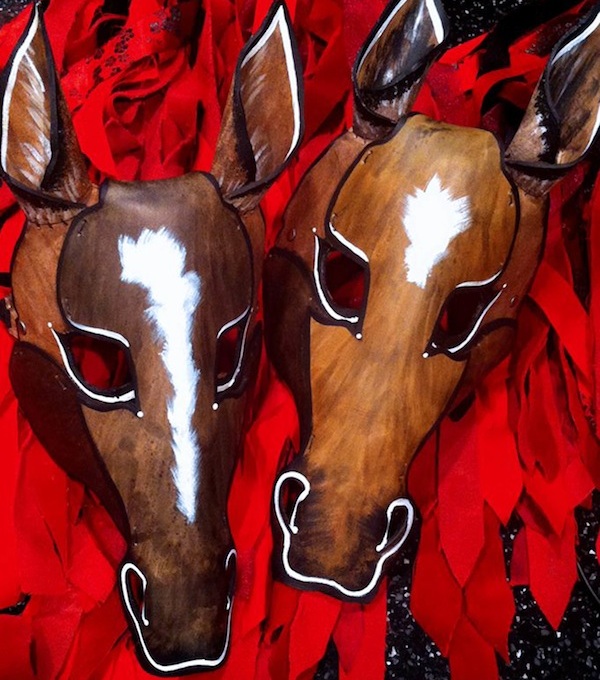 "Chinese New Year is always a huge event in the musician's calendar," says percussionist
Brent Roman
. A graduate of the Central Conservatory of Music in Beijing, Roman is a seasoned musical director and multi-instrumentalist who's well-versed in the Chinese drum, hammered dulcimer, and gong. It's only natural, then, that he was one of the first people
Redmoon Theater
contacted when the company decided to move forward with an
elaborate celebration
on Saturday, February 1, for the Chinese New Year. Staged beneath the vaulted ceiling of the
Grand Ballroom at Navy Pier
, the event will showcase traditional Chinese performances alongside some of the
whimsical machinery
Redmoon has become known for over the years. Star musicians such as Roman will have to share the spotlight somewhat, as the event was conceived to "highlight key players of the Chinese community in Chicago," explains director Will Bishop.
Bang a Gong (Get It On)
That's not to say that Roman's influence won't be felt throughout the program. His roles in the production range from "gong director" to "composer of all the music." He's also the leader of the Chinese drum team, which will include three current and former members of
Mucca Pazza
, the 30-piece "punk-funk marching band" that he also belongs to. Roman says he chose the musicians not only for their familiarity with the holiday's customs but also for their sense of showmanship. "Chinese drumming is a very visual media," he explains. "The performance is a very powerful spectacle." That spectacle should fit right in with Redmoon's unique treatment of the ancient Chinese holiday. When Bishop first approached Roman and the other participating artists (a group that includes fan dancers, folk dancers from the
Dong Fang Chinese Performing Arts Association
, and the
Illini Wushu Club
), he stressed the importance of striking a balance between bold and authentic. The result is an event that's rooted in traditional performance but unafraid to transform a few time-honored customs into lively, modern, and sometimes dreamlike works of performance art.
Painting the Ballroom Red
"[In Chinese culture,] red is a symbol of good luck and good fortune," Bishop says. His company plans to use the color to liven up the ballroom's otherwise neutral palette. "We've taken objects we have in house and painted them red. Everything will, in some way, incorporate that color." This includes a striking canopy of more than 2,000 paper lanterns. Suspended 12–15 feet above the audience, the display will be laid out in the shape of the Chinese character for "spring." During its unveiling ceremony, a performer will raise and lower a 5.5-foot hot-air balloon from the ballroom's ceiling. This "hot-air balloon service," as Bishop playfully calls it, will carry a tray of fortune cookies designed especially for the ceremony. Redmoon is notorious for smashing the fourth wall and engaging directly with members of the audience. This seems to be the objective of the performers who will roam through the crowd with massive lotus-shaped lanterns affixed to their backs. (The lights are making their debut in preparation for Redmoon's annual
Spectacle Lunatique
gala on Saturday, March 15.) Throughout the night, a tea garden will give visitors a place to sip jasmine tea and reflect on the year—an important tradition associated with the holiday. What promises to be much less traditional, however, is the battery-powered robot arm that serves the tea.
Wild, Wild Horses
This weekend marks the beginning of the Year of the Horse, so it's fitting that horses—or, at least, actors playing horses—will run rampant throughout the event. Bishop excitedly details one of the ways in which Redmoon will incorporate this vital theme: "[Artist] Emily Breyer is designing 15 leather horse masks with red manes." Performers will don these masks and gallop, horse-like, through the crowd. Some of these horse-humans will pull a large, custom-built rickshaw carrying Baimei, a famed Chinese soprano whose recent hit song went viral in China. Roman describes the music as "contemporary and traditional at the same time," blending elements of folk and classical styles. He should know—his music will score her entrance. Redmoon also plans to incorporate the honorary element for this Chinese New Year: wood. In true Redmoon fashion, they'll do it with contraptions such as the ever-changing
Ladder Machine
, a 24-foot fireman's ladder affixed to a powered cart. From the ladder's top rung will hang a pair of 11-foot wind chimes and two oversized gongs, which Roman and one of his bandmates will rhythmically strike. Roman explains that such gongs and drums were once used to communicate between villages, but they won't serve the same purpose here. For this night only, they'll help rekindle the sense of childlike wonder that audiences have come to expect from Redmoon's idiosyncratic performances.
The free celebration begins at 6 p.m. on Saturday, February 1, and ends at 7:30 p.m. with a fireworks show. Click here for more details.
Photo courtesy of Redmoon Theatre
BY: Will Landon
Will Landon is a Chicago-based writer who sings punk rock songs with the Blue Ribbon Glee Club and occasionally works for free as an assistant stage director.