Sauce Secrets from Mole de Mayo in Pilsen
BY: María Lalonde |
May 31, 2013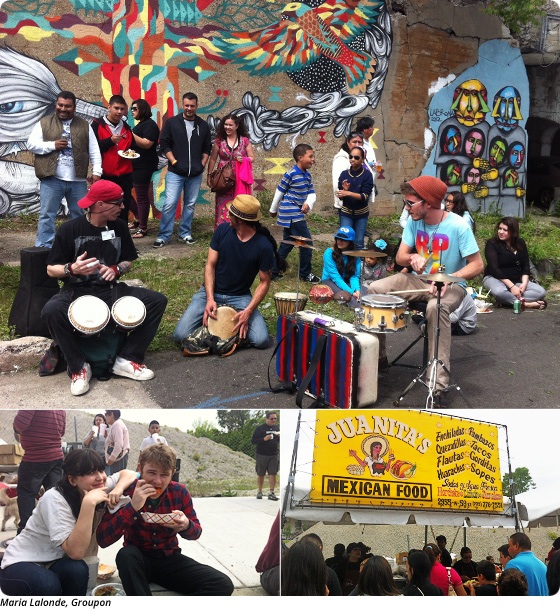 If the cheerful chef who captained the smoky pambaso stand was daunted by the 20-foot line that had queued up to sample her Mexican cooking, she betrayed no sign of it. "Mole potosino," she shouted out over the din to a customer who'd inquired about her mole selection. "Served over chicken with tortillas. Five dollars." When asked to name some of the ingredients in the sauce, she gave a somewhat exasperated smile. "Oh, lleva muchos," she said simply—"It has many." Far too many to list, certainly, with an ever-expanding crowd of impatient festival-goers waiting to have their own paper plates piled high with the nutty sauce. This was just one of the many food stands from local vendors and restaurants that appeared at the 5th annual Mole de Mayo festival, a cook-off celebrating Mexico's iconic dish. The complex concoction can call for as many as 30 different ingredients, from ancho chilies to pecans to ripe plantains. At the end of the festival, two winners would be determined—one by a panel of Chicago-area culinary experts and community advocates, another by a tally of votes casted by festival-goers. Despite the unseasonably dreary weather, the festival swarmed with Chicagoans from all walks of life—giggling children with fingers sticky from mangonada ice cream, somber old men in cowboy hats sipping spicy beer micheladas, and flannel-shirted undergrads snapping photographs. The servers behind each stand had to work swiftly to accommodate the huge lines, warming tortillas, filling cups of icy aguas frescas, and ladling out scoops of the mole they hoped would take home the prize. Each of the featured restaurants had their own methods of preparing and serving the sauce—
La Catrina Cafe's
stand served deliciously messy torta sandwiches with both red and green mole, whereas Super Pollo showered its mole over enchiladas.
Yvolina's Tamales
served mole tucked inside the moist masa of handmade tamales—including a vegetarian version with green mole and soy-based faux-meat. "Every state of Mexico has a different type of mole, and every region within a state has a different type of mole," explained Adrian Soto, executive director of Eighteenth Street Development Corporation, the organization that spearheads the festival. "Even within families and between sisters, there are different types. When you talk to them, they'll say, 'This was my grandma's mom's recipe,' or 'This was my mother-in-law's grandma's recipe.' It gets that detailed." "Ultimately, though, the whole success of their recipes is that they make it with a lot of love," chimes in Gerry Alvarado, president of the board of directors. Odorless and intangible as it might be, it could be argued that evidence of this particular secret ingredient could be spotted all around the festival. You could spy traces in the grins of parents who held their children up to watch as colorful luchadores dramatically leapt across the arena, or in the sidelong glances couples exchanged as they swayed to the Latin music of local bands performing on the main stage. And in the scowls of friends, who—however reluctantly—offered up last spoonfuls of mole to their hopeful-looking companions.
BY: María Lalonde
Guide Staff Writer
María is a writer and a burgeoning ukulelist.