Sephora Used to Scare Me. Then I Actually Went There.
BY: Ashley Hamer |
Jun 19, 2014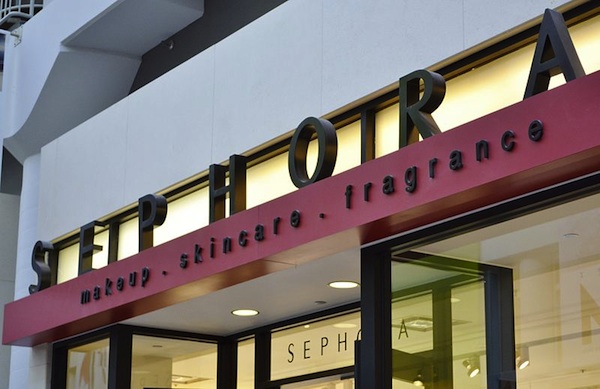 Until recently, I'd never set foot in a Sephora. I always worried that if I entered one, a high-tech makeup detector would recognize my
drugstore foundation
and I'd trigger alarms set to loud house-music beats. But I've heard such amazing things about these stores—samples and
free makeup
applications, specifically—I wanted to finally see one for myself. So, I met professional makeup artist Heraclio "Alex" Saldivar at the Sephora in downtown Chicago (he used to freelance there—more on that later), where he taught me some valuable shopping lessons.

Lesson #1: The employees are helpful, not pushy.
As we entered, there were no sirens betraying my $8 foundation (phew). Instead, there was the pleasant smell of perfumes and an equally pleasant employee—"cast member," officially—welcoming us. At some stores, greeters can get clingy, but Alex told me that here, they serve a practical purpose: if there's a specific product you need, they can go grab it for you. As we made our way over to the perfume wall, Alex explained the store layout. High-end products up front (like those by Marc Jacobs and Yves Saint Laurent), followed by individual sections for cosmetics, fragrances, and skincare. In each of these sections, there are cast members with specialized expertise, ready to offer help and answer questions.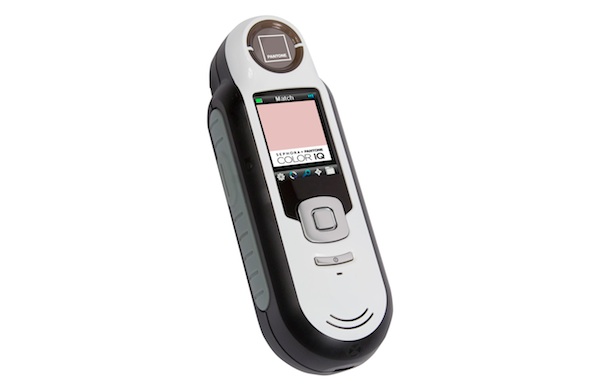 Lesson #2: Don't be intimidated by the technology.
At first, Alex and I smelled perfumes the old-fashioned way by spritzing them onto tester strips. But then I used this computer to take a test that helped me define my personal fragrance style. (Turns out I really like light, casual scents, like Marc Jacobs Daisy.) In fact, everywhere you look, there's some device designed to personalize your shopping experience. The company even teamed up with Pantone to create
Color IQ
, a handheld camera that captures your exact skin tone, then suggests products that match your complexion. We asked a makeup artist if we could try it out, and in just a few seconds, Color IQ had determined my Pantone color code and identified 23 matching foundations. To narrow the results, the artist asked me some questions about the types of products I use. I don't like heavy makeup, so she recommended a lightweight Boscia B.B. cream with SPF and botanicals designed to nourish my skin.
Lesson #3: If the store is kinda empty, definitely go in.
Not only did the makeup artist suggest a foundation, she also applied it to my face, complete with finishing touches of powder and cream blush. In reality,
you're supposed to make a purchase of at least $50
to get that kind of attention, but there are times that rule isn't as stringent—when the store is mostly empty, for instance. "Obviously, if it's slower, they'll be less inclined to tell you [to spend $50], just because they'll want to be working on somebody," Alex said.
Lesson #4: Learn to differentiate the freelancers from the Sephora employees.
In the skincare section, we ran into an old coworker of Alex's who is now an account executive for Murad. After a brief chat, she gave us each a sample of her company's products. Turns out, there are cast members employed by the store, and then there are freelancers employed by the brands they carry. Alex used to be a freelancer for Benefit cosmetics. As he explained it, freelancers are only going to promote their brand. "If you want to look [at other brands], let them know that," he said. "Keep that in the back of your mind: if you're seeing just one name in your cart, chances are [you're talking to] a freelancer."
Lesson #5: Respect your budget.
Even a handful of products can add up quickly. To keep your budget in check, Alex suggests prioritizing. "I like spending the higher dollar on my foundations. They sit on the skin, so you want something that's going to be beneficial for it, not something that's too thick or too heavy. Color [such as eyeshadow and lipstick] is interchangeable. Everybody makes color…if it works, it works." And above all, keep a clear mind amid the flashy displays and intoxicating scents. "[Go] there with a game plan," Alex said. "Anybody [can] show you what their favorite stuff is, but it may not be yours."
Photo: top by Justin Tung, bottom courtesy of Pantone
BY: Ashley Hamer
Guide Staff Writer
Ashley Hamer is a musician, marathon runner, and science lover. She writes about science for Mad Art Lab.