Is Department-Store Makeup Really Better?
BY: Kelly MacDowell |
Apr 6, 2016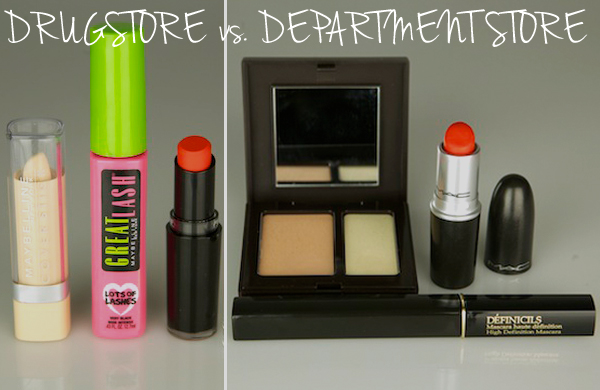 We pitted designer mascara, lipstick, and concealer against budget-friendly drugstore brands. See which products won and then vote for your favorite in our poll.
Spending a good chunk of change on something you're going to slather all over your face, mouth, and eyes seems like a wise investment ... right? I thought so, until my friend told me that high-end MAC and drugstore favorite wet n wild are manufactured in the same factory.
To find out if department-store makeup is really any better than drugstore, I experimented with three basic products: mascara, lipstick, and concealer. In order to keep things somewhat even, I chose products that regularly earn praise in glossies like Allure and Vogue. Below, I've unveiled the results of my department store vs. drugstore showdown.
Mascara: Lancôme vs. Maybelline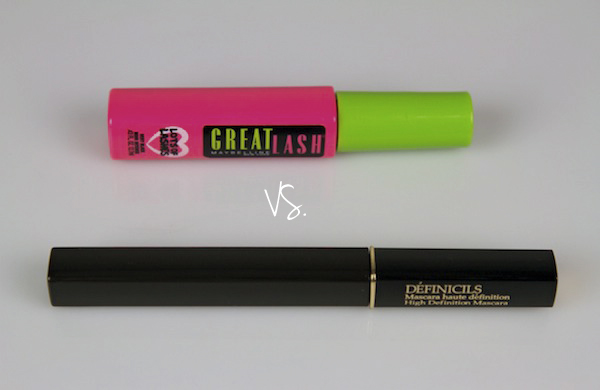 Department-store pick: Lancôme Définicils High Definition Mascara
Props: According to Bazaar, a tube of this mascara is sold every three minutes. That's 20 tubes during every episode of Game of Thrones.
I got a little worried when I saw the long applicator emerge from its tube. I've never had good luck with those. Once I started applying, though, I could see this mascara was living up to its name. It was definitely defining my lashes. Almost too much. I felt like my lash line looked less natural.
Drugstore pick: Maybelline New York Great Lash Lots of Lashes
Props: Bazaar named the original Great Lash one of the 12 best mascaras of all time, saying its "iconic status" is "completely deserved."
Great Lash's familiar pink-and-green tube is like the Coca-Cola can of the beauty world. I've been using it since I was old enough to wear mascara. So in order to not be totally biased, I chose this Lots of Lashes variant, which has a heart-shaped applicator with rubbery grabbers all over it. I was skeptical.
To my surprise, I actually liked this version even better than the original. It was darkening lashes I didn't know I had—two coats made them look very thick and full. The wide end of the applicator ably coated all the lashes at the outer corners of my eyes, while the skinny end could reach the finer lashes at the inner corners.
Winner: Great Lash Lots of Lashes. Hands down. I'll never buy anything else.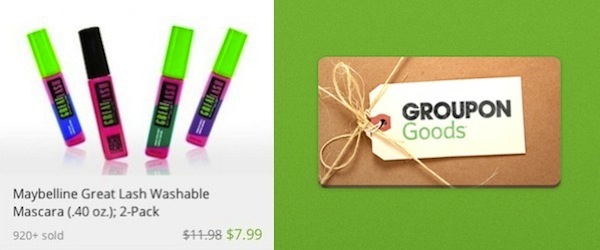 Lipstick: MAC vs. wet n wild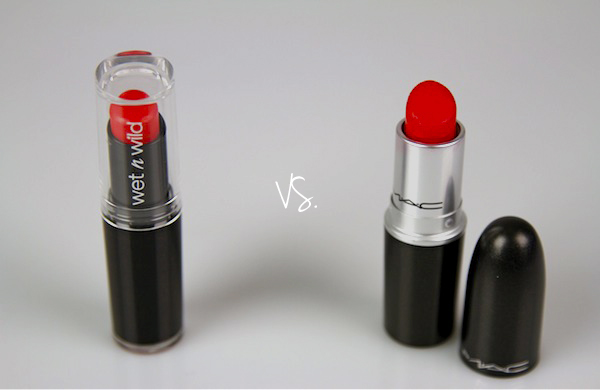 Department-store pick: MAC Lipstick in Lady Danger
Props: Lipstick is a big part of what put MAC on the map—the line launched in 1984, and by 1990 Madonna was wearing its Russian Red shade on her Blonde Ambition Tour (the color was actually made especially for her). I chose this punchy orange-red as it's one of the line's best-selling shades.
My litmus test with lipstick is this: will it come off on a can of beer? MAC passed the test. It stayed put after several PBRs and a few hours on a microphone (I was hosting trivia). It also had a faint vanilla scent—I was almost ready to ask it to move in with me.
The only drawback: after just a couple weeks of using it, the MAC tube has already started to dry out. It still wears beautifully, it's just harder to apply. (Putting on a touch of lip balm first helps, but still, lipstick is supposed to last up two years.)
Drugstore pick: wet n wild MegaLast Lip Color in Purty Persimmon
Props: The holy grail of commendations, an Allure Best of Beauty winner.
This shade was nearly identical to the MAC lipstick, so at this price, I really wanted it to be a contender. Unfortunately, it just didn't hold up as well as its competitor. I guess (supposedly) being made in the same factory isn't everything.
Winner: MAC. Though wet n wild is definitely the best drugstore lipstick I've tried.
Concealer: Laura Mercier vs. Maybelline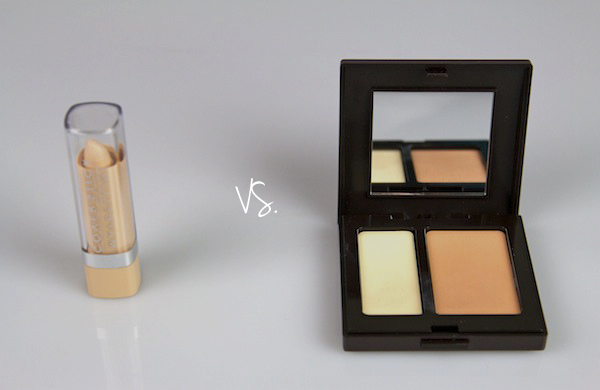 Department-store pick: Laura Mercier Secret Camouflage
Props: Elle called Mercier "the godmother of concealer."
Given that its name is Secret Camouflage, I was surprised when one of the two shades in this compact looked strangely orange (you can mix the two to create a custom color). The other was closer to my skin tone, however the woman at the Mercier counter said I should use that one around my eyes, and the warmer tone as a spot concealer. So that's what I did.
I was amazed at how little product I needed to cover my very red blemishes. Unfortunately, I did my eyes first and put on too much. It creased on my lids, but quite frankly I didn't care. I was still shocked at how secretly my blemishes had been camouflaged.
Drugstore pick: Maybelline New York Cover Stick Corrector Concealer
Props: An Allure Readers' Choice winner and Editors' Pick.
I skipped a brush with this lipstick-shaped concealer, and instead dotted it right onto my blemishes per the instructions. The color matched my fair skin well and had a nice creamy consistency, though I did have to apply a few layers (which I did using these pro application tips). It also required touching up throughout the day.
Winner: Secret Camouflage. Expensive, yes. But it's generously sized, and considering how little product was needed for maximum coverage, I expect it'll last me a very long time.
Photos: Kelly MacDowell, Groupon
Shop cosmetics on Goods, or train your mascara'd eye on our other cosmetics coverage: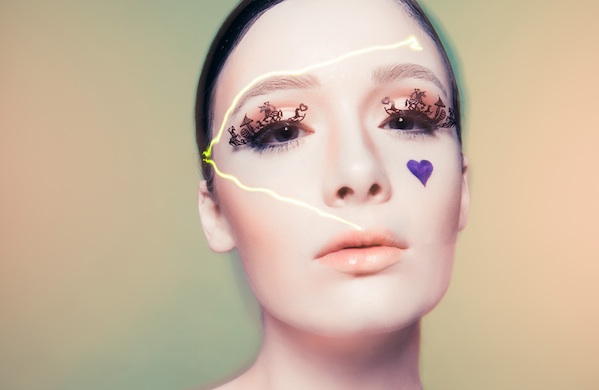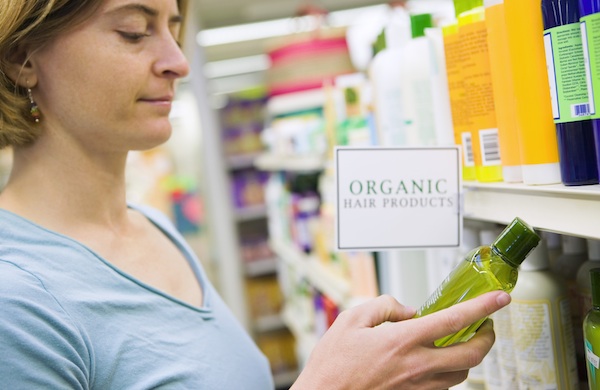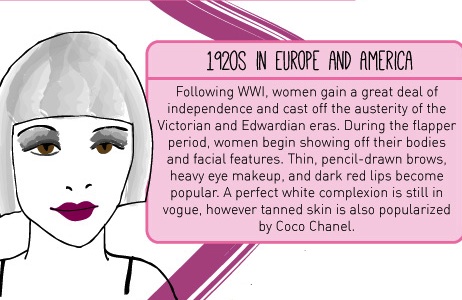 BY: Kelly MacDowell
Kelly's first concert was Fleetwood Mac and her first career was in the beauty industry. Now a style and music writer, she loves Project Runway and her dog, Watson.