September Strings Lineup
BY: Reuben Westmaas |
Aug 30, 2013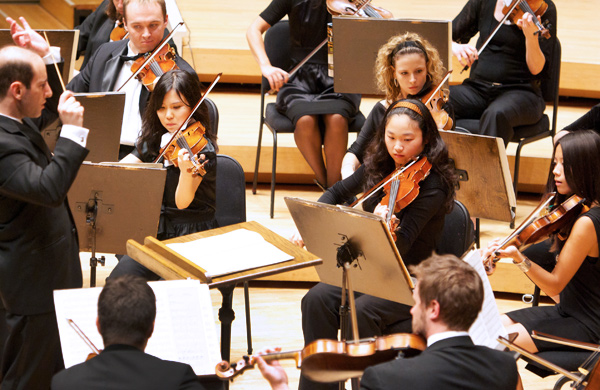 Many classical music groups take the summer off, coming back in September when they don't have to coat their cellos in suntan lotion. This year's return marks a particularly special occasion. Everyone from small ensembles to the Chicago Symphony Orchestra is putting together programs to celebrate Giuseppe Verdi's 200th birthday. But it's not as if the classical scene holds the monopoly on stringed instruments. This September, all sorts of string performers hit the stage, including a violinist with a taste for Latin jazz and an old-fashioned mandolin picker.
KahaneSwensenBrey
When: Sunday, September 8, at 2 p.m.
Where: Bennett Gordon Hall at Ravinia Festival
Cost: $10
Tip: Use Ravinia's free Park 'N Ride shuttle-bus system to avoid traffic.
Three of the biggest contemporary names in classical performance play an evening of serene compositions in the Ravinia Festival's most intimate venue. Carter Brey is the principal cellist of the New York Philharmonic, and rose to international prominence in 1981 when he took home top honors in the Rostropovich International Cello Competition. Violinist Joseph Swensen picks up his instrument once again, having spent much of his recent career wielding the baton of the Scottish Chamber Orchestra. Finally, pianist Jeffrey Kahane hails from the Los Angeles Chamber Orchestra, where he serves as musical director.
The trio guides audiences on a tour of classical and contemporary chamber music, starting with Mozart's picturesque Piano Trio No. 2 in G Major. Written just over 50 years later, Schumann's lush Piano Trio No. 1 in D Minor follows, the violin melody and earthy cello line punctuated by delicate flourishes on the piano. After a brief intermission, the trio jumps ahead to the early 20th century with Ravel's distinctly modern Piano Trio in A Minor, then nearly touches the present day in Paul Schoenfield's sprightly Café Music.
Muti Conducts Verdi and Brahms
When: Thursday, September 19, at 8 p.m.
Where: Symphony Center
Cost: $32–$140
Tip: Act quickly to pick up affordable terrace seats immediately behind the orchestra.
Riccardo Muti returns to the podium for his fourth season as CSO's musical director, leading the first in a quartet of concerts celebrating his countryman Giuseppe Verdi. It's Johann Strauss Jr. who kicks off this show, however, with his Overture to Indigo and the Forty Thieves. The timpani thunders through a brooding introduction before the rest of the orchestra takes on a friendlier, jabbering pace. After this jaunty prelude, ominous music from Verdi's ballet adaptation of Macbeth paints a picture of insidious plots and carnage. The overture to La forza del destino goes even darker, the brass swelling bleakly over an already tragic string section. Brahms's Symphony No. 2 lifts the mood somewhat, although it takes some effort. The first movement remains mired in richly textured melancholy, but things start to lighten by the second. There, sharp-eared audiences might catch strains of the composer's famous lullaby.
Verdi's Joan of Arc
When: September 21, 25, 27, and 29
Where:
Harris Theater
Cost: $45–$125
Tip: Don't base your history paper on this opera. Verdi took more than a few liberties with the truth.
Known for its tendency to bend genres while still exploring classical roots, the New Millennium Orchestra has made a name for itself by collaborating with rock, hip-hop, and electronic musicians. These high-profile partners have included Lupe Fiasco, Greg Ward, DJ Spooky, and Michael Kang of String Cheese Incident. The forward-thinking ethos fits perfectly with the singers of Chicago Opera Theater, whose motto is "Timeless opera, modern attitude." Together, the two Chicago institutions honor Verdi by producing his opera, Joan of Arc.
The story opens on king-to-be Charles VII, who is told by angels to give up his war and lay down his arms beneath an oak tree. The future monarch is quick to comply, but the heavens have more dramatic plans in store than a quick surrender. A young maid named Joan finds the cache of weapons and hears a divine voice of her own, telling her to lead her nation to victory against the English. Joan's father, however, believes the voice to be from Hell, not Heaven, and as his daughter, Charles, and the rest of the French army ride into battle, he sets out to do whatever it takes to thwart what he believes to be the forces of evil. This opera is sung in Italian with English subtitles.
James Sanders
When: Sunday, September 1, at 3 p.m.
Where: the Chicago Jazz Magazine tent at Chicago Jazz Fest
Cost: Free
Tip: The entire festival is free—not just this show. Stick around to see a slew of other acts.
When someone says "jazz," a violin probably isn't the first instrument that comes to mind. But violinist James Sanders has carved out a sizable niche for himself in the genre. Along with original compositions, Sanders is known for covers that differ wildly from their original forms, such as his bossa nova rendition of Roberta Flack's "Killing Me Softly." Besides performing everywhere from Millennium Park to Quenchers saloon, Sanders was a featured player and a workshop leader at the Chicago Jazz String Summit earlier this year, where he taught traditional violin students about the art of improvisation. For the rest of the season, he stays busy as a member of the Joffrey Ballet Orchestra and leader of the Latin jazz band Conjúnto.
Bill Monroe Mandolin with Brian Ray
When: Sunday, September 8, at 1 p.m.
Where:
Old Town School of Folk Music
Cost: $35
Tip: Be sure to bring your own instrument.
One part violin, one part mandolin, and 20 parts callused fingers, the BriarPickers are fiddler Paul Kienitz and strummer Brian Ray from Madison, Wisconsin. The latter half of the duo comes down to the Old Town School of Folk Music for a 90-minute lesson in the genre he calls "rustic chamber music." Playing in the style of bluegrass innovator Bill Monroe, Ray shows the class how to build a classic "break"—the part of the song where the instrument picks up the main melody and runs wild with improvisation. At the end of the session, the whole class practices the collaborative riff Ray came up with. Besides playing the mandolin, Brian Ray is the tenor voice in Blue Grass Boys Reunion, and was a founding member of the Nashville-based act Farmer Not So John.
Photo: © Tom McGrath
BY: Reuben Westmaas
Reuben writes about whiskey at work and drinks it at home. He also writes and edits the arts magazine Sixty Inches From Center.