Sharks Are Friendlier Than You Think, Especially During Shark Week
BY: Dan Caffrey |
Aug 13, 2014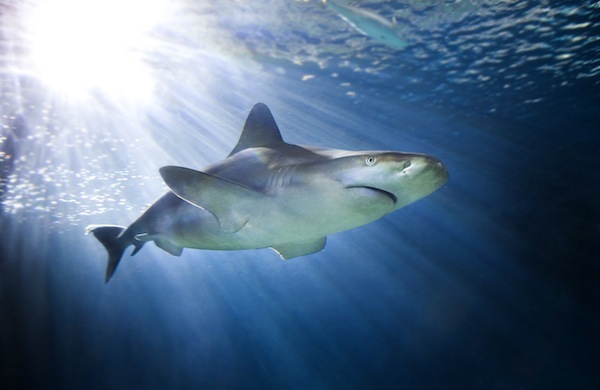 Every summer,
Discovery Channel
airs
Shark Week
, a seven-day block of programming dedicated to some of the ocean's most fascinating inhabitants. As educational as it can be, however, Shark Week comes with a heavy dose of sensationalism—think ominous music and water clouded with blood. Like Discovery, Chicago's
Shedd Aquarium
is currently in the middle of a
Shark Week
of its own, one that's just as informative, but more focused on debunking the animals' bad reputation. "There are over 300 different species of sharks out there, and there's only a handful that are potentially dangerous," says Lise Watson, Collections Manager of the aquarium's
Wild Reef
exhibit. The Shedd's special programming tends to underscore that point with events such as
behind-the-scenes feedings
, which put visitors face-to-face with the graceful predators. Afterward, viewers are probably more likely to find the featured sharks cute than terrifying.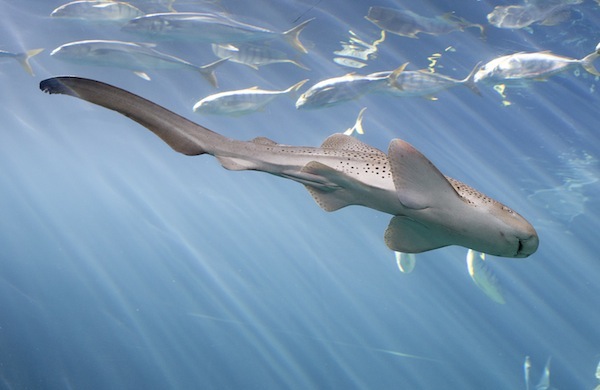 Take the
zebra shark
, for instance. Despite its 12-foot length, Watson refers to zebra sharks as "the labrador retrievers of the sea. They're playful, not aggressive at all. They're not even going after fish. They're going into caves and they're crushing clams. If you're a clam, be very afraid. Otherwise, not so much."
This doesn't mean Watson can't appreciate overblown portrayals of sharks in pop culture. "No one in their right mind is taking [
Sharknado
] seriously. It's entertainment. It's fun. If anybody's worrying about sharks falling from the sky, I think we've got bigger problems."
Don't live in Chicago? Here are 10 more aquariums around the country where you can get your shark fix.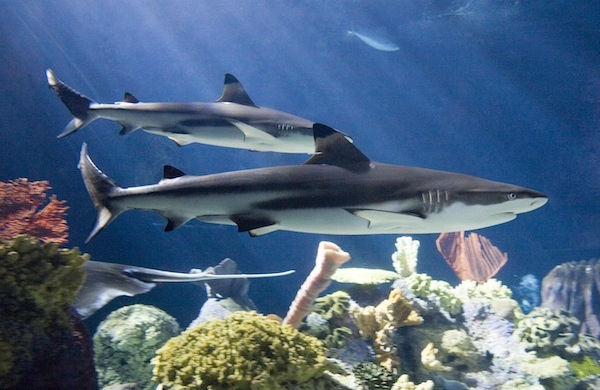 Seattle Aquarium | Seattle, WA
The sharks at Seattle Aquarium aren't in tanks—they're below the aquarium itself. The surrounding waters of Puget Sound are home to the sixgill, the third largest predatory shark in the world. A permanent
research station
on the seafloor gives visitors video access to the mysterious fish.
Favorite shark:
What else? The sixgill.
The Florida Aquarium | Tampa, FL
The Florida Aquarium takes pride in celebrating sharks all year long, but its
Shark Week
adds a scavenger hunt and dive shows into the mix.
Favorite shark:
We're partial to the sand tiger shark (pictured
here
with a diver) and its spooky, overly hooked teeth.
North Carolina Aquarium at Pine Knoll Shores | Pine Knoll Shores, NC
At Pine Knoll Shores, the sharks—as well as sea turtles and small fish—get to swim like specters through several replica
shipwrecks
, including a U-boat and a pirate ship possibly commandeered by Blackbeard.
Favorite shark:
The
bonnethead
, often seen gliding through the
Queen Anne's Revenge
.
Portland Aquarium | Milwaukie, OR
Although they're not doing anything official for Shark Week, there's always an option to
"Sleep With the Sharks"
—a sleepover right next to the tank, with an added film screening. Let's hope it's not
Jaws
.
Favorite shark:
The
epaulette shark
(top right). Its spots look like tiny solar eclipses.
Aquarium of the Bay | San Francisco, CA
Inside a 350,000-gallon tunnel exhibit, visitors receive a bucket of seafood to
feed
to an underwater menagerie of sharks, skates, and rays.
Favorite shark:
The
sevengill shark
, which, unlike most sharks, gives live birth to its offspring.
Newport Aquarium | Newport, KY
For
Shark Week
, Newport might have the most extensive list of activities of any aquarium on this list. Our favorite? A tutorial on how to properly touch a shark (without wearing a chainmail gauntlet).
Favorite shark:
The California leopard shark
. They're used to rubbing up against aquatic plants, so they have no problem with humans touching them.
Monterey Bay Aquarium | Monterey, CA
One of the most renowned aquariums in the country, Monterey Bay features
daily shows and feedings
, and a variety of sharks across four different
exhibits
.
Favorite shark:
The
scalloped hammerhead shark
, which actually prefers fish to scallops.
National Aquarium | Baltimore, MD
The Blacktip Reef bustles with 779 animals, from zebra sharks to tasseled wobbegongs, and of course, blacktip reef sharks. You can check out what's going on in the reef right now via the aquarium's
live feed
.
Favorite shark:
We feel bad not saying the
blacktip
(after all, the reef's named after it), but it's got to be the
wobbegong
. It's got camouflage!
Georgia Aquarium | Atlanta, GA
Want to see what the inside of a mako shark looks like? Then mosey on down to the
Sea Monsters Revealed: Aquatic Bodies
exhibit.
Favorite shark:
As cool as the mako is, it's also dead, so we'll go with the four young
whale sharks
. The Georgia Aquarium's the only institution outside of Asia to house these gentle giants.
Adventure Aquarium | Camden, NJ
Proud to have "the largest collection of sharks on the East Coast," Adventure Aquarium is giving free top-of-tank tours for
Shark Week
, granting shark lovers an up-close look at dorsal fins cutting through the water's surface. There's also a 40-foot shark tunnel and a special
Touch-a-Shark
exhibit.
Favorite shark:
The great hammerhead shark, the largest of which currently measures at 7 feet. The aquarium's experts predict the fish still has a lot more growing to do though, as the biggest hammerhead on record clocks in at 20 feet.
More than a day's swim from any of these animals? Check Groupon for aquarium and zoo tickets in your area.
Photos courtesy of Shedd Aquarium.
BY: Dan Caffrey
Guide Staff Writer
Outside of Work, Dan is a playwright, Senior Staff Writer for Consequence of Sound, and contributor to The A.V. Club.