GROUPON GUIDE TO WASHINGTON-DC
Beat Back Your Shoe Pile with These Two Steps
BY: Rachel Matuch |
Oct 15, 2014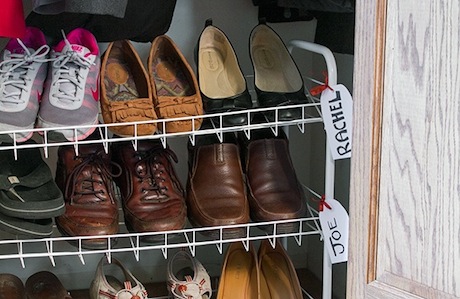 Sometimes, having closets, racks, and cubbies still isn't enough to stop shoes from gathering in a pile around the door. What should you do when they start traveling in packs rather than in pairs? Well, we called Kim Cosentino. Kim is a professional organizer and owner of
The De-Clutter Box
, based in suburban Chicago. She's helped us out before with her
hanger trick
, so we were confident she'd know how to handle strewn-about kicks. "It's just a mess that piles up," Kim said, and as boots come out, it's only going to get worse. "It piles up through the whole winter season and gets out of control." Organizing the entryway—Kim calls it the "landing and launching pad"—makes a world of a difference. And thankfully, keeping it clear involves only two steps: giving everyone's shoes a home and keeping those homes neat.
Step One: Give Shoes a Home
Kim said to pick your shoe-storage method based on your space. You don't have to spend a ton of money on a trendy shelf, either: work with what you have, or find deals at big-box stores. (We feature shoe organizers regularly on
Goods
, too.) Here are a few options:
Shoe stackers and metal shoe racks
Made of a sturdy material, such as wood fiberboard, shoe stackers create shelves for shoes while still leaving room for a row on the floor.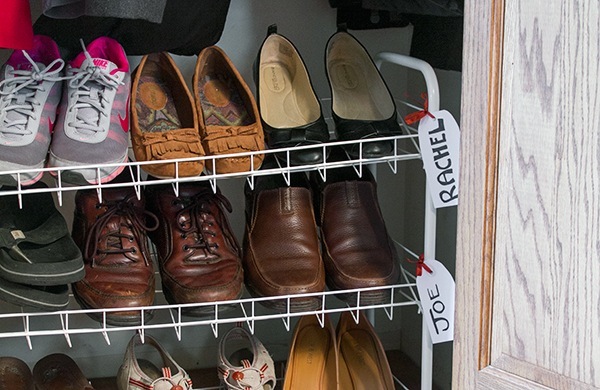 Similarly, metal shoe racks make it easy to assign a tier to every person in the home. If you have a big family (or room for a lot of shoes), you can buy a tall free-standing unit or mount one high on the wall.
Some units
can hold as many as 50 pairs! Kim also said that some families keep their shoe racks in the garage, which is a useful workaround if you have a small, closet-less entryway. Boot racks in particular help to corral winter boots so that you don't track snow inside.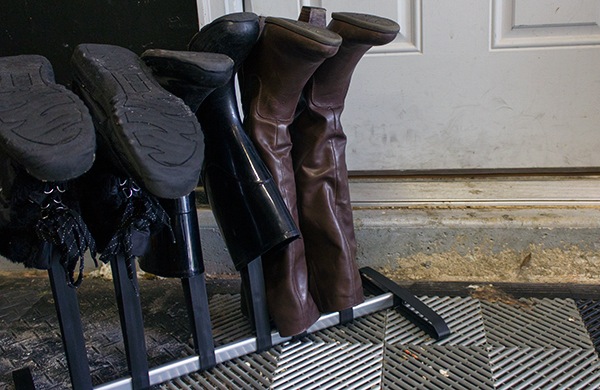 Hanging shoe organizers
These organizers
hang from the rod in the closet, and their compartments make it easy to sort your shoes (
and boots
!).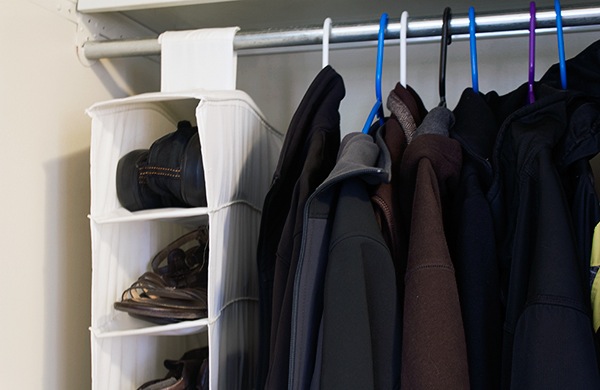 This is a great option for people who have bigger closets in the entryway. Hanging bags aren't just useful for shoes, either—you can also use them as cubbies for hats, gloves, and scarves.
Baskets
Shoes may look neat lined up all in a row, but sometimes, that's just not realistic. A basket by the front door can keep them contained with little effort. There are plenty of pretty storage baskets out there, but Kim said that an old laundry basket does the job just as well.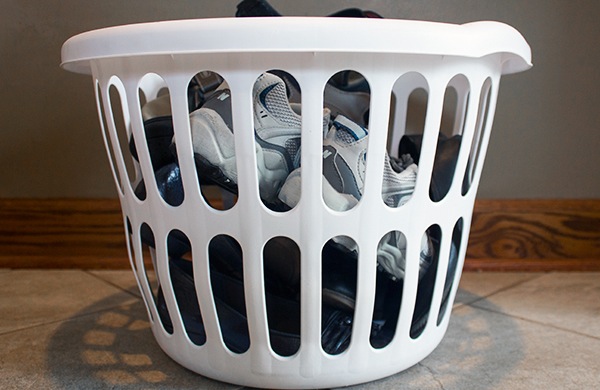 Step Two: Keep It Neat
OK, you have your shoes neatly stacked on the shelf, piled in a basket, or tucked in a hanging organizer. But if you stop there, you're going to find yourself in the same predicament soon enough. How do you keep it neat?
Limit, assign, and label
Assigning everyone a spot helps keep shoes contained to the right area. "The main thing is to give everybody limits," Kim said. "These shelves are yours, this basket is yours. … Labeling just reminds people."
Schedule a day to refresh
Don't just set a limit on space—set a limit on time, too. "Every Friday, take all your shoes off the shoe shelf [in the entryway] and put them back in the closet," Kim said. "Then, start fresh next week."
Don't bring all your seasonal shoes out at once
Kim recommends keeping your fall boots and loafers in the storage bin. Only bring out a pair if you want to wear it. This system makes it easy to see what shoes you're not really wearing anymore so you can weed them out for donation or the trash.
Keep the stilettos in the closet
"You want to separate out your everyday shoes," Kim said. Keep those by the door, and keep your "once-in-a-while" shoes on the top shelf, in a bedroom closet, or in an
under-the-bed shoe organizer
.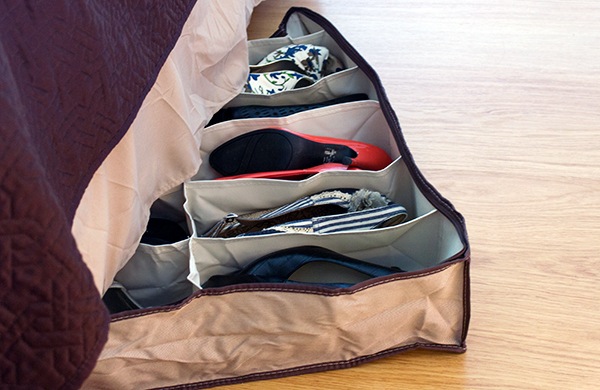 Photos by Rachel Matuch, Groupon
Shop organization products from Goods and ideel:
| | | |
| --- | --- | --- |
| | | |
| Hanging Boot Organizer | Shoe Tower | Under-Bed Shoe Organizer |
Make your life even more orderly with the Guide:
| | |
| --- | --- |
| | |
| The Hanger Trick and Other Fall Closet Tips | Turn a Silverware Tray into a Jewelry Organizer |