Six Chickens, Six Ways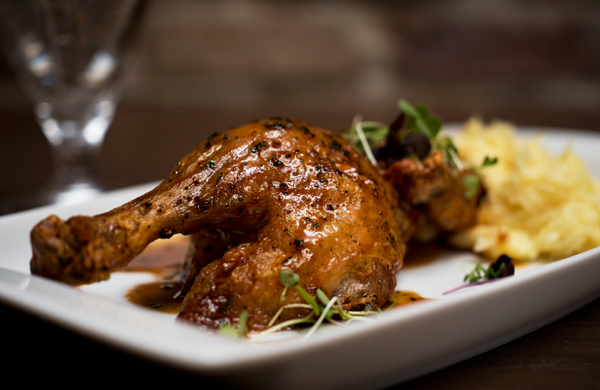 Even if everything might taste like chicken, not all chicken needs to taste like chicken. Here are six styles that dress up chicken in flavors that extend far beyond Chicago.
1. GREEK
Chicken, Kalamata Style at Athenian Room (Lincoln Park | 807 W. Webster Ave.)
When someone tells me I have to dine at a Greek restaurant, I expect they're pushing gyros. Not the case if we're talking about Athenian Room, where everyone from my roommates to Tina Fey makes a point to evangelize the chicken, kalamata style. The spit-roasted half-bird arrives on a bed of steak fries, and it's so thoroughly drenched in a salty vinegar sauce that the knife on your place-setting becomes ornamental. The sauce is pungent but not overpowering—just enough to give your sinuses a buzz—and it floods into the fries, which end up soaked while somehow maintaining a crispy exterior. You get a side salad to cleanse the palate and bread to soak up the extra sauce. Believe me, there will be extra sauce. – Michael Ratliff
2. COLOMBIAN
Rotisserie Chicken at Brasa Roja (Albany Park | 3125 W. Montrose Ave.)
When I don't feel like cooking, I pick up a chicken from Brasa Roja. The rotisserie is in the front of the restaurant, so people can press their noses to the window and watch the chickens turning over the glowing coals. For less than 10 bucks, you get a whole chicken, a couple potatoes, some corn arepas, and the most delectable grilled plantains—and I don't even like plantains. I don't know what they season the chicken with, but it's delicious and not overpowering, and they serve it with this green salsa that my friend used to sip straight from the cup, it was that good. We picked up a chicken to take to a friend's house for dinner, and people were fighting over the last wing. – Aimee Algas Alker
3. CLASSIC AMERICAN
Organic Rotisserie Chicken at Rustic House (Lincoln Park | 1967 N. Halsted St.)
At Rustic House, the central focal point of the simple dining room is a wide square fireplace in which whole chickens rotate around a fire. This means you can watch your dinner roast as you nosh on starters such as spinach salad topped with a poached egg or butternut-squash soup garnished with fried sage and crème-fraîche.
When your chicken finally arrives, skin brown and crispy, you bite into the succulent meat, releasing juices that mingle with the jus already on the plate. Creamy garlic mashed potatoes add even more richness to every taste, while a side of corn brûlée encased within a delicate sugared top provides surprising lightness. Outside, the autumn winds howl, but inside the dining room—warmed by the rotisserie and the decadence of the meal you've just devoured—you don't even notice. – Melanie Zanoza Bartelme
4. KOREAN
Seoul Sassy and Barbecue Jumbo Wings at Crisp (Lakeview | 2940 N. Broadway Ave.)
My friend and I split three Seoul Sassy and two Crisp barbecue jumbo wings. Five wings might sound like a measly meal for two, but they really were jumbo. And delicious. Barbecue was the favorite, with a sweet and smoky sauce that built a pile of paper towels between us, but the crisp, flavorful Seoul Sassy wings were still incredibly delicious, and fried perfectly. – Alison Hamm
5. SOUTHERN
A Soulful Fried Chicken Dinner at Big Jones (Andersonville | 5347 N. Clark St.)
Here's how Big Jones does fried chicken: the breading is light, but sturdy, with visible pieces of cornmeal, herbs, and coarse-ground pepper throughout. The meat itself is unbelievably moist—even the smaller wings and legs pulled apart effortlessly to reveal hunks of juicy flesh. The one thing I hadn't bargained for was the sheer size of the $25 meal, which came flanked by a relish tray, biscuits, mashed potatoes, red beans and rice, vinegar-tinged "voodoo" greens, and a final dessert of bread pudding. I didn't finish it all, which means I can say this: the chicken is also excellent eaten straight from the fridge in one's pajamas. – Ashley Hamer
6. THEORETICAL ALTERNATE-REALITY SOUTHERN
Quarter Fried Chicken at Smalls (4009 N. Albany Ave.)
I'm not sure when "authentic Southern barbecue joint" became a positive label. In my native North Carolina (and throughout the South), there are plenty of lazy, greasy, unfriendly barbecue joints. That's why I don't mind that Smalls' chicken messes with those Southern conventions.
They marinate their chicken in ginger, paprika, and buttermilk; and it has a delicate breading that's closer to tempura than to the heavy spackle used at "more authentic" restaurants. You don't have to eat it in the tiny hot dining room, either. A friendly waiter carried mine next door to Lizard's Liquid Lounge, where I was waiting with a pint of Great Lakes Christmas Ale. While I set about slathering my chicken with the included banana ketchup, two dogs named Mabel and Pepper played under my barstool. "They're on a date," one of their owners told me. "We're just chaperoning." – Cody Braun
Photo credit of chicken at Rustic House: Andrew Nawrocki, Groupon