Six Outfits Inspired by the Summer Movie Season
BY: Kelly MacDowell |
Jun 13, 2014
Whether you're into blockbuster-caliber explosions or the simple pleasure of air conditioning, there are plenty of reasons to see a movie this summer. We'd like to nominate another one: costume design. It might not be the most obvious reason to shell out $12 for a ticket, but it's a small price to pay to glean inspiration for our summer wardrobes. Here are six movies with styles we're feeling really inspired by.
Maleficent's Goth Glamour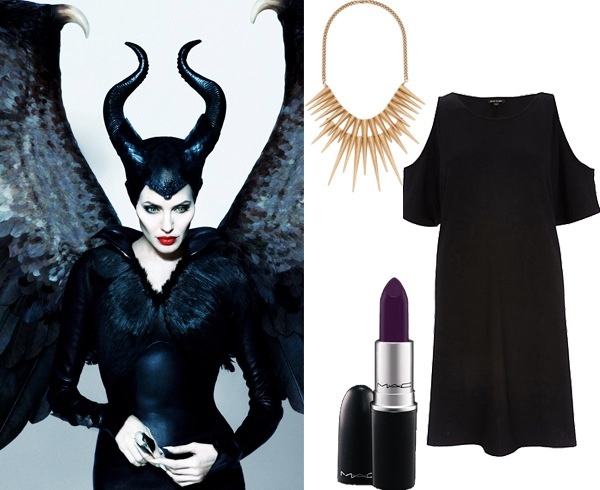 Black Cold Shoulder swing dress, River Island ($50); Nefertiti bib, BaubleBar ($52); Pure Heroine lipstick, MAC ($16)
Character to watch for: Maleficent, duh. Angelina is scary beautiful.
How to dress the part: You're most likely not an evil fairy, so fake some wings with drape-y, cutout sleeves. This spiky necklace looks like it's strung with spinning-wheel spindles, and the deep-plum lipstick from MAC's collaboration with Lorde is just the right kind of dark.
X-Men's '70s Chic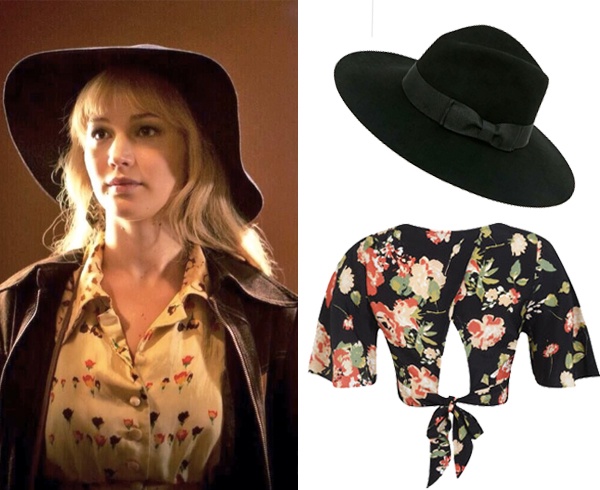 Floral wrap crop top, Miss Selfridge ($49); Jasmine floppy hat, Nasty Gal ($58)
Character to watch for: Raven Darkhölme, the "human" form of Mystique
How to dress the part: In X-Men: Days of Future Past, Wolverine is sent back in time to visit the Nixon-era X-Gang. As Raven, Jennifer Lawrence embodies '70s style with a floral crop top and a banded floppy hat.
Tammy's Comfy Normcore Duds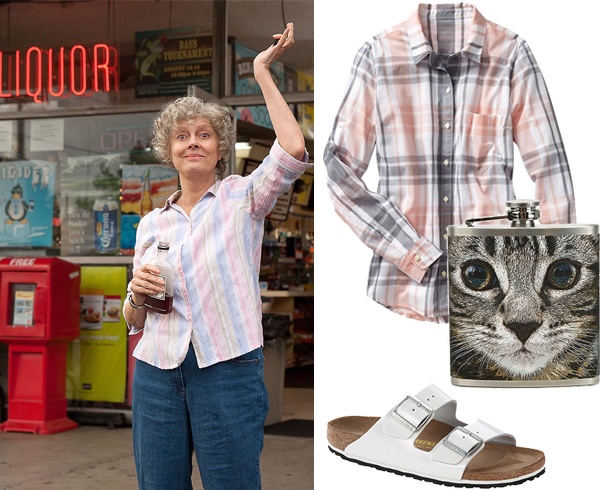 White patent-leather Arizona sandal, Birkenstock ($120); Fitted boyfriend shirt, Gap ($49.95); Cat Face flask, Urban Outfitters ($18)
Character to watch for: Tammy's grandmother, Pearl, played by Susan Sarandon
How to dress the part: With the Birkenstock renaissance that's happening right now, normcore is actually kind of chic. The sandals go well with a simple button-up like Pearl's, as does a kitty-cat flask—a nod to her hard-drinking habit.
Mood Indigo's Twee Surrealism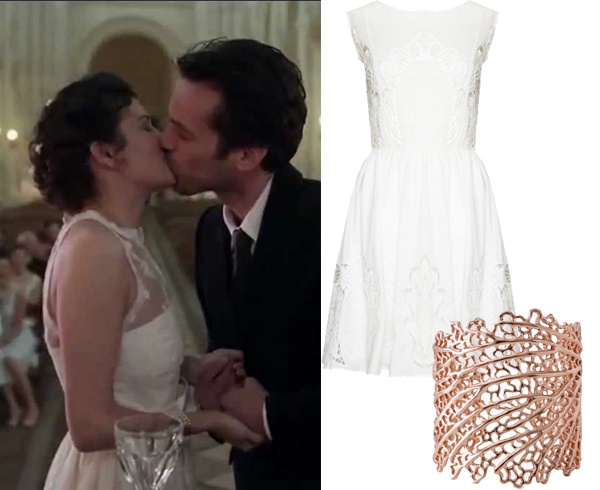 Vinny embroidered dress, Alice and Olivia ($440)—find similar on ideel; Laurel cuff, stella & dot ($98)
Character to watch for: Audrey Tautou's Chloé
How to dress the part: White dresses are huge this season, which gives the unbetrothed the perfect excuse to try out Chloé's lacy, tea-length bridal style. In typical Michel Gondry fashion, parts of the wedding scene are underwater—evoke this surrealism with a rose-gold cuff inspired by tropical fan coral.
Sin City: A Dame to Kill For's Drop-Dead Sexiness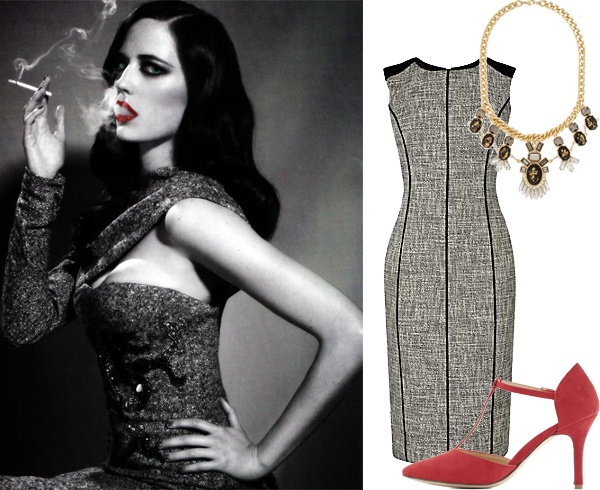 L.K. Bennett Agra tweed dress, House of Fraser ($243.76, on sale); Get It, Got It, Go-See heel, Modcloth ($32.99); Cosmic Dust Galactic bib, BaubleBar ($48)
Character to watch for: Ava Lord
How to dress the part: Mimicking the smokin'-hot style of former Bond girl Eva Green is no easy feat, but this curve-hugging tweed dress with corset-inspired piping should do the trick. Red pumps give the ensemble a Sin City–like pop of pigment.
The Congress's Colorful Elegance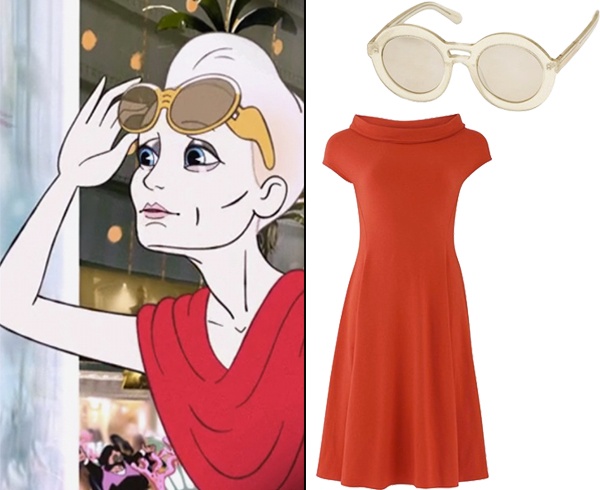 Teresa dress, People Tree ($76.49, on sale); Joyous gold glitter sunglasses, Karen Walker ($329)
Character to watch for: Robin Wright
How to dress the part: Thanks to her wardrobe on House of Cards, Wright has become something of a style icon. So it's no surprise that she looks gorgeous when playing herself in this part-animated, part-live-action indie flick. Cartoon Robin's cowlneck might be a bit heavy for summer, so instead try a dress with a standup boatneck, and pair it with glittery, fashion-forward shades.
Stills courtesy of Disney, 20th Century Fox, Warner Bros., Drafthouse Films, Dimension, and The Match Factory
BY: Kelly MacDowell
Kelly's first concert was Fleetwood Mac and her first career was in the beauty industry. Now a style and music writer, she loves Project Runway and her dog, Watson.