Sixteen Years Later, You Can Finally Hear Kathleen Hanna's "Julie Ruin" Album Live
BY: Kelly MacDowell |
Mar 27, 2014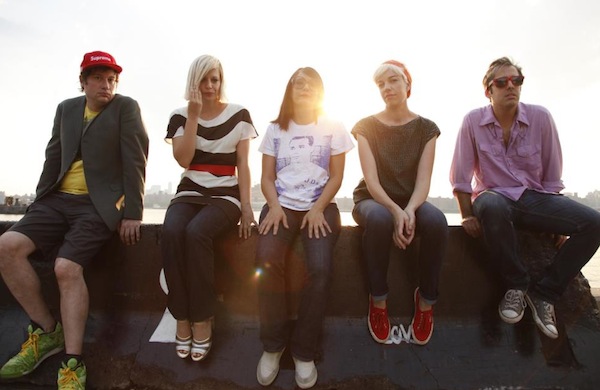 There's busy, and then there's Kathleen Hanna busy. After being delayed by disease and a documentary, the former Bikini Kill singer's side project is finally on the road.
Kathleen Hanna can be forgiven for her tardiness. Since the reigning queen of riot grrrl released her last solo album, 1998's
Julie Ruin
, she's been sidetracked by a seemingly endless series of events. First, Hanna's watershed punk band, Bikini Kill, parted ways and she formed electroclash band Le Tigre. Then she was diagnosed with and treated for Lyme disease—an ordeal that she announced publicly with the 2013 biographical documentary
The Punk Singer
. Until recently, a 2010 tribute concert held to raise money for
The Punk Singer
was the only time Hanna had performed her
Julie Ruin
material live. Luckily, the hordes of Hanna fans who weren't at that one show in Brooklyn have been rewarded for their patience. Not only has the band (now a five-piece called
The
Julie Ruin and featuring Bikini Kill bandmate Kathi Wilcox) released a new album,
Run Fast
, but they're currently on a cross-country tour that stops in Chicago on Wednesday, April 9. To put in perspective just how long fans have been waiting, here's a list of 16 notable events that happened in 1998, the year Julie Ruin was released:
1.
Malia Obama and Michael Jackson's daughter, Paris, were born. They are now old enough to drive.
2.
Google was founded, making the phrase "just Google it" no longer unintelligible.
3.
Fifteen-year-old figure skater Tara Lipinski won a gold medal at the Nagano Olympics, becoming the youngest-ever individual champion.
4.
Bill Clinton "did not have sexual relations with that woman" but was impeached anyway.
5.
Titanic
won Best Picture. That Celine Dion song stayed in your head until 1999.
6.
The Unabomber was convicted and sentenced to life in prison.
7.
Ross and Rachel briefly reconciled, until Ross again invoked the "we were on a break" defense.
8.
Boyz II Men performed during the halftime show at Super Bowl XXXII, which the Denver Broncos won by a touchdown.
9.
CBS aired the final network telecast of
The Wizard of Oz
. People without cable wept like the Cowardly Lion.
10.
Middle schoolers everywhere were awkwardly slow-dancing to
this incomparable jam
.
11.
Signs of water were discovered on the Moon as well as on Jupiter's moon Europa.
12.
Sonny Bono and Frank Sinatra passed away.
13.
More than 76 million people tuned in to the series finale of
Seinfeld
. The episode started, yada yada yada, it ended.
14.
The Spice Girls won three American Music Awards.
15.
Bear Grylls became the youngest Englishman to scale Mount Everest.
16.
We were unknowingly living in that last glorious year before we were introduced to
this man
.
Listen to "Oh Come On" from The Julie Ruin's new album,
Run Fast:
The Julie Ruin plays Lincoln Hall on Wednesday, April 9, at 7 p.m. Tickets are $16–$18 and can be purchased here.
BY: Kelly MacDowell
Kelly's first concert was Fleetwood Mac and her first career was in the beauty industry. Now a style and music writer, she loves Project Runway and her dog, Watson.