Smoke & Pickles: A Conversation with Chef Edward Lee
BY: Melanie Faetz |
Apr 29, 2013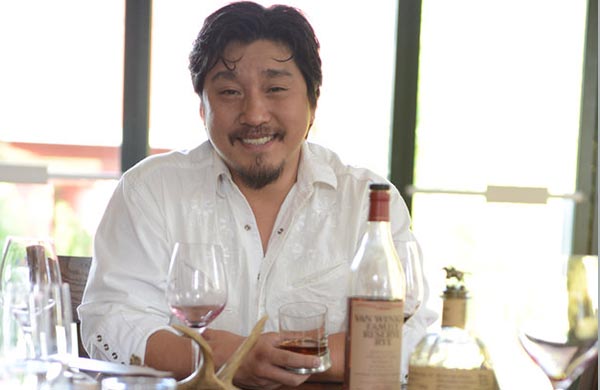 Edward Lee didn't grow up with haute cuisine on his plate, but it was certainly on his mind. In his anecdote-rich new cookbook
Smoke & Pickles
, the Brooklyn-born chef remembers sneaking peeks at food magazines as if they were
Playboy
, lusting after the gourmet restaurant meals that seemed so unlike what his Korean family typically ate. Years and countless fine-dining experiences later, Edward has gravitated back to Asian cooking with a deeper admiration for its humble traditions as well as inspired ideas about how to incorporate the southern flavors he's fallen in love with while living in Louisville, Kentucky. I spoke with Edward about his culturally "inclusive" cooking style, his acclimation to Kentucky customs, and—of course—his tips for drinking like a pro during Derby Week.
GROUPON: How does the southern cooking and dining mentality differ from the mentality in New York? 
EDWARD LEE: The biggest difference between southern and New York cooking is that there's a sense of community [with southern cuisine]. So much of [the southern food scene] surrounds a communal kitchen, whether you're going to a backyard barbecue, a potluck dinner, or a tailgating afternoon. Food is a vehicle to bring people together. I mean, you can find fancy, white-tablecloth restaurants all over the South, but the essence of southern cuisine is so much indebted to home cooking. In a place like New York, home cooking isn't really that prevalent. It's all about dining out—very much about innovation and pushing the envelope.
G: Does your cooking style change depending on whether you're cooking for friends at home or strangers in your restaurant?
EL: Oh, they're totally different. Generally, with both of my restaurants, we do what I'd call composed plates. There's an intentional point of view that we want to get across, and so we put that on a plate and present it to you. Versus when I cook at home, where it's almost always, "Here's some meat, here's some pickles, here's some sides—now you guys create your own plate of food." I don't compose plates at home. Even when I make a salad, it's like, I toss a bunch of things into a bowl, put different of dressings on the side, different condiments, and everyone makes it how they want it. And in your home, when you have the sense of making your own food, it just becomes more fun. It becomes a conversation starter.
G: The Kentucky Derby is coming up [on Saturday, May 4], which means lots of bourbon. Any tips for making the perfect mint julep?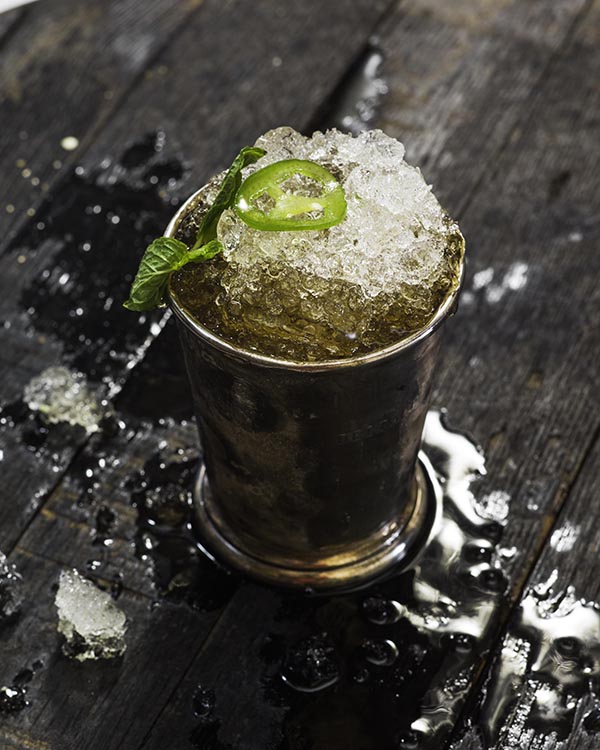 EL: If you are going to have a mint julep, I would recommend having only one. I'd recommend having it early in the morning—before you've had breakfast. And I would recommend that it's the only mint julep you have all year.
G: Oh, so you're not a fan?
EL: Weh ... yuh ... neh ... you know—I'm not a fan. I believe it is an interesting libation, and it's a tradition. You have to abide by tradition and have one. Here's the thing: I wouldn't say there's a [perfect] recipe [for a mint julep], but I'd say that you have to use crushed ice, not cubed. You have to use fresh mint, and it has to be picked that day. Find someone with a mint plant; don't buy it from the store. And you have to use high-quality bourbon—12 years or older. And you have to serve it in a pewter julep cup.
G: Any tips for subduing a Derby-grade hangover?
EL: I would recommend keeping a plate of cold fried chicken in your refrigerator. Cold fried chicken with hot sauce, some lime juice, and a little salt and pepper. That will fix you up.
G: You mention in your book that smoke and pickles form a perfect marriage in cuisine. What are some of your other favorite flavor pairings?
EL:
One: Fish sauce and lime juice. Two: Anything spicy with beer. Three: Pork and kimchi.
G: What's the strangest thing you've ever pickled?
EL: I tried to pickle cheese; it didn't work. The combination of vinegar and cheese curds just didn't do it for me. I wouldn't say that it was the most unpleasant thing, but it was definitely not something that I would rush back to. But who knows, maybe I'll go a second round at.
G: Your cooking style blends Korean and southern traditions in many creative ways. Is there any "fusion" dish you've attempted that just didn't work?
EL: Yeah—I mean, we [at the restaurant] do a lot of things, and some of them work, and some of them don't. One of the things that I talk about in the book, though, is the whole idea of fusion cuisine, which I'm very much against. To me, fusion
never
works. The word implies a sort of forceful putting together of two ideas, concepts, or incongruous things that shouldn't go together. I mean, there were great examples of fusion cooking 20 years ago, but I think the new generation of fusion needs another word. I don't sit there and say, "I'm going to take something Asian and take something southern and put them together." It's not my intention. I like to call my cuisine a "cuisine of inclusion," and that basically just means anything that's in my pantry
works
. Anything that I want to cook with—it doesn't matter if it's from India, Argentina, Brazil, or Iceland. It just so happens that I think each of us as individuals is affected by two or three main cultures. For example, there's a great restaurant in New York that just opened up ... it's a combination [of] Italian and German influences. And it sounds very natural to me because Harold [Dieterle], the chef, has both Italian and German roots. It's a natural extension of his identity, or personality, to do [what he's doing], just as it's a natural extension of my identity to look toward Asian and southern influences. But I think the word fusion implies that I, or any chef, intends to actively put together [disparate things]. But it's more of a passive, or unconscious, thing. Like, fish sauce and soy sauce are always in my head. So I'm like, well, grits remind me of congee, and what do you put on congee? You put soy sauce on congee. Why don't we put soy sauce on grits? So the process is very much organic versus "how do I add an Asian influence to a southern dish?" Having said that, there are still plenty of things that don't work, things that I've tried. Coconut milk, for example, is such a staple in Asian cuisine ... so I've often tried to use it in place of butter or buttermilk, and it just doesn't work. Its fat content is the same, but its properties are very different. For example, coconut milk doesn't curdle. You can't make a custard out of coconut milk, at least not in the [traditional] way. Or try to make a coconut chess pie. It kind of sounds cool, but it just doesn't work. And that's where you start to really respect and understand certain traditions, and the science behind [cooking]. I mean, there's a reason why custard and southern chess pie have worked for so many years, or the biscuits that grandmothers have made by hand for generations without a recipe. When you try to change things and it doesn't work, it makes you really respect traditions. Some recipes don't need to be changed; they're perfect.
G: Here's a list of some simple, common foods. How would you garnish, infuse, or otherwise update each with smoke and pickles?
EL:
Pizza:
I would do smoked ham—shredded—and pickled cauliflower.
Ice cream:
I would smoke the cream for smoked ice cream and then put some pickled green strawberries on top.
Pancakes:
I'm going to take a pass.
Chicken noodle soup:
Obviously, the easiest thing would be to smoke the chicken, but you can also smoke the whole chicken and make the broth out of the chicken bones. So you have a smoked-chicken broth and then some very thinly sliced pickled fennel on top.
Peanut butter and jelly:
I would go Elvis style, but with smoked bananas and a pickled jalapeño jelly.
G: OK, how do you smoke a banana?
EL: Oh, it's very easy. You just peel the banana, and then you make a little smoker in your house. All you need to do is take a pot, a heavy bottomed pot, and line it with aluminum foil on the bottom. Put in some wood chips, put the pot over the stovetop, light it high, and it will start to smoke. So then all you need is some sort of wire rack to place over [the chips], put your bananas on the rack, and partially cover [the smoking bananas] with the [pot's] lid.
G: So can you pretty much smoke anything using this technique?
EL: Yes, pretty much. You can smoke anything you want.
G: Any favorite places to eat in Louisville?
EL: Oh, a bunch of places.
Franco's [Restaurant & Catering]
is a very lively, interesting place with some pretty authentic soul food. I enjoy eating there. I love
Frankfort Avenue Beer Depot
. It has probably the best barbecue in Louisville. For a fried-chicken fix, I'll go to
Indi's
. I don't eat much in fancier restaurants. When it's my day off and I'm going out to eat, I'm pretty much looking for, well, grub … as they say.
G: Does anything instinctively turn you off of a restaurant?
EL: The only thing I really get annoyed by is unnecessary garnish or when food is too contrived. I think that when it comes to food, everything has to be meaningful. And I mean, you can be as elevated as you want. Nothing against fine dining, I love cerebral food, but I think that every [element of it] needs to be intentional. So if there's anything that turns me off, it's food that's too derivative or too garnished without thought or meaning. And, I mean, you see that, and it usually just means that it's part of the progression that the chef is going through. I think we all go through a stage when we imitate [other chefs] until we find our own voice. And I don't fault anyone for it, but it's the one thing.
Edward was recently named a James Beard Foundation Award finalist in the Best Chef: Southeast category for the third consecutive year; the winner will be announced Monday, May 6. You can taste his renowned cuisine at either 610 Magnolia, located in Old Louisville, or the newly opened MilkWood at Actors Theatre of Louisville.
Photo of julep courtesy of Grant Cornett; photo of Chef Edward Lee courtesy of Dan Dry