Soak Up the Summer on Eight Logan Square Patios
BY: Halley Lawrence |
Jun 25, 2013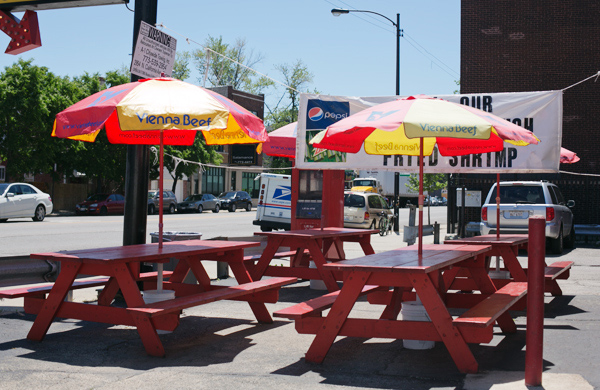 Patios—those mutant hybrids of inside and outside—are crucial in the summer, when balmy breezes lure Chicagoans out of hibernation. Logan Square has some of the best outdoor dining in the city, and we've selected the finest eight to please every type of diner and drinker.
To convince bumbling time travelers they've successfully made it to the 1960s:
The Orbit Room
(2959 North California Avenue) Leopard print, blue neon lighting, and other retro stylings might make children of the '60s feel right at home. Outside, a bamboo fence and white umbrellas keep the tiki-bar vibe, which can suffer in direct sunlight, going strong. The drinks are potent, and food options range from hand-tossed pizzas to Cuban-style ropa vieja.
A place to blend in when your shirt is covered with enchilada sauce:
El Cid 2
(2645 North Kedzie Avenue) A few tables on the sidewalk give the impression that this Logan Square institution doesn't have much in the way of alfresco seating. But duck through a long hallway and you'll find yourself on a spacious back patio, hidden from the street. Celebrate with a margarita or grapefruit paloma and snack on a refreshing shrimp cocktail.
When a hankering for deep-fried shrimp strikes at 4 a.m.:
Red Hot Ranch (2072 North Western Avenue) They keep it simple here with a short menu of Vienna Beef hot dogs, polish sausages, and fried shrimp, which customers carry to gloriously non-glamorous picnic tables on the asphalt lot facing Western Avenue. The spot's open until 4 a.m. on weekdays and 5 a.m. on weekends, so stop by to down a pound of deep-fried crustaceans at the end of a boozy night or the beginning of a morning jog.
For a staring contest with a vegetable:
Letizia's Fiore
(2456 North California Avenue) Servers at this Italian cafe and wine bar deliver bottles of rosé, cooled in buckets of ice, to tables on the sidewalk patio. Chat with friends or simply stare intently at the restaurant's rooftop vegetable garden while sipping wine and nibbling decadent pastries.
To prove to a fancy trash compactor that you can eat a ton of food too:
Marble
(3281 West Armitage Avenue) Show off your eating abilities on Saturdays, when this hyper-affordable pub offers a free buffet from 11 p.m. to 1 a.m. Take a breather on the scenic patio, where flowers bloom brightly against a rustic wooden fence.
To listen to a centenarian's entire life story:
Logan Bar & Grill
(2230 North California Avenue) Comfortable seats make it a pleasure to settle in on the patio for a long chat. Draft beers from Half Acre and other local makers keep the conversation flowing, and the intersection is a prime spot for people watching.
When you want to ride the El without actually leaving the neighborhood:
Boiler Room
(2210 North California Avenue) Most people ride the El out of necessity, but others just like listening to the canned voice saying "doors closing." Get your fill of Blue Line sounds at the Boiler Room: that same voice announces "This is Logan Square" whenever you open the bathroom door. On the back patio, groups devour slices of cornmeal-crust pizza paired with PBR tallboys and shots of Jameson, a divine trinity known as the "PB&J."
To watch a transformer explosion from a safe distance:
The Whistler
(2421 North California Avenue) So this might not happen every night. But last summer, I was nursing cocktails with friends on the spot's intimate back patio when we witnessed a transformer rupture with a blue flash and a bang, casting brilliant light over our Rosemary Collinses. The inventive cocktails pair perfectly with electrical-grid malfunctions.