Some Orange Foods to Eat This October
Eating colorful food is good for you. Yes, leafy greens pack plenty of nutrients. And yes, bright peppers add bursts of flavor to everything from salads to sauces. But beyond health and taste benefits, colorful foods are fun to eat. And no color is more fun than orange. There's something wild and dangerous about orange. It screams caution. It warns that there's road work ahead and that the bridge is out. But the staff of food writers at the The Guide paid these warnings no mind. We drove straight for the most orange food we could find in Chicago this October. – John Flaherty
Biscuits and Lobster Gravy at GT Fish & Oyster (River North | 531 N. Wells St.)
When I see lobster on a brunch menu—especially at a storied seafood establishment like GT Fish & Oyster—I take notice. This dish was much lighter than I expected, with an orange-hued gravy that relied more heavily on vegetables and tarragon than cream. It felt more like a deconstructed lobster pot pie, with two fluffy biscuits as crust, but a poached egg still firmly grounded it in breakfast territory. – Hillary Proctor
Mentaiko Kimchi Udon at Mott Street (Wicker Park | 1401 N. Ashland Ave.)
Marinated mentaiko, or cod roe, is what gives this noodle dish its bright orange color as well as much of its intensely spicy, salty flavor. Ribbons of seaweed and dried bonito help things along as well. What might be most striking about the dish is the texture. This is not the light, delicate preparation you'd expect from the people behind Ruxbin (851 N. Ashland Ave.)—the noodles are thick, soft, and chewy, leading at least one reviewer to dub this dish "the ultimate stoner food." I can't speak to that part, but it did go well with a glass of sake.
Pad Thai and Baby Egg Rolls at Cozy Noodles & Rice (Evanston | 1018 Davis St.)
Cozy Noodles is my favorite takeout place in Evanston for one reason: big portions. It may not have the best noodle dishes in town, but it packs flavor into a container that easily lasts two meals. The pad thai's mountain of noodles is distinctly orange and a little shiny, but its chunks of tender beef balance well with the delicate crunch of the spring onions and the tangy lime. I like to pair this with the always addictive baby egg rolls, which contain little bits of mushroom and a thin crunchy shell. The dipping sauce—a sweet and sour sauce with red-pepper flakes—leaves my tongue pleasantly burned. As a bonus, this meal is still good several hours later. I said I couldn't finish it in one go, but it makes an excellent midnight snack the second time around, even cold. – Stephanie McDaniel
Uni Sashimi and Ice Cream at Uni Sushi (Wicker Park | 1752 W. North Ave.)
When I went to Uni Sushi, I had never tried the eponymous dish, and wanted to order my sea-urchin gonads with rice in case they proved too intense. However, I mixed up "sushi" and "sashimi," thereby committing to the roe and nothing but the roe. I had expected an overpowering briny flavor, but learned that eating uni is more of a textural experience—though they were solid enough to pick up with chopsticks, the slices melted into a pleasingly velvety paste in my mouth. And instead of a fishy aftertaste, the urchin had an unobtrusive, nutty sweetness (almost like pumpkin!) that lingered and convinced me to try the restaurant's ice-cream variant.
The dessert was a deliciously crisp take on the roe, and much lighter than regular ice cream. Thankfully, it didn't amplify the uni flavor beyond that of the sashimi, keeping the sweetness subtle and crisp. – Mel Kassel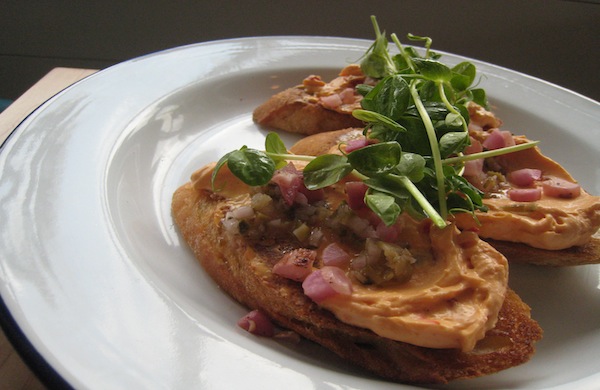 Pimiento Cheese at Parson's Chicken & Fish (Logan Square | 2952 W. Armitage Ave.)
I tend to distrust popular opinion. I will go out of my way to avoid reading books I see people carrying on the beach. There was a point when I did not want to hear about your excellent experience at Chicken & Fish. I buy into the hype now, though. Settling in at one of the tables, which are exactly communal enough, I quickly selected an order by scanning neighboring plates. Pimiento cheese, the ideal comfort food in my book, seemed like the right snack for the patio, with its "your parents are having a barbecue" vibe. There were babies and puppies scooting around my ankles. An old friend and excellent photographer was running food. Unlike the pimiento-cheese snacks you might find in a Southern backyard, these toasts are peppered with radishes and micro greens, which serve as foils to the preposterously creamy smears of cheese. The sensibly toasted bread fights against its creaminess, but doesn't shatter into crumbs either. Now, I'm off to see what this Dan Brown guy is about. – Cody Braun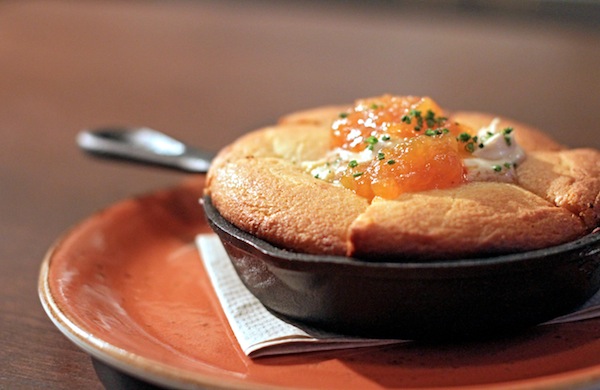 Skillet Cornbread at Carriage House (Wicker Park | 1700 W. Division St.)
Carriage House is all about Southern hospitality, as our server announced when she handed us menus. "Well," my wife said after we'd given our drink orders, "if this was real Southern hospitality then there would be warm bread on the table."
My wife knows about Southern hospitality. She was born in Louisville, Kentucky, where we were married five years ago to the day that we walked into Carriage House. A life of homemade biscuits, proper table settings, and generation-spanning pie recipes had set her bar for hospitality pretty high. And at the onset of our meal, Carriage House was not quite measuring up.
And then the food came. Small plates of skillet cornbread, fried green tomatoes, and fried chicken. My wife dug into the cornbread, its light orange crust just puffing over the black rim of the skillet. A foie gras butter and housemade cherry preserve sat on top, lending a tart, velvety feel to each bite. The cornbread itself had a fine, granular texture that was far from the gritty, coarse consistency I'd come to expect and love from my wife's homemade cast-iron skillet cornbread.
By the time dessert arrived (sugared donut holes with a boozy caramel dipping sauce), my wife had been won over. She's a bit stubborn, however, so she would only admit that Carriage House was good Southern food for the city of Chicago, which I suppose is fair. If you take Carolinian cuisine and bring it to Chicago, it's bound to change some. Or maybe it'll hold even more dearly to its Southern roots. Maybe it'll cling all the more tightly to its crispy pork shoulders, low country boils, and notions of hospitality. My Kentucky wife, who's been in Chicago 10 years, surely has. – John Flaherty
Pimiento cheese photo courtesy of Hillary Proctor; skillet cornbread photo courtesy of Jamco Creative; uni sashimi photo: © Andrew Nawrocki, Groupon