Soundtracking the Apocalypse with German Hard Rockers Kadavar
BY: Tyler Clark |
Apr 11, 2014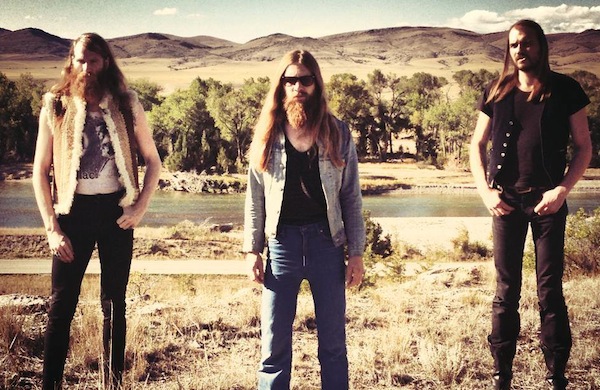 Forget canned goods and flak jackets: prep for the coming apocalypse with the throwback sludge metal of Germany's Kadavar.
The
Mayan Apocalypse
of 2012. The
beginning of Ragnarok
this past February. The continued popularity of
The Walking Dead
. The apocalypse is en vogue, and German hard-rock group Kadavar is ready with their own contribution: a theme song for the end of the world. Hailing from the same shadowy sonic wastes as Black Sabbath and Led Zeppelin, the Berlin three-piece calls down the fires with wild-eyed vocals and riffs that wouldn't be out of place streaming from a '74 El Camino. They also know how to make the gathering darkness seem less terrifying and more thrilling. In honor of their upcoming show at the
Double Door
, we've matched five of their videos with the five potential doomsday scenarios they best encapsulate. So, you know, plan ahead.
The world ends because of:
Muspell
, the German end times
So we'll listen to:
"Doomsday Machine"
While:
Gunning down fire giants that talk like Christoph Waltz
The world ends because of:
A possessed army of demonic sexy ladies
So we'll listen to:
"Creature of the Demon"
While:
Realizing that those rose petals on the bed were actually part of the summoning ritual
The world ends because of:
Climate-change-induced water wars
So we'll listen to:
"Come Back to Life"
While:
Driving away from yet another dried-up oasis
The world ends because of:
The
computer simulation that controls our universe
crashes
So we'll listen to:
"Purple Sage"
While:
Waiting patiently for matter to reboot
The world ends because of:
An undetected
superasteroid
So we'll listen to:
"All Our Thoughts"
While:
Roasting marshmallows as the sky burns
Kadavar's new record,
Abra Kadavar
, is out now on Nuclear Blast. Emerge from your fallout shelter for their show at the Double Door on Thursday, April 24, at 8:30 p.m. Sons of Huns opens. 21+. Tickets are $10 and can be purchased here.
Photo provided by Kadavar
BY: Tyler Clark
Tyler is a writer, storyteller, and musician from Chicago. His stories have appeared on stage at shows including Mortified, Story Club, and Lethal Poetry.