Spaghetti Wrestling: The Sport (and Dinner) of the Future
BY: Tyler Clark |
Mar 28, 2014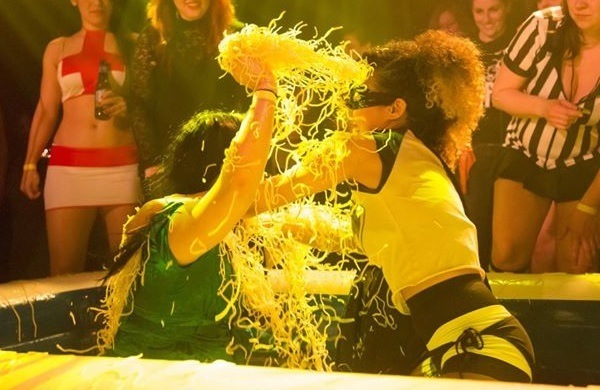 On the eve of the Chicago Outfit Roller Derby's annual spaghetti wrestling event, organizer Dianasaurus Ross fills us in on the secrets of pasta pugilism.
Their
home opener
is nearly a month away, but the ladies of the
Chicago Outfit Roller Derby
squad have already started loading up on carbs—well, kind of. During their sixth-annual spaghetti wrestling fundraiser on Saturday, April 5, the skaters will channel their inner grapplers, prepping for on-track contact with few-holds-barred bouts at the
Double Door
. This week, we talked with Outfit member Claire
"Dianasaurus Ross"
Corriveau about what it takes to claim victory in a vat of noodles.
GROUPON: This isn't your average fundraiser. What gave you guys the idea to host a spaghetti wrestling match?
CLAIRE CORRIVEAU: The Outfit has always been a little bit outside the box. It has the novelty appeal to make it memorable and attract more attention than a regular fundraiser.
G: Why spaghetti? What makes it tougher than the other pastas?
CC: Honestly, because it's cheapest. Plus, it looks way cooler flying through the air than bow ties.
G: Go over the rules a bit. How does an average match go down?
CC: Every match is different. Sometimes, it's a grudge match between Cinderella and Snow White over Prince Charming. Sometimes, Carrie is seeking her revenge on the mean prom queen. One thing is certain, though—someone is gonna end up face-down.
G: I'm sure many of our readers would love to try something like this during the audience challenge round. What are your top three tips for having a successful bout?
CC: 1. Wear clothes and shoes you won't miss because it's going to get messy. 2. Get low and get under your opponent. 3. Try to keep your mouth closed.
G: You've been doing these for a few years now. What's the most memorable moment from past events?
CC: One of our team physicians wrestled a guy while he was wearing a wrestler's onesie, handcuffs, and a blindfold. He still won!
G: Anything different this year?
CC: The audience challenge round is new and exciting this year because it's official. In years past, people just jumped in after we announced our winners. I'm looking forward to not fishing out anyone's car keys from the spaghetti.
G: I noticed that the spaghetti you use is sans sauce. Give us your best marinara recipe.
CC: If I told you, I'd have to kill you. Family secrets are sacred!
G: These matches will be going down in one of Chicago's most iconic rock clubs. What two musicians would you love to see square off in a vat of spaghetti?
CC: 'N Sync vs. Backstreet Boys. The rivalry must come to an end!
G: Who would win?
CC: Duh, 'N Sync all the way.
Spaghetti wrestling gets underway at the Double Door on Saturday, April 5, at 9 p.m. The Vaudezilla burlesque troupe opens. Tickets are $7 in advance and can be purchased here. A portion of the proceeds benefits Greater Chicago Food Depository; food donations are also welcome.
Photo: Steve Stearns
BY: Tyler Clark
Tyler is a writer, storyteller, and musician from Chicago. His stories have appeared on stage at shows including Mortified, Story Club, and Lethal Poetry.