Street Style: "Esquire" Fetes 75 Years of Paul Stuart
BY: Kelly MacDowell |
Oct 17, 2013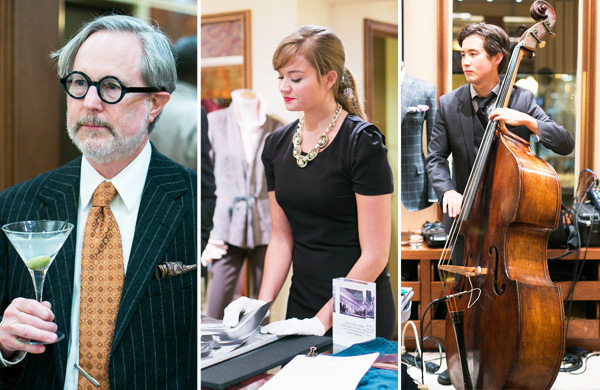 Ralph Ostrove opened his first store during the FDR administration, naming it for his son, Paul Stuart Ostrove. And from its spot just off New York's Madison Avenue, Paul Stuart quietly became a popular designer of sportswear for Ivy League students. But the shop didn't stay a well-kept secret for long—by 1959, company president Clifford Grodd (Ralph's son-in-law) was making trips to the Plaza Hotel to dress Cary Grant, and in the early '60s, regular clients such as President John F. Kennedy, Frank Sinatra, and Miles Davis were helping turn Paul Stuart into a highly respected American label. The brand's continued success over the next few decades led it to break ground in Chicago, where it first opened a showroom in the Hancock building before relocating to its own two-floor brownstone on Oak Street. And in that brownstone on Wednesday, October 16,
Esquire
magazine (which, incidentally, is currently celebrating its 80th year in print) helped honor the label's 75th anniversary with a Rat Pack–themed soiree. As servers handed out glasses of champagne and a white-gloved attendant flipped through a master edition of the photo book
The Rat Pack
, the appropriately well-dressed crowd tapped their oxfords to a live jazz trio, walking homages to Paul Stuart's classic blend of formalwear and sportswear.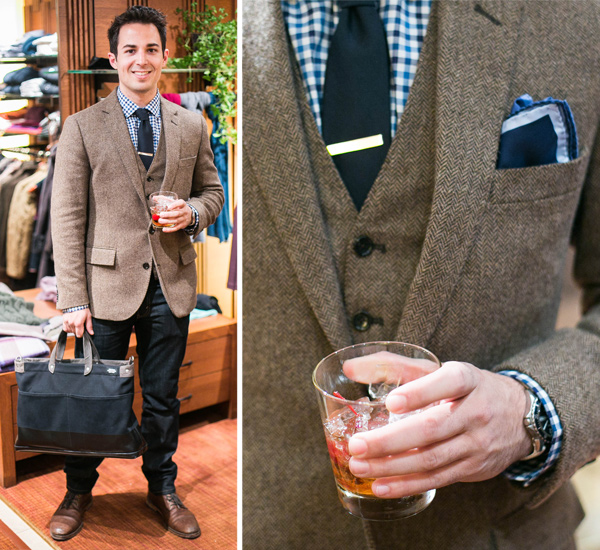 Ian, 26, brand strategist for Tumi
Favorite local menswear stores:
Haberdash Men's Shop
 (607 N. State St.), Suitsupply
Who would you like to see on the next
Esquire
cover?:
Ian suggested Jake Gyllenhaal or Benedict Cumberbatch but said "it will probably be Joseph Gordon-Levitt."
On Ian:
Jacket, vest, shirt, tie bar, and Timex watch from J.Crew; 511 jeans from Levi's; bag from Jack Spade; shoes by Cole Haan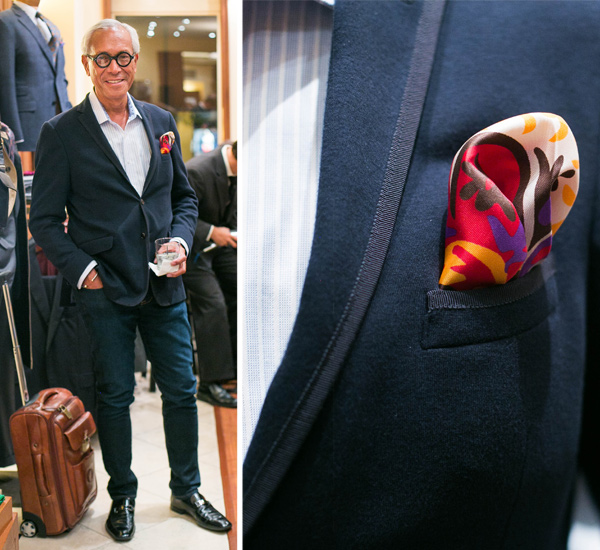 Ed, 64, has worked in consulting, with nonprofits, at the Art Institute of Chicago, and currently designs jewelry for private commissions
Who would you like to see on the next
Esquire
cover?:
"Rahm Emanuel. He's not the typical male."
On Ed:
Jacket from Etro, jeans from Joe's Jeans, glasses from a shop in England ("done in the Corbusier style," Ed noted), shoes by Prada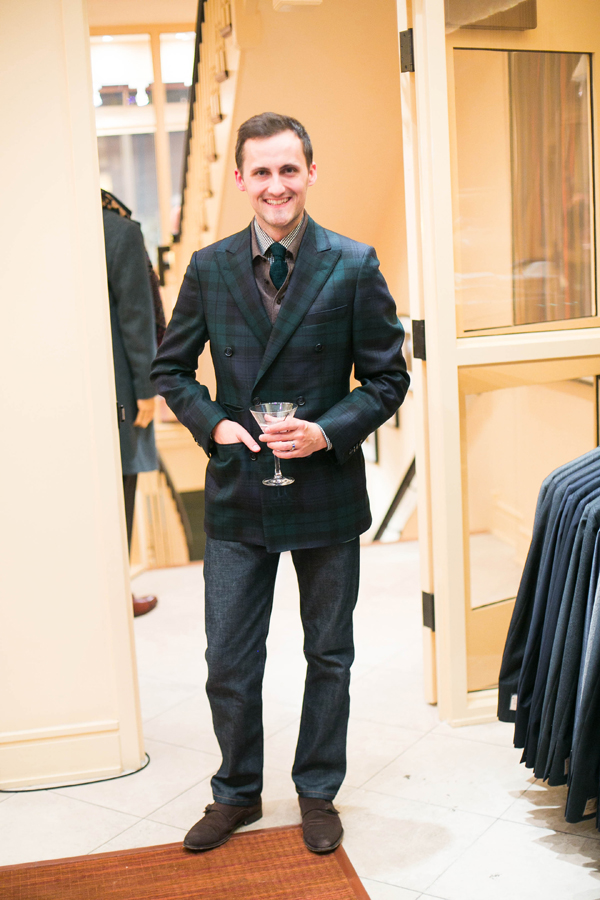 Zach, 29, suit salesman at Suitsupply
Favorite local menswear store:
Saint Alfred
 (1531 N. Milwaukee Ave.)
Who would you like to see on the next
Esquire
cover?:
Nick Sullivan (
Esquire
's fashion director)
On Zach:
Shirt and shoes from Suitsupply, jacket by Samuelsohn, jeans by A.P.C. Vintage, sweater by Gran Sasso, tie by Paul Stuart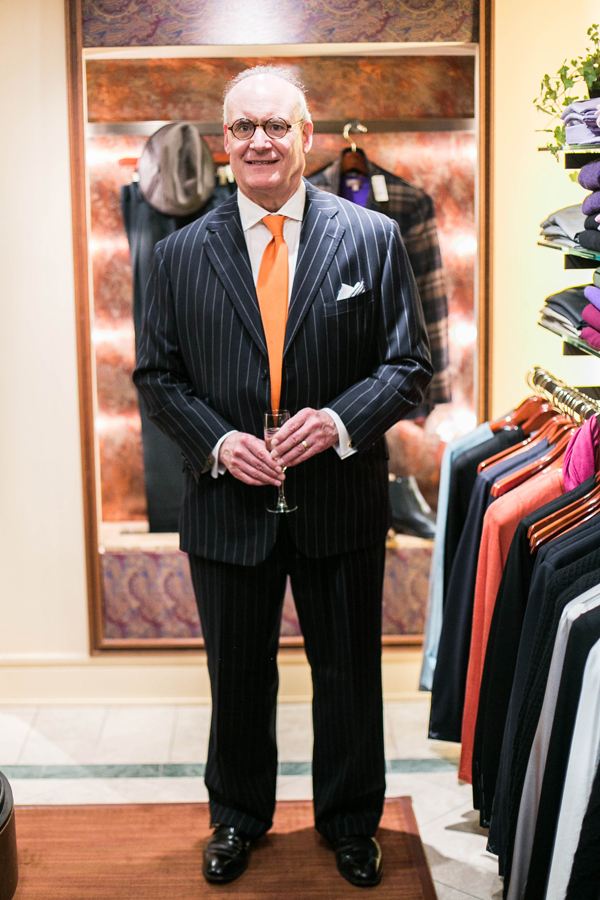 Gary, 65, lawyer
On Gary:
Custom suit by Paul Stuart, shoes by Ralph Lauren, glasses from
Superior Optical
, tie was his father's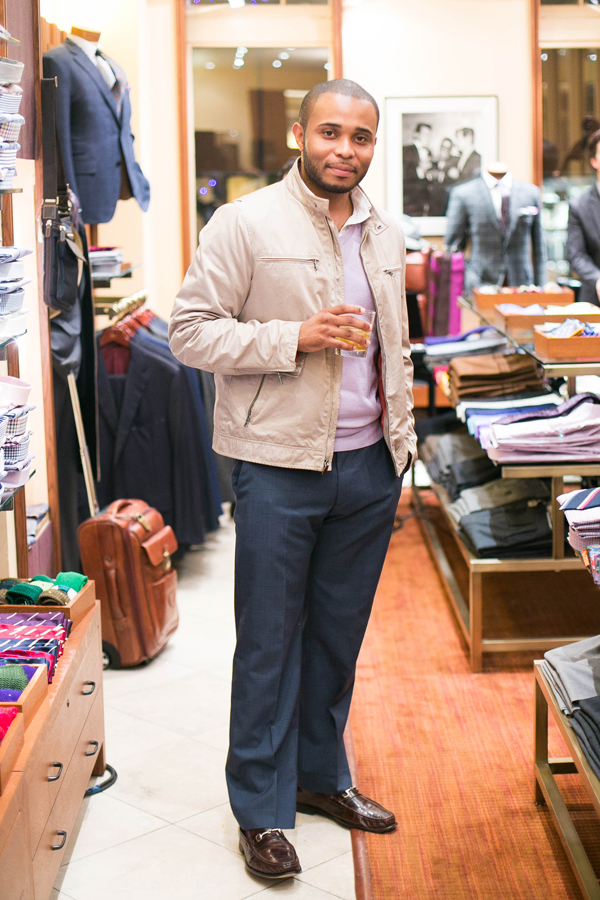 Ed, 31, director of institutional advancement for Urban Prep Academies
Who would you like to see on the next
Esquire
cover?:
"Myself," he joked, before suggesting President Barack Obama. (Ed must not have spied this month's issue, which features Obama as part of the magazine's "Life of Man" special anniversary coverage.)
On Ed:
Sweater, jacket, and trousers from Banana Republic; shoes by Gucci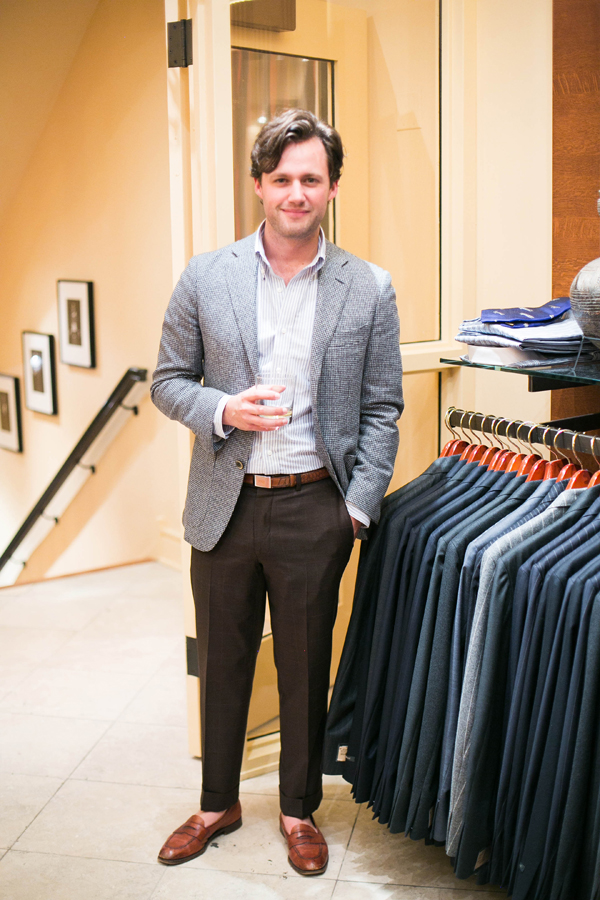 Paul, 28, suit salesman at Blank Label
Favorite local menswear store:
Independence
 (47 E. Oak St.)
Who would you like to see on the next
Esquire
cover?:
Henrik Lundqvist (goaltender for the NHL's New York Rangers) or Mike Fisher (center for the Nashville Predators; Nashville is Paul's hometown)
On Paul:
Shirt by Blank Label, jacket from Suitsupply, trousers from Saks Fifth Avenue private label, shoes from Evergreen
Photo: © Stephanie Bassos, Groupon
BY: Kelly MacDowell
Kelly's first concert was Fleetwood Mac and her first career was in the beauty industry. Now a style and music writer, she loves Project Runway and her dog, Watson.