Street Style: Renegade Craft Fair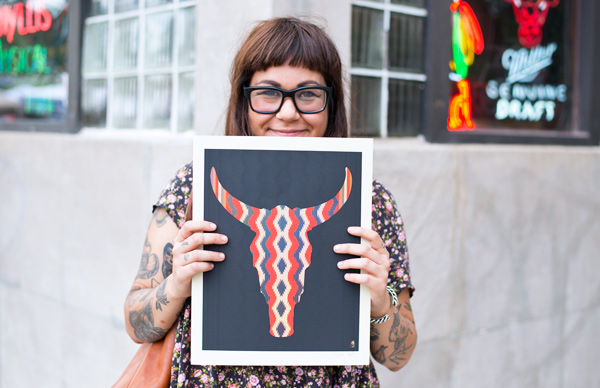 It's not often that a store has to close because its merchandise is too popular. But that was the case with
Renegade Craft Fair
's brick-and-mortar shop in Wicker Park, which shuttered its doors in January 2012 so that the owners could devote more time to their wildly popular craft fairs. (Since debuting in Chicago 10 years ago, the festival has expanded to six cities, including London.) Case in point: this past weekend's summer event drew scores of attendees, who ogled everything from
soft and squishy stuffed Shawnimals to handmade jewelry from Mineralogy
. Indeed, though the West Division corridor has changed quite a bit in recent years—organic pizza restaurant Crust has given way to a
Pizano's
and the storefront of beloved shoe boutique Pump still stands vacant since it closed in 2011—the neighborhood has held its own as one of the city's best destinations to shop local and, as a result, run into plenty of fashionable passersby.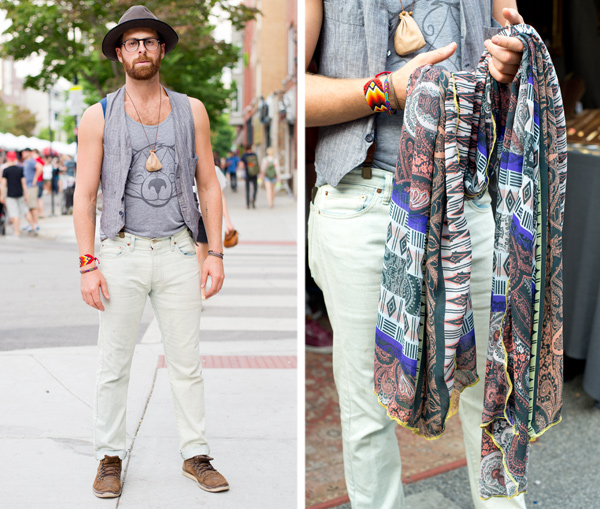 Matthew, 31, scarf maker and owner of Late Sunday Afternoon
What's in your pouch?
Crystals
What's the bear on your shirt?
It's a spirit bear. I saw it on a medicine journey.
On Matthew:
Levi's jeans, Raparo italian boots, vintage hat and vest, Willow LA pouch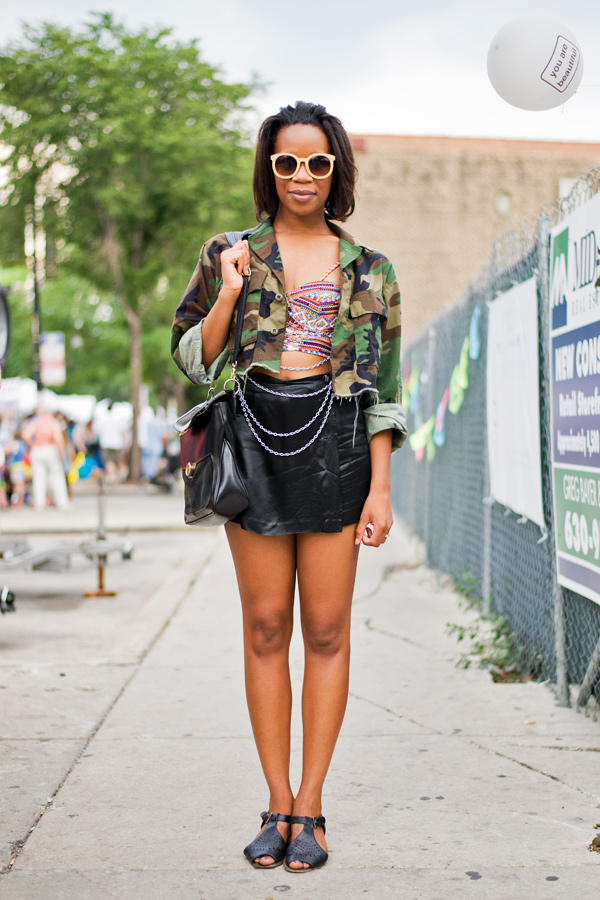 Britt, 25, writer
Favorite local boutique:
Kokorokoko
Your style in a nutshell:
Vintage maximalism
Buy anything today?
Lotion from
Etta & Billie
, earrings from
Lily Dawson Designs
On Britt:
Chain by Ready to Stare by Alysse Dalessandro, vintage jacket and skirt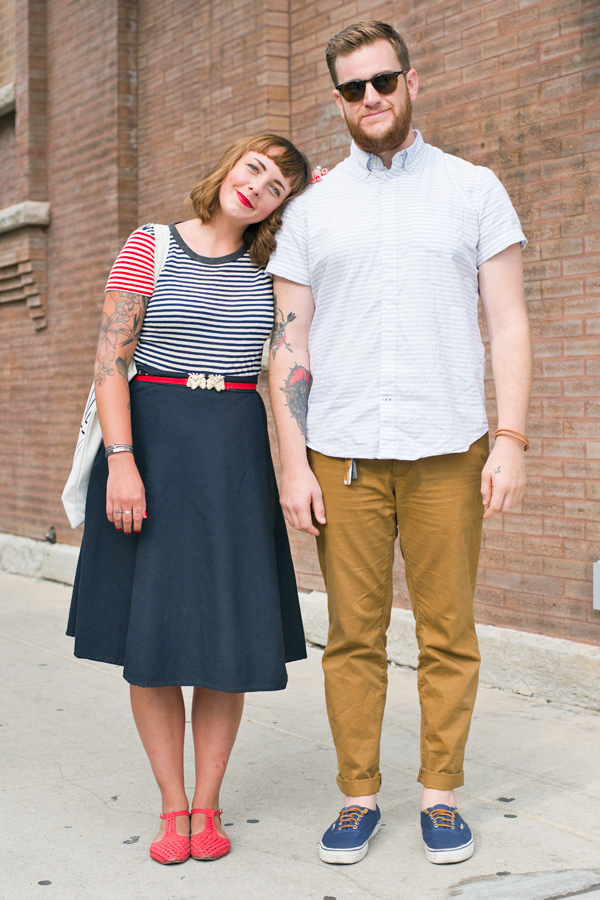 Sarah, 27, sales associate at Madewell, and Kyle, 26, owner of Creative Commonwealth
Favorite Chicago boutique:
Sarah's vote goes to
Eskell
, but Kyle loves
Haberdash
Favorite Renegade booth:
Dethrose Vintage
stood out for Sarah.
On Sarah:
Madewell T-shirt, vintage skirt and belt, Urban Outfitters shoes, Forever 21 tote
On Kyle:
Garrett Leigh sunglasses, Gap shirt and shorts, Vans shoes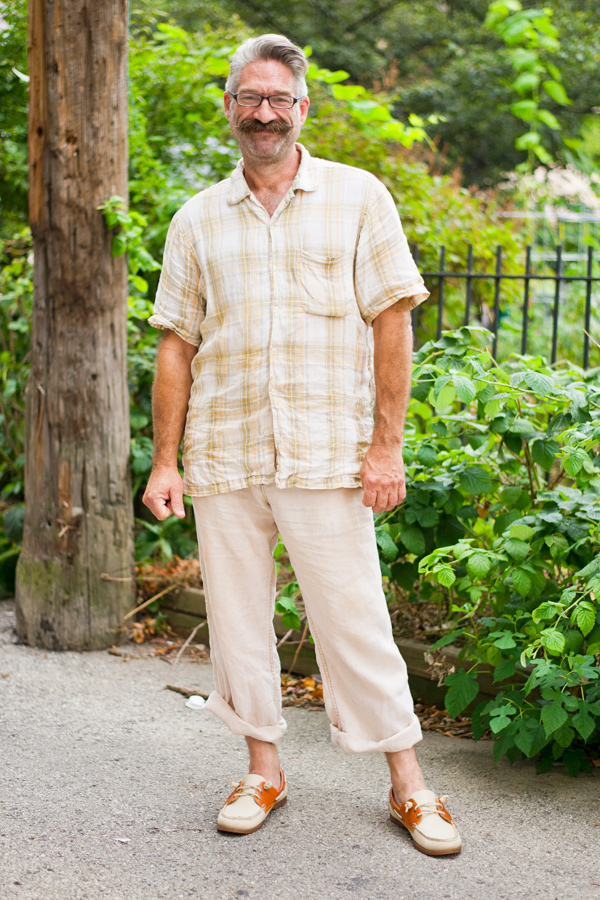 Allan, 53, horticulturist, co-owner of Acorn Markets
Favorite local boutique:
I hate shopping.
Favorite rare plant:
It changes. Last year it was the Australian pitcher plant. Right now, it's conophytum (living stones).
On Allan:
Dooney & Bourke shoes, pants from Marshalls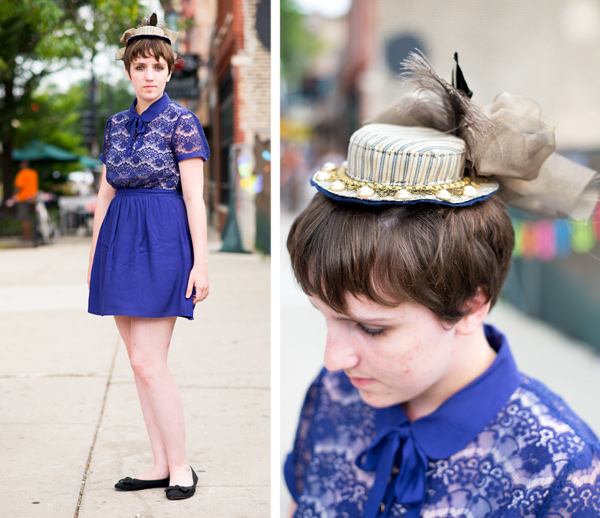 Lindsay, 23, photographer
Your style in a nutshell:
I like to try to create "little moments" in my wardrobe, like a belt with a fun clasp or a fun collar.
Buy anything today?
Scissors from
Oh, Hello Friend
On Lindsay:
Hat of her own design (she sells them on Etsy as
The Lovely Red Fox
)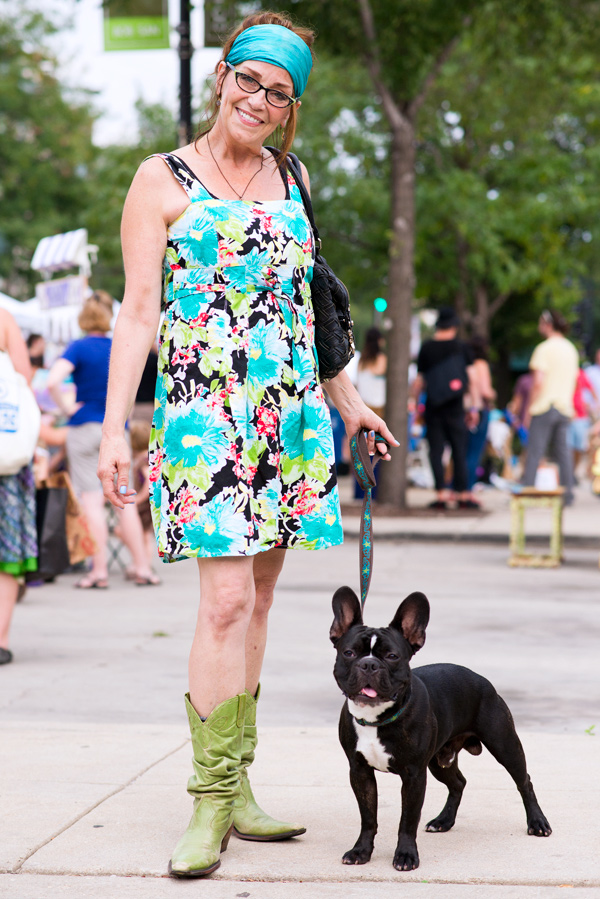 Mary, 58, nanny and artist, and Atticus, 1, french bulldog
Your style in a nutshell:
Color, patterns on patterns—I don't like to represent fear.
On Mary:
Glasses made in France from
Eye Want
, dress from
Village Discount Outlet
, boots from Buffalo Exchange
Photo: © Andrew Nawrocki, Groupon