Stuff in Skillets: A Recipe Roundup
BY: Nathalie Lagerfeld |
Apr 23, 2014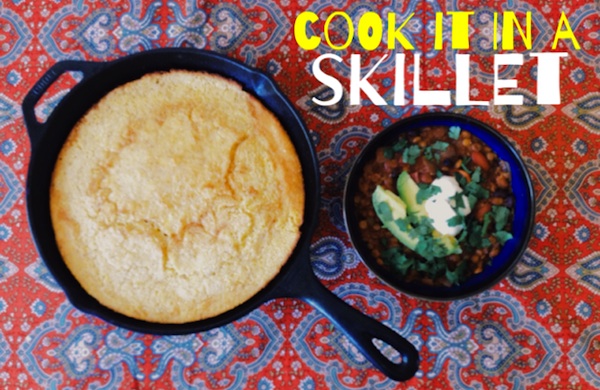 As soon as the weather starts to warm, cooks everywhere sprint to the outdoor grill. It's just human nature: after a long, lean winter, we want to fill our bellies with charred meats, like cavemen chowing down at the clan's annual mammoth barbecue. But just because we hear the call of the wild—or of the back patio—doesn't mean we have to answer. There's plenty of spring and summer fare to be cooked inside, with the same tools that once made our cold-weather braises and stews. Crack a kitchen window to let in the spring breeze and try out some of these cast-iron skillet recipes. Trust us: your grill will still be waiting.
Peach Dutch Baby with Blueberry Sauce from Seasons and Suppers
If you've never had one, a dutch baby is basically a very fluffy, custardy pancake that puffs up in the oven. This one looks great dressed in vibrant summer blueberries, which are already coming into season in some parts of the US.
Summer Squash with Baked Eggs from The Kitchn
This recipe may have been invented as a way to use up CSA-box surpluses, but it's also a good reason to go out and buy squash on its own. Here, the veggie's slight sweetness plays against soft and creamy chèvre and fresh tomatoes' acidity.
Skillet Cornbread from The Pioneer Woman Cooks
This rustic, easy-to-follow recipe would go great with the last of the winter's hearty bean soups—or the first summer-cookout chilis.
Strawberry-Rhubarb Cast-Iron Skillet Crisp from Dough See Dough
I know, I know: we've covered
rhubarb
before. But I couldn't well leave out this genius skillet recipe, which gives you all the deliciousness of strawberry-rhubarb pie without the hassle of making crust.
Need help implementing your latest recipe plan? Shop Goods for kitchen supplies and tableware.
Photo: Nathalie Lagerfeld, Groupon.
BY: Nathalie Lagerfeld
Guide Staff Writer
Nathalie is a writer and editor on the Guide's food team. Originally from Virginia, she now lives in Chicago, where she regularly indulges her love of tortas, bibimbap, and Cheez-Its. Follow her on Twitter @maviswillsaveus.