Chicago SummerDance: Downtown's Biggest Dance Party
BY: Stephanie McDaniel |
Jul 10, 2013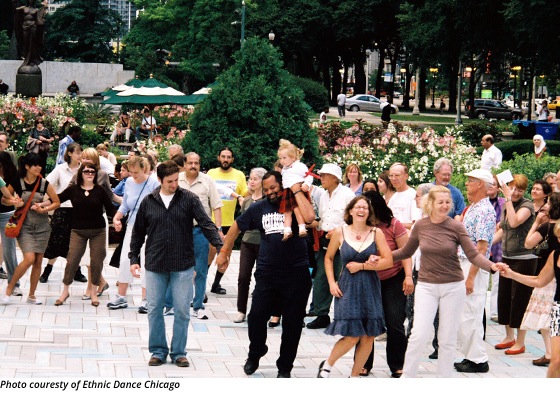 There's a curious scene unfolding in Grant Park as the summer sun begins to set. Men in pressed business suits hold hands with dancers in long, flowing skirts as a live band strikes up its first chord. The motley group steps forward and then backward in unison, performing a circular walking dance known as a hora. At the center of all this is Paul Collins, the enthusiastic leader of
Ethnic Dance Chicago
. Every summer, Collins and his fellow instructors provide a venue for amateur dancers to twist, twirl, and tumble at Chicago SummerDance. Held in Grant Park's Spirit of Music Garden from June through September, SummerDance offers free one-hour dance lessons and two-hour dance parties set to the beat of live music. Lessons encompass a variety of styles, not the least of which are swing, salsa, Balkan folk dancing, and Indian bhangra. To hear Collins tell it, SummerDance is an "opportunity to share a different type of dancing with a different audience." He should know—he's taught dance in venues across Chicago since he was 14, including the University of Chicago and the
Old Town School of Folk Music
. Seventeen years ago, Collins was asked to teach at the very first Chicago SummerDance, and he has returned every year since. He's brought with him a number of returning students, who let him be their guide through styles as diverse as rock 'n' roll and Macedonian folk. He loves seeing new faces in class each year, considering it both a challenge and an opportunity to "pique their interest and expose them to something new."
Ethnic Dance Chicago: Electricity in the Open Air
Reflecting on his time at the Old Town School of Folk Music, Collins describes an "electric" experience with "about 120 people [squeezed] into one small room." Now, he experiences this same sort of electricity at SummerDance's open-air dance parties. He's a conductor in both senses of the word, sparking his students' enthusiasm while doing everything that he can to simplify the steps involved in each dance. After all, he says, "most people [at public classes] don't know the dances. Everyone's a beginner when it comes to folk dancing, and the experienced folk dancers are in the minority." Teaching a group of amateur dancers can get unruly fast, so Collins tries to stick to a routine. Before each dance party, he talks with the band and gives them a list of songs that pair well with the day's six or seven basic dances. Then he runs through each dance with the students, getting them comfortable with the steps before the band starts playing. As the party kicks into gear, the band combines their normal repertoire with songs from the lesson—this way, students won't have trouble picking out a beat they recognize. After all, not all dancing has to be complex or require years of training. "The roots of folk dancing are simple dances that are fun, have good music, and are easy to remember," Collins says. With this in mind, he tends to teach dances that are popular among local ethnic communities and easily accessible to the uninitiated. These dances—kolo, setnja, seljancica, and others—generally build off simple, bouncing steps that move to the left and right. If there's one thing Collins loves most about his job, it's drawing new converts. In his mind, what's great about SummerDance is that "at one point or another, everybody is a beginner." These beginners range "from a tango dancer who can't do Romanian dancing to someone who has barely danced at all. If at the end of the day, I play a tune and you can dance to it, you are no longer a beginner."
Upcoming Events
This summer Collins is running two SummerDance sessions through Ethnic Dance Chicago:
Thursday, July 18, at 6 p.m. 
Tum Balalaika Klezmer Band plays traditional Russian, Klezmer, and Gypsy music as Collins teaches Klezmer dances such as the hora and kolomeike.
Thursday, August 22, at 6 p.m.
T-Rroma plays Eastern European folk music as Collins teaches southern Slavic dances kolo and drmesh.
BY: Stephanie McDaniel
Stephanie McDaniel is a political theorist-turned-novelist from South Carolina. On the rare occasion she's not writing, she spends her time folk dancing, singing, and adding sea salt to Lake Michigan.