Summit's Frost Line Rye (with Experimental Hop #01210)
BY: Shannon Jewitt |
Mar 21, 2014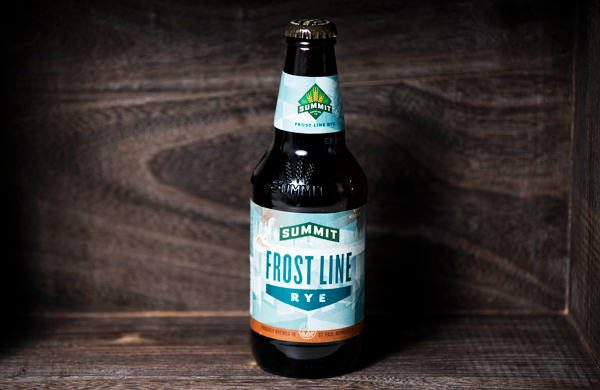 There are almost 3,000 craft breweries in the United States. In this edition of Beer Stalker, we investigate Summit Brewing Company's Frost Line Rye, a beer perfect for enjoying during a polar vortex or a Minnesota winter. Same thing, really.
The beer: St. Paul's Summit Brewing Company's Frost Line Rye
Malts: US pale, UK crystal rye, US pale rye, German chocolate rye, US flaked rye
Style: Rye pale ale
Kettle hops: Summit and Citra
Dry-hop hops: Citra and experimental hop #01210
Color: Walnut brown with a splash of red, like a distant memory of a summer sunburn
Is this a seasonal beer?
More of a between-seasons beer. Summit Brewing Company is based in St. Paul, Minnesota. So head brewer Damian McConn knows winter well. "We thought we might need two winter seasonals instead of one because the winter was so long," he said. "So far, we've been proved right."
Is this Wisconsin rye I'm tasting?
Frost Line Rye is based on an india rye ale the brewery released a few years ago as part of its Unchained series. For this version, "I wanted to do something a little bit more unique and a little bit more close to home," McConn said. So, in addition to the brewery's other local ingredients, he contacted Wisconsin-based Briess Malt & Ingredients Company, which made its first ever caramel rye for Summit. Briess was so pleased with the result that it will be releasing the rye year-round come April.

Other than sounding ominous, how does experimental hop #01210 affect the beer?
"It's got a really nice, candied-fruit, candied-citrus type of aroma and flavor," McConn said. The flavor blended well with the Citra hops the brewery used, too. "Then, combined with the spicy caramel notes from the types of rye we used, I think it kind of provided a really nice accent to the beer."
What winter activity would Frost Line Rye be if it could be any winter activity?
"To me, it's got some of the tranquil elements that I associate with a gentle glide through the woods on my snowshoes," he said. "There's a lot of grace to the beer. There's a lot of complexity. To me, I find it a really good beer to have when I'm looking out the window watching the snow fall and relaxing at the end of a hard week." If you're not into snowshoeing, though, McConn also recommended enjoying the beer over a pork-tenderloin meal or with friends after a long week.
BY: Shannon Jewitt
Resident Beer Stalker Shannon has an insatiable thirst for craft beer. Despite being a vegetarian, she always makes an exception for fries cooked in duck fat.