Sweet-Potato Gnocchi at The Bedford in Wicker Park
BY: MELANIE ZANOZA BARTELME | 10.7.2013 |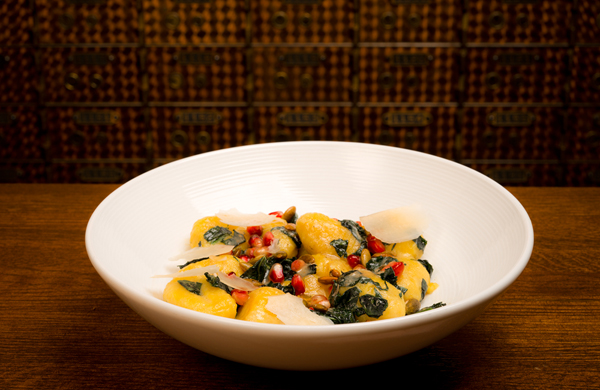 It's easy to miss The Bedford (1612 W. Division St.). My friend and I might have completely if it hadn't been for the valet camped outside the stone, multistory art-deco building. When we walked up, he ushered us inside the door and down the wooden stairs. It was only after we reached the host stand that it hit me: of course we'd be in the basement. The Bedford is, after all, housed inside a former bank vault.
Despite this history, I was surprised at how modern the restaurant felt. Multicolored linoleum led into enormous black banquettes. Somewhere else, the windowless walls might have felt stifling, but here they highlighted rows and rows of golden safe-deposit boxes.
This mix of old and new felt especially apt at The Bedford, which bills itself as an updated version of the '50s-era supper club, with its white-clothed tables topped with spinning relish trays and meat-laden plates.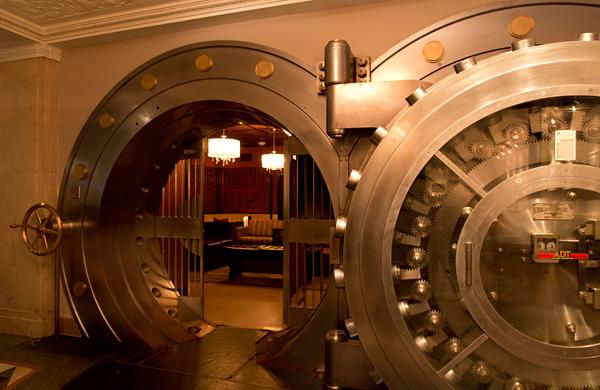 Its menu celebrates the classics, such as shrimp cocktail and deviled eggs, and innovates with updates on old favorites, including steak with marrow compound butter and pan-seared fish swimming in a seaweed broth. But even among these meaty main courses, the standout was the sweet-potato gnocchi.
I'd never seen pasta on a supper-club menu—let alone one made with sweet potatoes. The fluffy pillows were nestled between sheets of black kale, topped with shaved manchego cheese and a generous sprinkling of pumpkin and pomegranate seeds. Tossed in a sage and brown-butter sauce, the dish arrived piping hot in a sleek white bowl that highlighted its colors.
Each bite provided a balance between richness and acidity, combining the nuttiness of the brown butter, earthiness of the sweet potato and kale, and tartness of the pomegranate into one cohesive flavor. Each ingredient felt intentional. By drawing on fresh, seasonal produce in unexpected ways, the chefs have created a fully realized vegetarian dish, not simply an entree made without meat.
Across the table, my friend had scallops, complemented by a purée of celery. We shared shrimp from an ice-filled metal tray and dunked them into a mild yet tangy cocktail sauce. A salad of greens, walnuts, and red and yellow beets had a boldness from an addition of blue cheese crème fraîche. And to complete our spread, there was a gooey, oozy, four-cheese mac and cheese.
As we finished our cava (champagne is half price on Thursdays), I took in the space: laughter escaping a private room, candlelight twinkling in the old bank vault. It all held a sense of timelessness. Although the dishes and decor might have evolved from the supper club's beginnings, The Bedford nailed what those clubs did best: giving people a place where good food and great company never go out of style.
Photo: © Andrew Nawrocki, Groupon