Swirling and Sipping Along the Lake Michigan Shore Wine Trail
BY: Kevin Moore |
Jun 24, 2013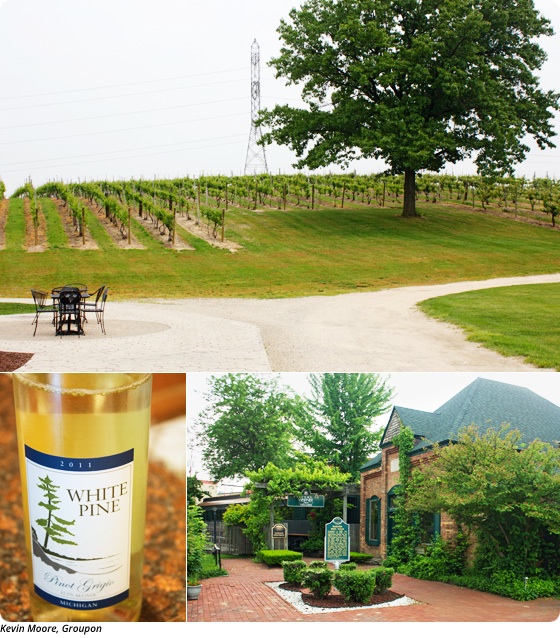 220 miles driven. 23 wines tasted. Six bottles stowed in the trunk. One tank of gas and 10 hours later, we were back from wine country.
[SCROLL DOWN to see our writer's day-trip itinerary, with recommendations on which wineries to visit and what bottles to buy.]
Round Barn Winery's
tasting room opened 10 minutes ago and it's already busy. I was hoping to beat the crowds by leaving Chicago at 9 a.m. on a Sunday morning, but it turns out that I wasn't the only person who thought a quick drive to southwest Michigan's wine country would be a great way to spend a summer day. Maybe some of these people also came from Illinois. Others might be from Indiana, Ohio, or even farther away than that. Two things are certain though: one, they are all here to taste wines; and two, they were all faster than me. After 90 minutes in a car, it feels good to stretch my legs a bit, and I'm not eager to squeeze my way up through the crowds and share elbow space with some strangers. Instead, I hang back with my girlfriend, who generously agreed to spend the day chauffeuring me from one winery to the next in exchange for a "fancy dinner to be determined at a later date." For a few minutes, we peruse the selection along the walls and periodically check the bar, eventually spotting a space we can comfortably claim. Sandie Delarosa—a tasting consultant at Round Barn Winery—confirms that the region's wine industry is in the midst of a boom. "I feel like [new wineries] are popping up everywhere," she says while pouring me a golden-hued, barrel-aged blend of riesling, chardonnay, pinot gris, and müller-thurgau. Retail manager Jessica Young says that the area was kind of a hidden gem, although, judging by the group of people around me, the secret seems to be out now and Jessica grins as she calls it an exciting time for the surrounding communities as well as the wine industry.
Michigan's Wine Renaissance
According to the Michigan Grape & Wine Industry Council,
15,000 acres of vineyards
sprawl across the state's landscape—the fourth largest acreage in the country—although Michigan's wine production ranks 13th in the United States, since only 2,650 of those acres are devoted to growing grapes destined to become wine. These numbers gloss over one significant trend though: Michigan's vineyard acreage has doubled in the last 10 years. Currently, more than 100 commercial wineries grow, harvest, crush, ferment, age, and bottle each vintage, and they manage to turn more and more heads every year. Some of Michigan's agricultural communities may be in the midst of reinventing their collective identity and building a new reputation; but what does it take to be considered wine country? More importantly, what makes southwest Michigan's wine country a worthy vacation destination for Chicagoans who live just 90 minutes away?
Proven Soil and Climate
Southwest Michigan's soil is no stranger to fruit. Cherries, peaches, blueberries, and grapes all grow throughout the region. Admittedly, the grape vines tend to grow concord and niagara varieties, which are typically destined to become nonalcoholic juice instead of wine. The Welch's facility in nearby Lawton encourages this trend by buying entire harvests from wholesale farmers. Grapes grow well for the farmers. The region's sandy soils drain well enough to prevent root rot. Hilly vineyards allow threatening pockets of cool air to roll off the slopes and sink away from the fragile grape clusters. Additionally, the invaluable lake effect of nearby Lake Michigan helps protect against the winter's harshest cold snaps. The grape-growing climate is undeniably on the cooler end of the spectrum; however, the area's soil and topography allow grapes to not only grow, but also occasionally thrive. We don't see much in the way of grape vines as we pull into
Warner Vineyards'
parking lot in the heart of Paw Paw, Michigan. Although at this point, I'm more interested in tasting rooms than rolling fields. Tom Warner owns the self-proclaimed second-oldest winery in Michigan along with his three brothers, and he greets us as we enter the cave-like room filled with bottles. Warner Vineyards is currently celebrating the family's 75th year of growing grapes. Wine wasn't always a part of the plan though. Tom tells us that the '50s and '60s created a buyer's market for grape juice in Michigan, so the Warners began looking for a niche to embrace and they eventually found one—making wine. Winemaking may be the focus now, but the family remains unflinchingly committed to its agricultural roots. "If we don't grow it, we don't bottle it," Tom gregariously growls amidst banter and half-scripted jokes, which he has clearly honed over the course of countless conversations with tourists just like me.
Quality and Character
Just outside the town of Coloma, there is an arrow-straight road leading to the top of a hill that overlooks the nearby highway and surrounding area. My girlfriend steers up this road and we pass row after row of young, slender grapevines until we reach the peak, spotting a picturesque house perched on the edge of the hill: the home of
Karma Vista Vineyards
. Founders Joe Herman and his wife, Sue, are the sixth generation of a Michigan family that has been farming fruit for more than 150 years. However, the couple is the first generation to begin making wine. Peaches and cherries still grow throughout the family's 500 acres of land, although Joe transformed the 90 acres surrounding the hilltop house by uprooting entire cherry orchards and planting vineyards of European and hybrid grape varietals—the same vineyards we had just passed. I ask Joe why he would tamper with a century and a half of family tradition and begin experimenting with a new direction. When I do, I hear a familiar story. His voice drops into a resigned tone as he tells me about the stress and never-ending numbers game inherent in a life of wholesale farming. The nature of the market forces farmers to compete against their neighbors, hoping their harvest flourishes while others' fail so that prices remain high when they then sell their crop to a larger company, which will repackage and resell your fruit for an even larger profit. In contrast, winemaking gave the Hermans more control over the fruit that they put so much effort into growing. They continue to learn with each passing vintage and although they started by growing grapes for other wineries at first, they now do their best to make wines that express the character of the region's soil and climate. "I really think that there is so much flavor in our grapes," Joe tells me when I ask what he thinks distinguishes a Michigan wine from a California wine, a Finger Lakes wine, or a European wine. He says that the relatively cool upper-Midwestern climate prevents grapes from over ripening in the vineyard and then producing wines with over extracted, excessively jammy fruit flavors and high-octane alcohol content. Instead, the best examples of Michigan's wine potential can showcase a certain transparency of the delicate interaction between fruit, sweetness, acidity, and tannin. "I think that we haven't even scratched the surface of what we're capable of doing here," Joe says. This isn't to say that the region isn't already home to some truly memorable wines. Karma Vista Vineyards' brick-red pinot noir features the elegant restraint, subtle cherry flavors, and structured, earthy core typical of a far more expensive red burgundy. White Pine Winery's pleasantly dry reserve riesling erupts with a complex array of aromas that almost make it seem like the glass was rimmed with lime zest and honeysuckle. Warner Vineyards' red blend of cabernet franc, cabernet sauvignon, and merlot manages to balance its dark berry and plum flavors with an excellent backbone of fine, yet sturdy tannins. After tasting these wines and several others like them, it becomes clear to me that the region's winemakers have already built a solid foundation.
Wine Country Means Wine Community
Located directly on the shore of Lake Michigan, the town of St. Joseph includes virtually all the elements needed for a tourist destination: sandy beaches, quaint streets lined with small shops, and proximity to wine country. The tasting room for
White Pine Winery
lives on one of these cozy side streets, and we have to avoid a fair amount of foot traffic on the sidewalk before we can make our way indoors. Once inside, I meet Lee Scherwitz, an airport director at Southwest Michigan Regional Airport who is so passionate about wine that he spends his Sundays serving guests at the tasting room. He regales me with lengthy stories about the years he spent living in Germany, picking grapes on the steep, slate-lined slopes of vineyards in the Mosel region. He even relates the entire history of wine marketing within the United States while barely stopping to take a breath. He is, quite simply, a wealth of information. When I ask how wine country benefits the region, Lee says, "we're here representing Michigan." The wine industry is almost a paragon of success, he says, fostering economic stability and even growth for certain areas while the state as a whole was in recession. His claim is supported by a 2012 study from Michigan State University's Product Center on
The Economic Impact of Michigan's Food and Agriculture System
. The study states that the rate of job creation for food and agricultural production and processing managed to increase despite the general economic downturn and the job losses in the food wholesale and retail sectors. The wine industry may be helping the economy as it grows, but it's also important to note that continued growth will lead to increased tourism. The allure of wine country can be enough to attract visitors to the state, and tourists don't just spend their money at wineries. Entire communities benefit from the crowds stopping by to eat at restaurants and stay in hotels. I asked Lee what sorts of crowds the wine industry would attract to southwestern Michigan and he answered with his own question: "You're from Chicago. Where do you go for vacation?" I'm not really on vacation though. My girlfriend and I are only 90 minutes away from home. I'm doing research by chatting with people and tasting local wines. We'll be back in our Chicago apartment before dark. Then again, who ever said that a vacation has to last for more than one day? __________________________________
Day-Trip Itinerary
Create your own day trip by using
this website
as a resource, or feel free to shamelessly copy everything that we did.
First Stop:
Round Barn Winery
(10983 Hills Road, Baroda, MI) * Distance from downtown Chicago: roughly 90 miles * Bottle I bought: 2011 Lake Michigan Shore riesling—off-dry with plenty of crisp apple notes
Second Stop:
White Pine Winery
(317 State Street, St. Joseph, MI) * Distance from Round Barn Winery: roughly 14 miles * Bottle I bought: 2011 reserve syrah—structure and spice make this a go-to steak wine
Third Stop:
Karma Vista Vineyards
(6991 Ryno Road, Coloma, MI) * Distance from White Pine Winery: roughly 13 miles * Bottle I bought: Stone Temple Pinot Lake Michigan Shore pinot noir—delicate berry flavors backed by just the right amount of Old-World-style earthiness
Fourth Stop:
Warner Vineyards
(706 S. Kalamazoo Street, Paw Paw, MI) * Distance from Karma Vista Vineyards: roughly 24 miles * Bottle I bought: the Michigan Very Cherry wine—cherry pie in a glass, complete with tart fruit flavors and hints of baking spices
Trip Recap:
* Distance to downtown Chicago from final stop at Warner Vineyards: roughly 130 miles * Total time spent traveling and tasting: 10.5 hours * Money spent on gas: $50.02 * Wines tried: 23-ish * Jimmy John's sandwiches eaten: one 8-inch roast-beef sub and one lettuce wrap with tuna salad * Cans of ranch-flavored Pringles bought: 1 * Number of mosquito bites: 3 * Number of mosquitoes that will never bite another living creature: 3 * Number of times we heard the word "Michigander": 0
BY: Kevin Moore
Iowa-born, Arizona-raised, and Illinois-tax-paying writer who can answer any Trivial Pursuit question about wine or snakes.