Table for One: Where Do More Americans Eat Alone?
BY: Cody Braun |
Apr 3, 2014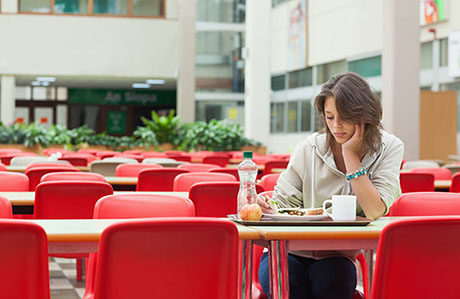 We analyzed data from thousands and thousands of Groupons and found some interesting patterns in how people eat, who they're eating with, and what they're eating. For example, here are the 10 cities where people eat out alone most frequently: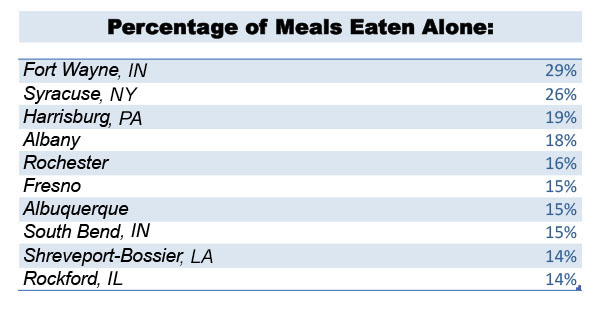 What's not clear is why so many people are eating alone in the friendly Midwest. Fort Wayne, there's a special someone out there for you somewhere. They just might live in Fresno. What are the lonely eating? Sandwiches. Perhaps they're easier to carry away if you feel awkward and alone? On the other end of the spectrum, here are the 10 cities that are most solidly coupled up: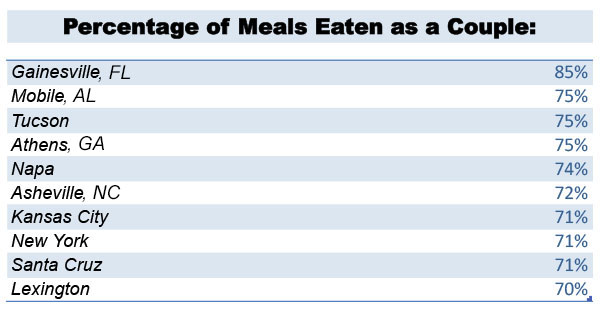 California, the Sun Belt, and the South hog almost this entire list, supporting the age-old adage: "If you want to find a date, move somewhere sunny." Most of the food people eat on dates is exactly what you would expect people on dates to eat on dates: it's a lot of sushi, Italian food, and steaks. And finally, the cities in which people fear loneliness so much that they only go out in large groups: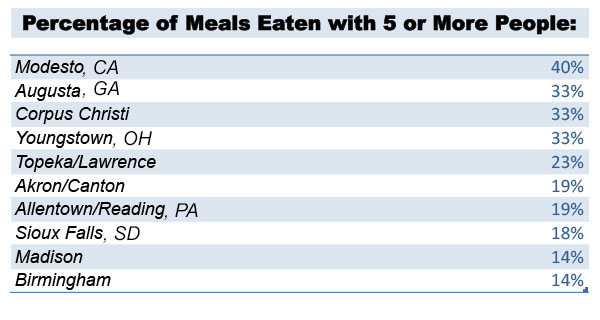 According to our data, these tend to be smaller towns, some with colleges or another large population of young people. The food choices of big groups suggest youth as well; pizza is at the top of the list.
BY: Cody Braun
Guide Staff Writer
Cody is a banjo-carrying gypsy now accustomed to having a permanent home in which to brew beer, store journalism degrees, read Wodehouse, and bake bread.