Take Your Kids to This Dough Factory. It Serves Beer.
BY: Emily Donelan |
Dec 23, 2013
Reno changed my son's life. Granted, my son is 2 years old so just about everything changes his life—from bubbles to empty cardboard boxes. But last night, when he watched a smiling cook in thick glasses routinely throw pizza dough up in the air, his mind was blown.
Reno serves wood-fired pizza starting at 4:30 p.m. after a day of serving housemade donuts and bagels. Bon Appétit aptly described it as an "all-day dough factory." Rounding out its menu are housemade pasta dishes and small-plate appetizers, many made with local, seasonal, and organic ingredients.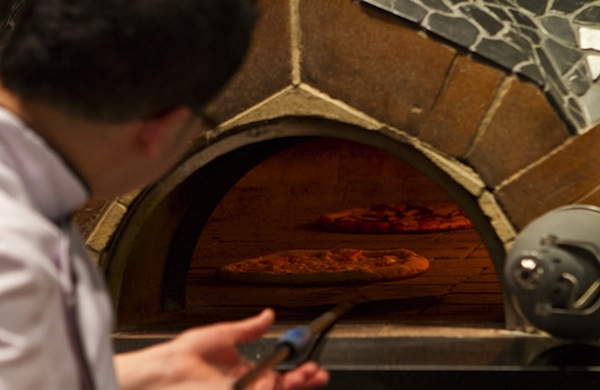 The easy-to-share nature of these dishes is no accident. It's an intentional move by the restaurant's founders, who are also responsible for Telegraph (2601 N. Milwaukee Ave), Webster's Wine Bar (480 W. Webster Ave), and The Bluebird (1749 N. Damen Ave.). Their menu is "specifically designed to be very flexible so we can meet everyone's needs—even the little ones," as the website states.
To put them to the test, my family and I met our friends for an early-dinner double date—a party of four adults and three kids aged 2 or younger.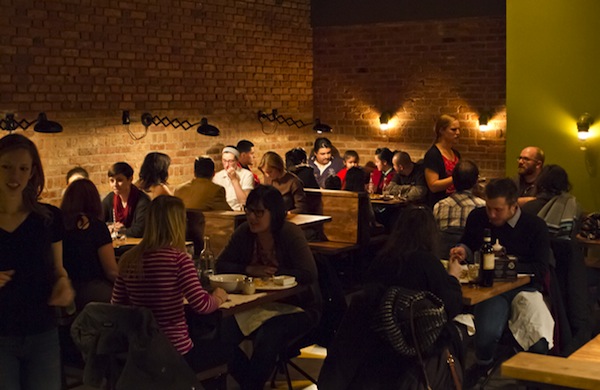 Planning for dinner at 5 p.m. can make you feel 100 years old, but we were pleased to find the mood at Reno more sophisticated city dweller than early-bird specialist. The dining room was dimly lit, which coupled with the winter darkness made it feel like a respectable hour. Plus, this kind of lighting always makes you feel prettier than you are, which is important if you've been locked in your house for days on account of frigid temperatures. Brick walls and exposed ductwork played off this cozy vibe, while one of many rustic wood booths allowed us to spread out yet still stow a half-dozen enormous down coats.
As our toothless infant jealously watched, six of us shared an appetizer of salami, olives, and housemade pickles, as well as a brussels-sprout salad with shaved parmesan cheese and brown-butter apple-cider vinaigrette. On the recommendation of our waitress—a friendly woman who joked with our children as if they were real people, thank you, madam—we ordered two pizzas. The crust—thin, crispy on the outside, doughy on the inside—played second fiddle to the toppings.
Choosing among them had been difficult.
We didn't decide on toppings until I was halfway through an Old Chub Scotch ale (excellent), but I can proudly say we nailed it. The Nico with cherry tomatoes, pancetta (a last-minute substitution for the prosciutto di parma, which ran out), arugula, pecorino, and mozzarella was simple, but what it lacked in inventiveness it made up for in deliciousness.
That said, the Butternut was the big winner, sweet and savory with a combination of butternut squash, gouda, sage brown butter, and sunflower seeds sprinkled on top for some crunch. It was so good we all lamented not having just one—or two—more slices.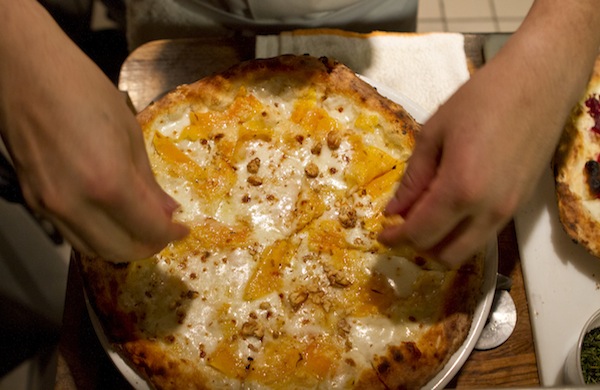 Although you could never describe Reno as just a pizza joint, its easygoing and familiar vibe reminds me of pizza parlors my family used to visit when I was a child.
You won't see checkered tablecloths or shiny red leather booths, but you will find delicious pizza served by a friendly staff who will entertain your children with flying pizza dough. And you'll feel at home while you're out avoiding yours.
Photos courtesy of luningphoto.com