Taste-Testing MREs: Foodies After the Apocalypse
BY: ANNA SKORCZESKI | 8.12.2013 |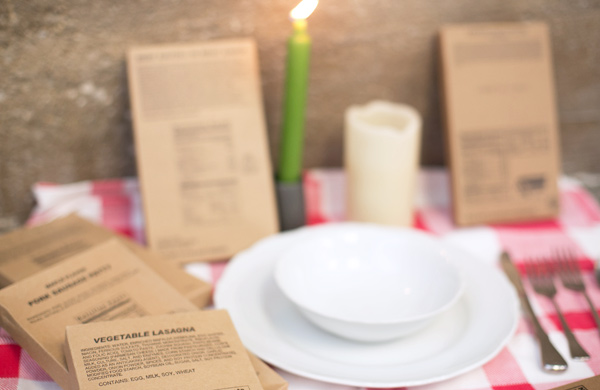 A massive hurricane. A sweeping famine. The Second Coming. There are myriad scenarios that could make you wish you had a basement full of food. A stash of MREs—short for meals ready to eat—could be a lifesaver. But would you be eating well?
Before rushing out to stock our go-bags and bunkers, our taste testers made an early lunch of Emergency Essentials' MRE three-day food supply ($40.95 plus shipping). This supply consists of nine total entrees, each one a foil pouch housed in its own anonymous-looking thin cardboard box, as well as an array of accompanying starches and sweets. The mix of dishes is at the discretion of the packer at the warehouse and, due to a few duplicates, there were six different entrees for our testers.
The meal-preparation advice on the website states, "Just heat it with an MRE heater, on a hot rock in the sun, or on your car's engine block. Then tear it open and enjoy!" I warmed them in the microwave, though. This particular supply did not come with an MRE heater and, unfortunately, there are no hot rocks or engine blocks in the office.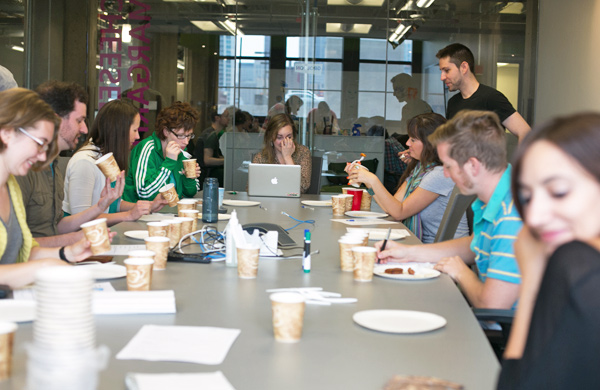 Initial reactions to these dishes ranged from "I would be fine eating this" to disparaging comparisons to upscale pet food. All dishes were relatively high in protein, with up to 21 grams, and very salty, with sodium levels between 560 and 830 milligrams, or 23–35% of the recommended daily allowance. The pastas fared the best; the chicken-fajita filling and breakfast sausage fared the worst. In a similar taste test put on by the Salt Lake Tribune a few years ago, the grim chicken fajitas also bombed. When pressed for a few words of wisdom, my cousin Ryan, a Chicago native and veteran of the war in Afghanistan had lots to say abouts MREs. "With MREs, the vegetarian entrees are actually the best bet. … If you eat those vegetarian meals, people respect you. They thank you for leaving them the 'good' meals with the unidentified meat products."
Read on for our team's comprehensive tasting notes: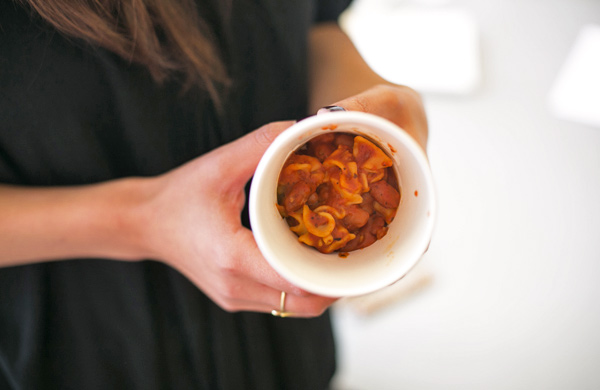 Vegetable Lasagna
Tasting notes: "Salty, mushy," "great noodle shape," "can pick out individual spices, like oregano," "appetizing-ish, like Lean Cuisine," "bonus points for a protein [beans] that isn't a suspect meat"
The world as I know it is over, but I really wish I was eating:
Orecchiette with kale and lemon at Balena in Lincoln Park
Something from Olive Garden (soon in Avondale!)
Beef Ravioli
Tasting notes: "The pasta is very soft and the meat is grainy," "not bad!," "spices taste old," "like Chef Boyardee," "tastes like the post-apocalyptic childhood I never had"
The world as I know it is over, but I really wish I was eating:
Ravioli at Lucia's in Wicker Park
Goat-cheese ravioli at Ceres' Table in Uptown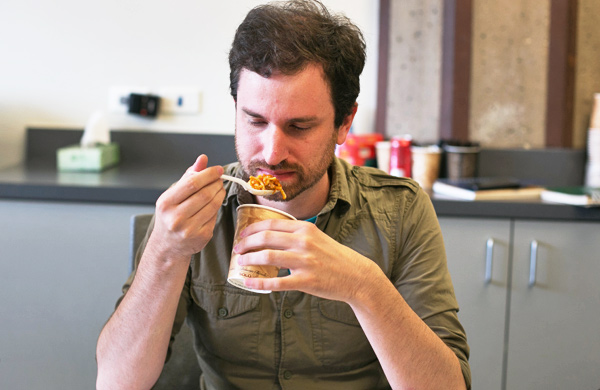 Spaghetti with Beef and Sauce
Tasting notes: "Very soft … I would be fine eating this," "not awful," "also like Chef Boyardee," "the spaghetti holds the shape of the cup beautifully"
The world as I know it is over, but I really wish I was eating:
A pan pie at Pequod's Pizza in Lincoln Park
Linguine with calamari at La Gondola Italian Restaurant in Lakeview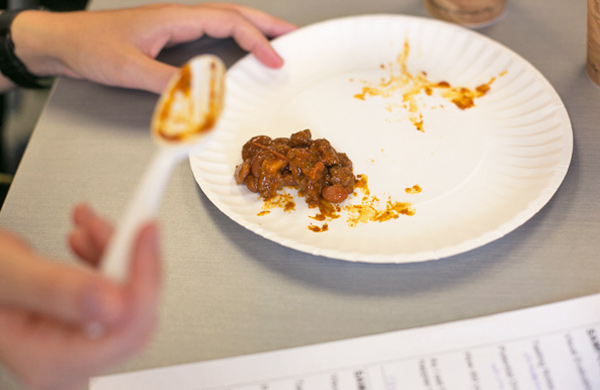 Beef Chili with Beans
Tasting notes: "Hearty, decent spices," "texture of beans is nice," "weird splinters of carrot," "has a little kick to it" "looks like a mixture of Hormel and dog food," "that's sh*tty chili"
The world as I know it is over, but I really wish I was eating:
Chili fries at my house
White chili at a tailgating party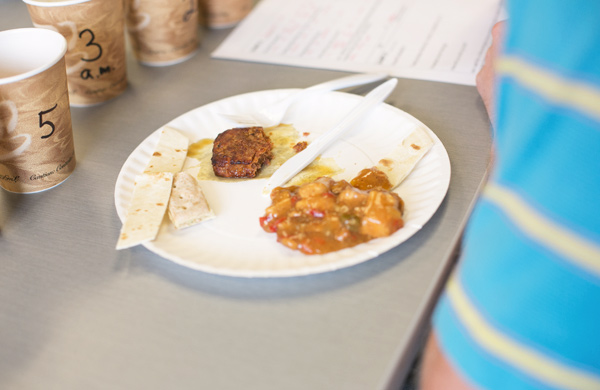 Chicken Fajita
Tasting notes: "looks like some sort of stew," "looks like cat food," "the tortilla is awful," "fake meat flavor," "gelatinous," "not too complex … like a Chinese frozen dinner," "this smells very powerfully of Applebee's fajitas"
The world as I know it is over, but I really wish I was eating:
Guacamole at DeColores Galeria y Sabores in Pilsen
Steak fajitas at La Pasadita in Wicker Park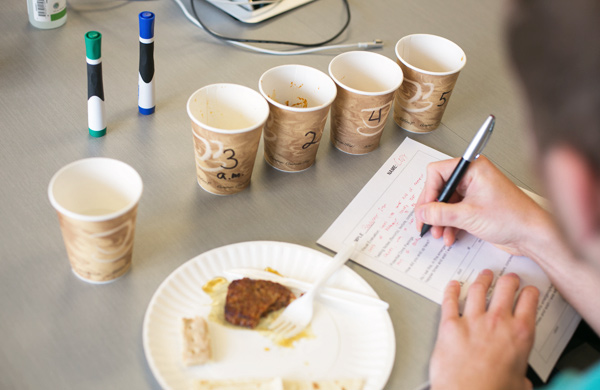 Maple Pork-Sausage Patty
Tasting notes: "Worst school lunch ever," "lots of different colors that I don't want it to be," "chunky yet way too soft," "maple syrup and tomato—like a meat dessert," "I'd probably eat this if I had no other food"
The world as I know it is over, but I really wish I was eating: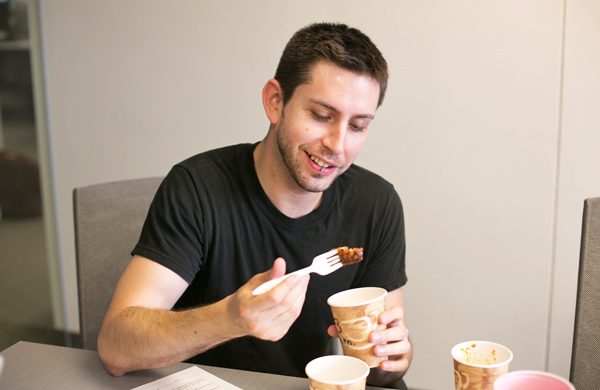 A maple-bacon doughnut at Endgrain in Roscoe Village
A McGriddles sandwich at McDonald's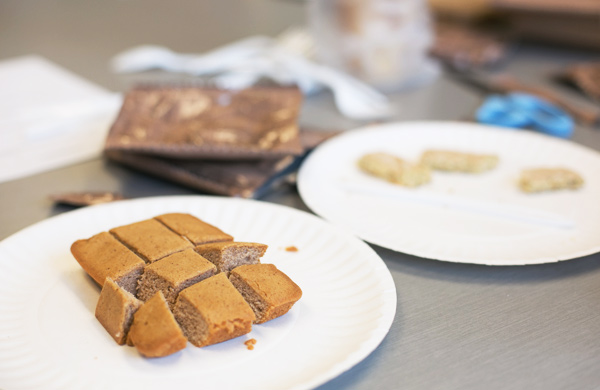 Carrot Pound Cake and Spice Pound Cake
Tasting notes: "Nice brown crust," "pretty moist, very sweet," "spices waft from it," "these are both the best I've had … like a soft Christmas cookie"
The world as I know it is over, but I really wish I was eating:
Tiramisu at Spacca Napoli in Ravenswood
A chocolate croissant at Alliance Bakery in Wicker Park
Photo: © Timothy Burkhart, Groupon
BY: Anna Skorczeski
Guide Staff Writer
Raised in Minnesota and schooled in Wisconsin, Anna is now a well-traveled eater and amateur bassoonist.