The Armory - Not Your Typical Food Court
BY: Kristin Price |
Aug 7, 2013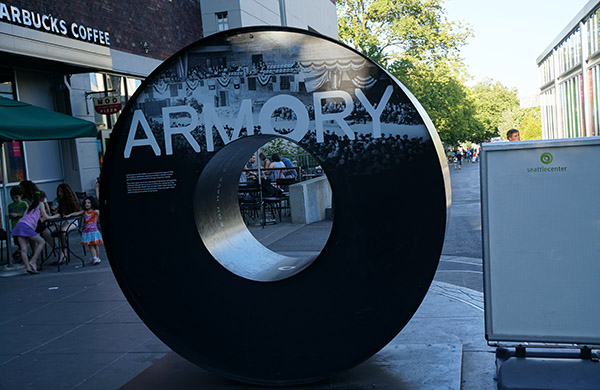 The Seattle Center is one of those places that Seattleites are likely to visit infrequently – possibly during one of its annual festivals, special outings at its various sports, concert or cultural arts venues, or when out-of-town guests arrive and want to see some of our most touted tourist attractions. But a revamped food court in the Center House, re-named the Armory, just may entice locals to visit more regularly. Originally opened in 1939, The Seattle Field Artillery Armory was built to house the 146th Field Artillery and its half-ton tanks. The Armory was reconfigured for the World's Fair in 1962 into the first vertical shopping mall called the Food Circus, then was re-named the Center House after some minor renovations in the early 1970's. Over the years since it has been through several facelifts, the latest of which helped mark last year's 50
th
anniversary of the Seattle World's Fair. This isn't just any food court. It is now a destination. One that captures so much of what this city holds dear in terms of food. Gone are many of the corporate chain fast food stores. With new a focus on sustainable, healthy choices and eating local, the Armory and its many homegrown purveyors will delight food-loving locals and tourists alike. There's something here for everyone, including Plum Market's all vegan and organic offerings that support a plant based diet with 90% local ingredients. And for the pint-sized crowd, a child-height ordering counter and kid-friendly, healthy, fun food is offered at Bean Sprouts' flagship store. What's a food court without pizza? MOD Pizza gives new meaning to fast food with its individual thin crust pizzas, prepared with fresh made dough and sauce, and cooked to order in 800 degree ovens within 2-3 minutes.  Pricing encourages customers to be creative with their choices - all pizzas of the same size are offered at the same price no matter how many toppings, whether you choose to build your own or order a preset menu item.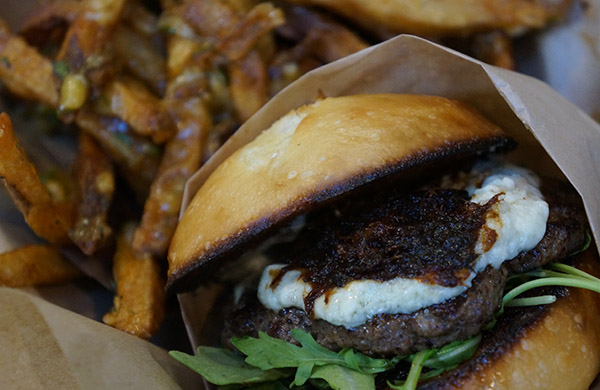 Seattle's exploding food truck scene is well represented here in the latest trend of mobile dining turned brick and mortar. The Armory's anchor tenant is none other than local food truck legend, Skillet. Burgers and sandwiches are the mainstay of the menu at the Skillet Counter, which was built with locally sourced materials just like their burgers. Topped with their famous, tangy bacon jam and creamy blue cheese and served on a lightly toasted brioche bun, the small but mighty "the burger" packs a punch of flavor. Skillet Counter is also one of a handful of places in Seattle that offers Poutine – a side dish of French fries smothered in cheese and gravy, a Canadian favorite made popular in the states during the 2010 Vancouver Olympics. Bigfood BBQ, another local food truck turned brick and mortar, pays tribute to, and provides big taste that would even satisfy, the much revered large Sasquatch creature believed to hail from the mountains that surround these parts.  Dry rubbed, local sourced meats slow smoke for 20 hours and are served Kansas City or Carolina style alongside homemade sides and slaw. The food truck theme continues all the way through to dessert with Street Treats. Just outside the Amory building, on dry days in the summer, a small cart serves up these popular ice cream sandwiches highlighting the beloved dessert truck's made-from-scratch ice cream and fresh baked cookies. So very Seattle,
The Confectional
creates their baked, dense, individual cheesecakes and cheesecake truffles with eggs from cage free hens. The Quadruple Chocolate, made with Guittard chocolate, blends dark chocolate into the batter filled with chunks of milk and white chocolate. Finished with a thick chocolate crust and a surprise center of extra-dark chocolate, this rich treat is made to satisfy even the biggest chocoholic among us. Take your time with this one. Let each bite linger in your mouth and truly savor every layer of flavor. You will thank me.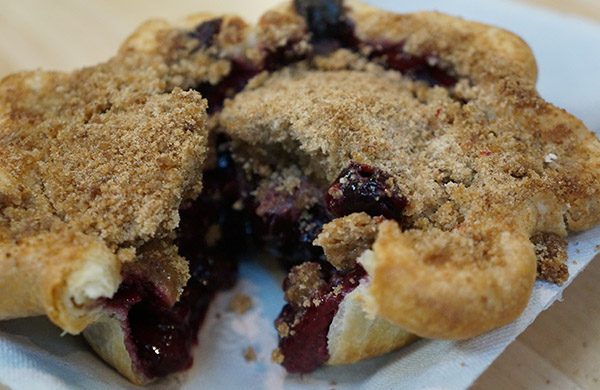 Hand crafted, and baked fresh onsite every day; personal sized pies from Pie round out the dessert options (though they do also offer delicious savory selections.) The sugar-cinnamon streusel baked on top of the fruit pies creates that just right tart-to-sweet ratio. Go a la mode with Full Tilt ice cream for even more Seattle flavor. Snacks can be had too if you are just passing through and need a quick pick-me-up.
Ceres Roasting Company
offers small batch roasted, all-natural, cinnamon-glazed almonds and pecans and Eltana Wood Fired Bagels are hand rolled, honey water boiled and then wood fired fresh every day. If you haven't experienced the new Armory yet and would like to give it a try, a quick stop after work once a month between 5pm – 8pm gives adults 21 and older the opportunity to sample tastes and drinks with specials from the various vendors. "Seattle's Best Damn Happy Hour" is the new free event hosted by the Armory every third Thursday, and includes music, games and prizes from other Seattle Center organizations like the Experience Music Project (EMP), Pacific Science Center, Seattle Monorail, Chihuly Garden and Glass, and more. The Armory has stood the test of time and now heralds in the food court of the future - great, local, fresh food AND a happy hour - what else could you ask for?
BY: Kristin Price
As a food lover and writer, Kristin, a Seattle native with many years of experience producing special events, understands just how much of a role food plays in our enjoyment of life's special moments. Since 2010 she has been helping readers of her blog, KristinPotPie - Savoring Delicious Celebrations, discover just how delicious life can be by sharing her recipe for making all of the moments in life celebratory through culinary delights, entertaining ideas and all the must-see and do experiences around her beloved city.