The Art Institute's "Loose Booty" Finds the Calm Amidst Urban Noise
BY: Dan Caffrey |
Mar 18, 2014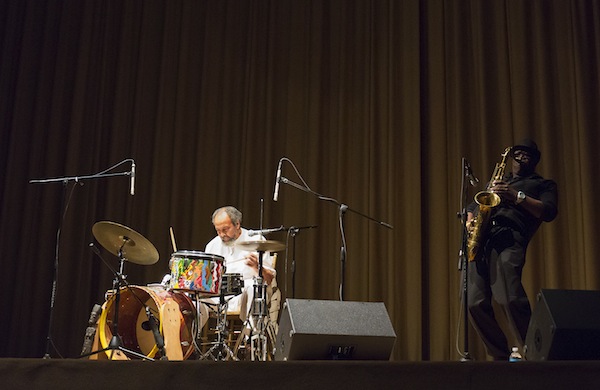 What seemed like a hodgepodge showcase of performers at the Art Institute—from Thurston Moore to free jazz drummer Milford Graves—became a thesis on the power of softness among clamor.
At first glance, it was hard to see the connection between the acts of
Loose Booty
, last Thursday's performance showcase at the
Art Institute of Chicago
. Sure, Thurston Moore—who performed a live soundtrack to
James Nares
's short film
Street
—and punk-legend-cum-author
Richard Hell
both came up in New York City's art-rock scene, but that's a broad term that covers countless artists and several decades. They played openers to the night's headliners: free jazz drummer
Milford Graves
and saxophonist
Joe McPhee
, in a first-time collaboration. Beyond having ties to the Big Apple and producing avant garde art (another blanket term), none of the performers seemed to share much of a throughline. As the evening progressed, a common aesthetic became apparent, one which curators
John Corbett
and
Christopher Wool
—whose
own exhibit
runs through May 11—must have intended all along. Like Wool, all of the acts dealt in urban chaos, be it sonic, literary, or visual—which each performer mitigated with resonant moments of stillness among the fury.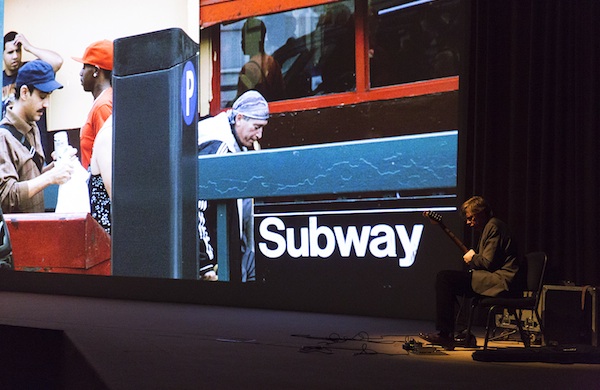 Take
Street
, for example. Nares's film consists of nothing but slow-motion pans across various corners in Manhattan. Coupled with Moore's dissonant 12-string guitar tones, the whole thing felt tense and apocalyptic. But after a while, after you got used to the otherworldly discordia, the movie became somewhat soothing and, at times, funny—from a dreamlike moment where a tourist reaches out to someone in a Cookie Monster costume to two little girls throwing up gang signs. At 61 minutes,
Street
definitely felt a bit too long for a nonlinear, wordless narrative, and yet, I'm not sure if I would have truly appreciated the footage's ethereal quality without a few initial minutes of seasickness. The evening's quietness reached its anti-zenith during the next segment, a reading from former Voidoids ringleader Richard Hell. For someone who cut his teeth in the spastic punk scenes, Hell's always projected a relaxing presence when reading his own work. On Thursday, it was a portion of his 2013 memoir,
I Dreamed I Was a Very Clean Tramp
, which, as the title suggests, contains a seemingly endless number of profane stories from his youth and beyond. While Hell didn't skimp on any of the juicy details, he also recited them with decidedly non-creepy fondness. Lines like "…we went to bed and watched a little Johnny Carson and Joe Franklin maybe, and then have sex two or three more times" became campfire-calm when filtered through Hell's mouth-of-marbles voice. He ended his set tenderly by reading a short poem from Bill Knott, an idol of Hell's who had died the night before. "He really rejected ambition," Hell laughed. "And at the same time, he was really resentful for being ignored."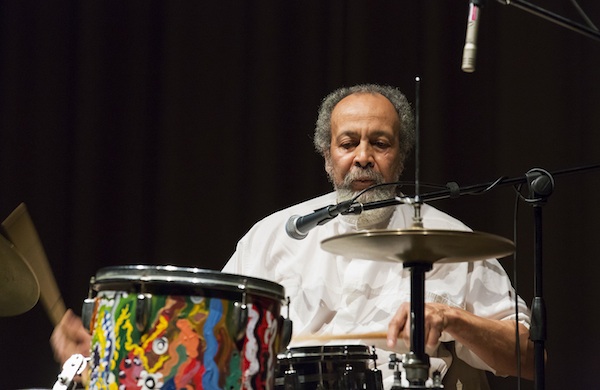 Although Milford Graves and Joe McPhee didn't have any direct connection to Knott (as far as I know), their performance also felt like a fitting eulogy to him. If there was a musical equivalent to Knott's freewheeling poetry, it would probably be jazz, especially the wild, formless kind played by the duo. Despite the tumultuous end product, each jam began low and organic, with Graves often building the beat up from his own hushed scatting. The loud-soft exposition gelled wonderfully with the rest of the evening, proving there were connections between almost every piece of the performance. You just had to look for them (or, in this case, listen).
Christopher Wool
runs through May 11. For more events related to the exhibition, please consult the Art Institute's calendar.
Photography by Jordan Fuller, courtesy of the Art Institute of Chicago
BY: Dan Caffrey
Guide Staff Writer
Outside of Work, Dan is a playwright, Senior Staff Writer for Consequence of Sound, and contributor to The A.V. Club.